New York State
It's one of the most competitive congressional races in the country. Does anyone know the candidates?
In New York's newly drawn 22nd Congressional District, two relative political newcomers battle for the fate of the House.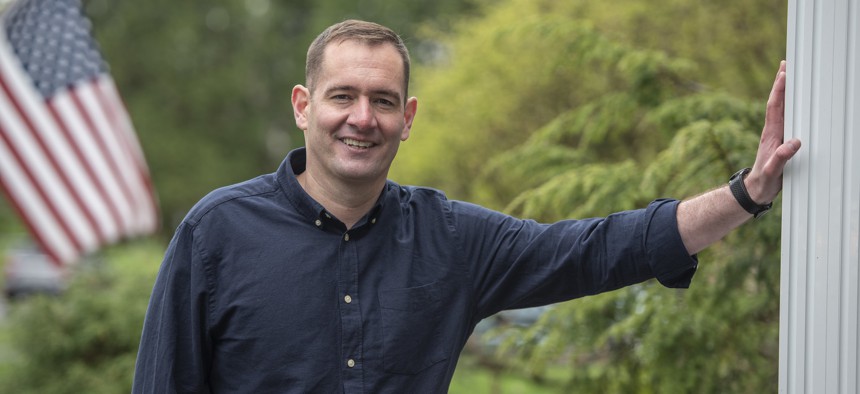 New York's newly drawn 22nd Congressional District hosts one of the most competitive races in the upcoming midterm elections – one of several in the state that could help determine whether Democrats or Republicans hold power in the House next year. 
But in this Central New York hotseat, which includes areas previously represented by moderate Rep. John Katko (in NY-24) and the farther right Republican Rep. Claudia Tenney (in NY-22), both candidates running this year are somehow still flying under the radar.
A Spectrum News/Siena College poll conducted in late September – one of the only independent polls in the race so far – found that 55% of respondents had no opinion of Democrat Francis Conole, and 62% had no opinion of Republican Brandon Williams. (That poll had Williams with a 45-40 lead over Conole, albeit with a margin of error of 5.1 percentage points.)
The lack of widespread name recognition for both candidates a little over a month ahead of the Nov. 8 election shown in that one poll is not entirely surprising. Conole, a defense policy advisor born and raised in Onondaga County, served on the county committee but has never held major elected office. Conole was bested by progressive Dana Balter in a 2020 primary run for the old 24th Congressional District, and in this year's Democratic primary for the new 22nd District, Conole clinched victory with fewer than 1,000 votes over Sarah Klee Hood.
Williams is even more of a newcomer. The tech entrepreneur and Texas native pulled off an upset victory in the Republican primary over party-backed Steve Wells with less money in his campaign chest than Wells, and significantly less than Conole had raised at that point. Williams is a first-time candidate who moved to Central New York in 2010, according to his campaign website. Both Williams and Conole have a military background – Williams is a Navy veteran and Conole is still a commander in the Navy Reserves – and while military experience can help distinguish candidates, some experts said it might prove to be a wash in this case.
While name recognition is important in any election, Grant Reeher, director of the Campbell Public Affairs Institute at Syracuse University, predicted that a lack of powerful name recognition with Williams and Conole wouldn't have a major effect on turnout in the general election, which is typically strong in the area, he said. And there are advantages to being a newcomer, perhaps in particular for Williams. "There is some benefit being a political outsider, and I think the Williams campaign has certainly sought to accentuate that," said Luke Perry, a professor of political science at Utica University. "It makes sense, given the Democrats control the federal government and the state government, so they're trying to appeal to people who think the system isn't working, and you need somebody from the outside to get in there and shake things up."
Still, the candidates' barely-there political careers only contribute to the race being a difficult one to predict. Following the redistricting of congressional seats earlier this year, registered Democratic voters now outnumber Republican voters in the new 22nd District, though not by a large margin. The district now spans Madison County, Oneida County, and Onondaga County – and its largely blue city of Syracuse, which was previously in the 24th Congressional District. Despite its recent history of electing Republicans to Congress, the district favored President Joe Biden in the 2020 presidential election by roughly seven points, according to the CUNY Center for Urban Research's Redistricting & You mapping website. Independent polling in the district, where more than three-quarters of the population is non-Hispanic white, has been minimal.
The obvious playbook for the out-of-power party in a midterm election – Republicans running on President Joe Biden's relatively low approval rating and casting the Democratic-led government as failing – has been complicated somewhat by landmark decisions by the conservative-led U.S. Supreme Court that have energized Democrats, including in the Hudson Valley's tight special election in August. "In a midterm election, where the Democrats have the White House, both houses of Congress, the governor's mansion and both houses of state legislature, his job should be easy," Democratic strategist Evan Stavisky said of Williams. "It's made more difficult by the fact that the Republicans on the Supreme Court struck down Roe v. Wade, the Republicans on the Supreme Court struck down New York's gun laws, and the leader of his party tried to launch a violent insurrection to overthrow the government."
Conole is leaning hard into characterizing Williams as a supporter of former President Donald Trump and a "MAGA Republican." That characterization draws a contrast to Katko, a moderate Republican who voted for Trump's second impeachment, who has represented Onondaga County since 2015 and who, incidentally, is not endorsing either candidate in the general election. "He's spent more time attacking Republicans in his own party," Conole told City & State of Williams. "He is somebody who openly and proudly supports Donald Trump and comes from this MAGA wing of the Republican Party." Williams' campaign did not respond to multiple requests for an interview or comment.
Though Williams has in fact been a vocal supporter of Trump and is on record as criticizing Katko as not conservative enough, he has backed away from some of the more extreme views of that wing of the party. Williams has emphasized that he accepts Biden as the "duly elected president" – a position a majority of Republican candidates across the country disagree with. He has also updated some of the language on his campaign website since the primary election to highlight exceptions to his hardline position against abortion in instances where incest or rape is involved, or the mother's life is at risk. Williams has said he would vote against a federal bill that would ban abortions after 15 weeks if he were elected to Congress.
"When you watch his ads, and you listen to him speak, he really does not lead with more of the Tea Party message or a Trump loyalist message," Reeher said. "He sounds very much more like a mainstream Republican, even though if you try to pin him down on some of his policy positions, he's quite conservative."
Conole targeted his first television ad on Williams' opposition to abortion access – a strategy that paid off for newly elected Democratic Rep. Pat Ryan in the special election in the 19th Congressional District in August. "We're hearing both economic challenges, but also very real concerns about some of the foundational freedoms at risk," Conole said, mentioning reproductive rights in particular, when asked what he thinks voters in his district care most about." 
Conole has now run multiple television ads in the race, and as of late September maintained the fundraising advantages over Williams. But over $3 million in funding has been poured into the race by outside groups to the benefit of both candidates, with Williams benefiting from roughly half a million more of it than Conole. In just the last week, VoteVets spent over $300,000 on ad buys opposing Williams, and the American Patriots PAC dropped nearly $600,000 on a media buy supporting Williams.
A swarm of media and ad buys will certainly help to raise the candidates' profiles in these next few weeks – as will a trio of televised and streamed debates set to start on Oct. 26.