Heard Around Town
Pat Ryan had a big fundraising quarter, but outside spending is bigger in his race against Colin Schmitt
Candidates in the competitive 18th Congressional District previewed their campaign finances before the filing deadline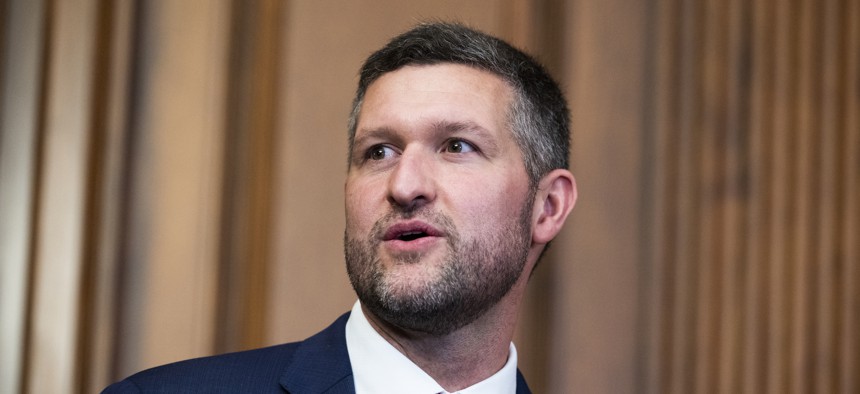 Rep. Pat Ryan had a huge fundraising quarter, bringing in $2.25 million from July to September, his Congressional campaign exclusively told City & State. The Democrat spent some of that on his way to victory over Republican Marc Molinaro in the 19th Congressional District special election in August, though. He's expecting to report more than $600,000 on hand in the Oct. 15 filing. Ryan's Republican opponent in the new 18th Congressional District, Colin Schmitt didn't have to spend on a special. His campaign said it brought in more than $500,000 in three months, and raised an extra $100,000 in the last couple days thanks to House Minority Leader Kevin McCarthy coming to the Lower Hudson Valley district for a fundraiser. Schmitt's campaign expects to enter the final month of the campaign with around $500,000 on hand – not much less than Ryan.
Campaign fundraising is only part of the story, however, as outside groups are spending hundreds of thousands of dollars on the race. The Republican super PAC, the Congressional Leadership Fund, reported dropping $1.14 million so far supporting Schmitt, while the Democratic Congressional Campaign Committee has put $433,000 and counting towards Ryan. Labor groups like AFSCME and 1199 SEIU have pitched in an additional $214,000 for Ryan. 
The race is expected to be close. Most organizations rating House races call the 18th district a tossup, while others think it leans Democratic, giving Ryan a slight advantage. A Ryan campaign internal poll gave the Democrat a 47-40 lead over Schmitt, Politico reported Monday. That's a major gain from their August internal poll, which found Ryan behind 41-45. 
"Our campaign has the funding to get Rep. Ryan's story out to voters with Election Day five weeks away, and this fundraising haul is just one piece of evidence that the Congressman has the momentum to win in November," Ryan Campaign Manager Chris Walsh said in an emailed statement.  "The response Pat receives on the campaign trail and in the polls shows the resonance of his message and ability to take on right-wing extremism at the ballot box."  
Schmitt Campaign Manager Taylor Weyeneth fired back in an emailed statement. "Despite the unprecedented spending on negative advertising funded by both Pat Ryan and (House Speaker) Nancy Pelosi's political operation, their barrage of deceitful attacks have barely moved the needle and the race is a dead heat coming down the homestretch. Every day, we are experiencing growing momentum and enthusiasm, which demonstrates why Joe Biden is coming to the district to try to prop up Pat Ryan's floundering campaign," he said, referring to the president's planned Thursday trip to IBM's facility in Poughkeepsie, in the 18th district. Biden expected to attend fundraisers for Democratic committees afterwards in New Jersey and New York City, but neither event is for Ryan specifically.