New York State
State Senate Democrats could expand their ranks of women of color
Julie Shiroishi and Lea Webb could further diversify the upper chamber.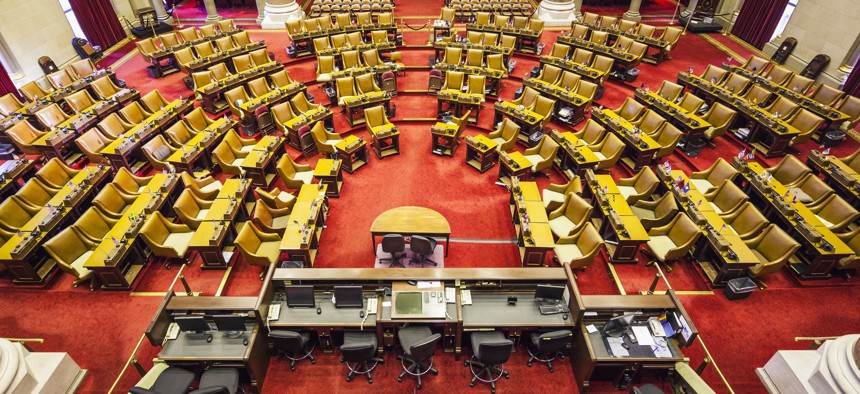 In 2020, when state Sen. Samra Brouk won her Rochester area seat, she became the first upstate woman of color in the state Senate. She joined the only two other women of color north of Westchester in the entire Legislature, forming a tiny contingent of three. But that number may soon expand if Democrats Julie Shiroishi in the Hudson Valley and Lea Webb in the Southern Tier emerge victorious on Nov. 8.
As Democrats have gained and then strengthened their control of the state Senate, the upper chamber's ranks have steadily diversified. In recent years, New Yorkers elected the first Asian state senators, welcomed women into seats they had never before held and voted in the Legislature's first Black, out gay lawmaker. When voters backed Brouk in 2020, flipping the 55th state Senate District in the process, she too made history, joining only Assembly Members Crystal Peoples-Stokes and Pamela Hunter as women of color outside of the New York City metro area.
Shiroishi, if elected, would not only increase that number and join what seems to be a slowly growing trend of upstate women of color running for office, she would make history in her own right as the first Japanese American state lawmaker. "I don't look like most of the people – any of the people – who have represented this district or really run for office in this area," Shiroishi told City & State, who is running to represent the 39th District in and around Poughkeepsie. "But that's why I thought it was important." Shiroishi is running against Poughkeepsie Mayor Robert Rolison, a white Republican whose father previously held a version of the Senate seat now up for grabs. "I'm aware of my identity; it's not the only reason that I'm running," Shiroishi said, noting that the Hudson Valley doesn't have a large community of Asian Americans. "I want people to focus on my issues and my experience, but … I think it's important to have people from a range of backgrounds involved in making the decisions that affect our lives."
For Shiroishi, that background includes growing up in an immigrant family – her mother born in Japan and her father Japanese American. Her father, a union member and truck driver, had been interned during World War II when he and his family lived in California. That background includes becoming a first-generation college student before entering journalism, joining the publishing industry and eventually finding her way into politics and government as chair of the Dutchess County Democrats and chief of staff to Assembly Member Jonathan Jacobson. "I'm not intimated that he's held office for so long," Shiroishi said of her opponent, who served in the Dutchess County Legislature for 12 years before becoming mayor of Poughkeepsie in 2016.
Unlike first-time candidate Shiroishi, Webb comes into her state Senate race having served two terms as a Binghamton City Council member. At the age of 26, when voters first elected her, she was already aware that she was a shift away from the area's typical representative. "One of the things that pushed me to (run), which was a barrier, was the lack of diverse representation," Webb told City & State. "I didn't see any folks of color, very limited representation from a gender or gender diversity standpoint." She feels similarly about her campaign for the 52nd District against Binghamton Mayor Richard David, who is biracial. "Coming from a marginalized community, you understand the multi-layers of barriers that exist on a lot of issues, and it's important because you bring perspective that is also helpful," Webb said.
Webb spoke about the obstacles that often make it even harder for candidates like her to enter electoral politics when coming from areas that haven't historically had diverse representation. "As people of color, we're often asked the question around, like, 'Can you represent everyone?'," Webb said, adding that questions about "electability" will get thrown around as well in a way that white candidates may not experience. "That's something that I have significant experience with." Like Shiroishi, Webb said she hopes that her campaign will inspire other folks from marginalized communities to take the plunge and run for office despite the barriers that may have dissuaded them.
Heading into Election Day, both Webb and Shiroishi have the enrollment advantage in both their reliably blue districts, with Webb having a 21-point Democratic edge and Shiroishi with a 10-point advantage when it comes to national voting patterns. And with recent polling showing inflation and the economy at the top of voters' minds across the state, both candidates have doubled down on economic issues. Webb, a union member from a union family, emphasized supporting small businesses and addressing wage inequality, while Shiroishi focused on bringing jobs back to her economically depressed region and helping young people get the secondary schooling they need to better prepare them for the workforce.
While the tightening race for governor suggests that much can still change before Election Day, even as Democrats outperformed expectations in recent elections in New York and across the nation, the odds favor Webb and Shiroishi to join the small but growing group of female lawmakers of color across the state.
Correction: This article originally misstated Richard David's race. He is biracial.
Powered By
NEXT STORY: Cuomo the podcast: Going after the left and the right with a mic