2022 general election
Will Rep. Pat Ryan's abortion strategy be enough to secure a win in NY-18?
The newly elected Congress member is in a fair position to beat Colin Schmitt. But pocketbook issues, including inflation and the economy, are also top of mind for voters.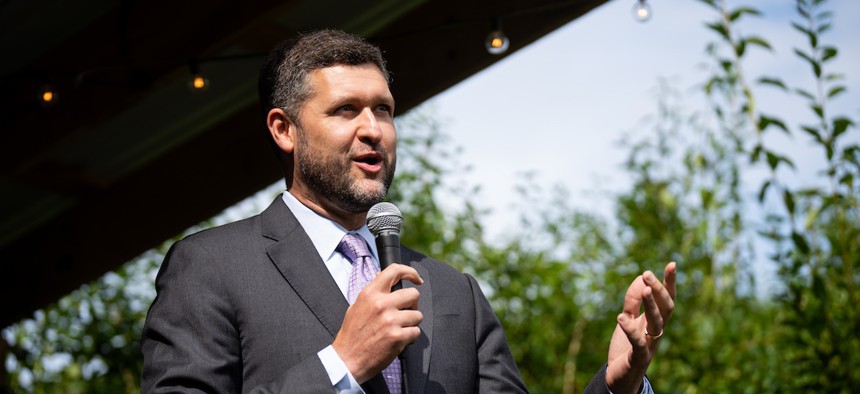 After the monumental August special election for the 19th Congressional District, Democratic Rep. Pat Ryan is using his proven strategy focused on abortion rights to try to secure a win in the 18th District against Republican Assembly Member Colin Schmitt. 
The 19th Congressional District in the Hudson Valley was the swing seat race many regarded as a bellwether for the November midterm elections. It was left vacant when Democrat Antonio Delgado resigned to become New York's lieutenant governor. Ryan secured a big win against Republican candidate Marc Molinaro in the August special election by focusing his campaign on abortion rights. Political experts agree that Ryan's strategy, harnessing the outrage over the overturning of Roe. v. Wade, paid off. Ryan's win has led Democrats across the country to consider applying the abortion playbook to secure wins in swing districts.
Now Ryan will get the chance himself. While he will represent the 19th Congressional District as drawn under the previous lines through the end of the year, he's also running for a full, two-year term in the redrawn 18th district. The Lower Hudson Valley district now includes Orange County and parts of Ulster and Dutchess Counties, including the cities of Kingston and Poughkeepsie.
In a statement to City & State, Ryan highlighted how the Supreme Court's ruling impacted his strategy in the special election. "My campaign met the moment and delivered an unequivocal message – we can not be a free country if the government tries to control women's bodies." 
Jack O'Donnell, a veteran Democratic strategist and managing partner at the political consulting firm O'Donnell & Associates, said Ryan's strategy was enough to propel him to victory because it "exceeded the Republican energy on the issue". 
For many, the Supreme Court's ruling in Dobbs v. Jackson Women's Health Organization wasn't simply about taking away a woman's right to choose. George Arzt, a Democratic consultant who serves as president and CEO of George Arzt Communications, underscored the impact of Ryan's abortion platform and how it transcends to other pertinent issues. "It's a lot broader than just abortion. It represents threats to democracy and the adherence to extremists," Arzt said. Arzt pointed to Republican Sen. Lindsay Graham's attempt to introduce a federal abortion ban as an example of extremism that Democratic voters are worried about. 
But pocketbook issues, including grocery and gas prices, are also top of mind for Hudson Valley voters as they head to the polls. A recent Marist College poll found nearly 3 in 10 registered voters say inflation is top of mind this election season. A September Siena College poll had the same finding – with 30% of voters viewing economic issues as the most important issue. Abortion came in fifth, after threats to democracy, crime and national gun policies. 
Historically the political party in power is on defense during midterms elections. That is especially true this year with Democrats having control of all three branches of government. With less than two weeks until Election Day, President Joe Biden's approval rating has remained considerably low. Republicans blame Biden and Democrats for inflation rates hitting their highest point in 40 years.
O'Donnell says Ryan may have difficulty using his abortion strategy in the 18th district because there are "two elections happening at once" – one race for voters focused on abortion rights and protecting democracy and another race for those concerned about the economy and inflation. "Are (voters) more concerned about one issue over the other? That could swing this 2, 3, 4 points; that's going to be the difference in this race," O'Donnell said.
Republican candidate Schmitt has positioned economic issues, such as inflation and lowering gas prices, as key pillars of his campaign. During Tuesday's debate hosted by Spectrum News, Schmitt vowed to "stop the out-of-control spending" if elected. "The number one concern we hear from voters across the Hudson Valley is the current inflation crisis that we're in. A 40-year high, which continues to be exasperated by the failures of the Biden administration, and House Democrats like Pat Ryan," Schmitt said.
Schmitt's campaign manager, Taylor Weyeneth, underscored the Assembly member's commitment to addressing these issues among others in a statement to City & State. "Colin Schmitt has a plan that will end the wasteful government spending that is fueling the inflation crisis, will secure our borders, stop the flow of illicit fentanyl poison into our communities, ensure district attorneys prosecute crimes, and will always support law enforcement," read the statement.
Ultimately Ryan has reason for cautious optimism. Biden won the newly drawn district by 9 percentage points – a notably higher margin than in the 19th district. 
"He's in much better shape than he was in August," Arzt said.
Powered By
NEXT STORY: The New York veterans running for Congress