News & Politics
GOP scores on Long Island and Hudson Valley and statewide incumbents hang on
Rounding up the week's political news.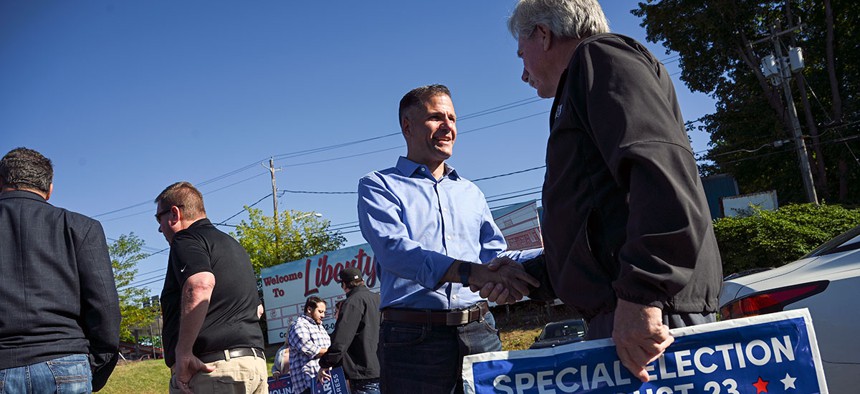 Bearing six jagged neon blue legs, massive blood red eyes, magenta-purple skin, and a wide leer with an unsettling array of multicolor teeth, the spider crab monster on Ulster County's "I Voted" stickers has become an unlikely star. Designed on a whim by a 14-year-old from Marbletown, the creature dominated in the county competition to be featured on the sticker. Its popularity has only grown since – Ulster County's elections commissioner dressed up as the spider for Halloween, several elected officials have debuted tattoos inked in its honor and a slew of merch shops have sold the image. On actual Election Day, Ulster County voters flocked to the polls in record numbers during the early voting period – so much so it was difficult to keep the stickers in stock at some polling places. Hey, if it takes a demonic looking spider crab to bolster the number of people taking advantage of their Democratic rights, we'll take it. Read on for more elections-related news.
Long Island's red wave
Republicans picked up four Congressional seats on Long Island – a clean sweep of a borough that's long been regarded as a key battleground in the contest for control of the House. The borough's unique political landscape made it one of the most watched areas in both the state and country – three of the four incumbents had declined to run for reelection. Heading into the election, the seats had been split down the middle – Democrats and Republicans both held two. With control of Congress hanging in the balance, Democrats hoped that the Long Island region could play a vital role in their ability to beat back forecasts. Then the results started rolling in. Despite the Cook Political Report's analysis rating the area as leaning Democrat, Republican Anthony D'Esposito beat Laura Gillen in Nassau County's 4th district, flipping the seat red in wake of retiring Democratic Rep. Kathleen Rice. George Santos flipped the other seat previously held by Democrats in Long Island, beating Robert Zimmerman in the 3rd Congressional District held by Rep. Tom Suozzi, who ran for governor. Republican Nick Lalota declared victory in the 1st Congressional District early Wednesday morning against Bridget Fleming. The lone race with an incumbent on the ballot also concluded in a similar vein with Rep. Andrew Garbarino easily soaring to victory over Democratic challenger Jackie Gordon in the 2nd Congressional District. Long Island state Senate races were also a boon for Republicans, who were poised to flip at least two seats there.
Battle in the Hudson Valley
Republicans also made big gains in New York's other battleground region, Hudson Valley. While Democratic party boss Rep. Sean Patrick Maloney's loss to Republican Mike Lawler was perhaps the biggest upset of the night, the GOP triumphed in another key Hudson Valley district. Just a few months after he lost a special election in August to Democratic candidate Pat Ryan, Republican Marc Molinaro's fortune reversed in the new 19th Congressional District. Molinaro, Dutchess County executive and former Republican gubernatorial candidate, defeated his opponent lawyer Josh Riley with about 51% of the vote. Thanks to a complicated redistricting process, the 19th Congressional District now stretches beyond Hudson Valley into the Southern Tier and Finger Lakes. Ryan, who'd beat Molinaro during August's special election emphasizing the fight to protect abortion rights, declared a slim victory over Colin Schmitt in the 18th Congressional District, meaning the party secured at least one of the nation's top toss-up races in the Hudson Valley even as Maloney and Riley fell.
Statewide status quo
Unsurprisingly, New York's well-known statewide incumbents swiftly secured reelection. New York Attorney General Letitia James easily secured a second term in the top position she's used to pursue a slew of powerful targets, including former President Donald Trump. James never appeared to considered her Republican opponent to be a threat. In the weeks leading up to the election, she repeatedly declined to debate Michael Henry, a lawyer who has never served in an elected office, and on Election night, James declared victory for herself shortly after the polls closed. State Comptroller Tom DiNapoli also won a fourth full term against former Wall Street investor Paul Rodriguez, as did U.S. Sen. Chuck Schumer against his own Republican challenger. But while New York's senior senator comfortably secured a fifth term against Joe Pinion, a conservative news commentator, his position as Senate majority leader is less certain with several key national races still hanging in the balance. High-profile politicians aren't the only ones to have emerged victorious statewide this election. Nearly 70% of New York voters opted to approve the $4.2 billion Clean Water, Clean Energy, Green Jobs Environmental Bond Act, which authorizes New York to take on debt to pay for a slew of projects related to flood risk mitigation, land conservation, emissions reduction, clean water infrastructure and other climate-related initiatives.