Politics
On Long Island, four congressional races test the fate of both parties
The swing districts are seen as proving grounds for who will control the House of Representatives.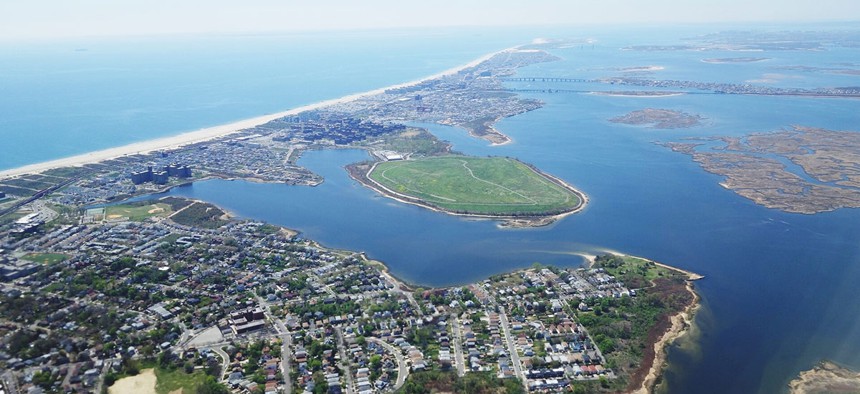 A microcosm of the politics that will shape the party makeup of the next Congress, the four congressional races on Long Island are crucial to Democrats' ability to maintain control of the House of Representatives.
The districts are currently split 2-2 by both parties, but three of the seats now lack an incumbent. While the swing districts still lean toward the party that currently holds each seat, the political gaps have narrowed since 2016.
In each race, candidates are banking on voters' distaste for the opposite party's politics. Democratic contestants are leaning heavily on pro-abortion and anti-Trump narratives, while Republicans have highlighted inflation and rising crime. Their political counterparts across the country are banking on similar strategies to sway voters in an election year when Americans have a multitude of consequential issues to consider when they cast their ballots in November.
1st Congressional District
A swing district that has elected both Republicans and Democrats over the years, Republican Nick LaLota, the chief of staff to the Suffolk County Legislature, is aligning with Trumpism and highlighting his Navy background in his race against Democratic Suffolk County Legislator Bridget Fleming. She has emphasized protecting reproductive rights – and highlighted LaLota's opposition to abortion. LaLota, meanwhile, has softened his stance on abortion in the wake of Roe v. Wade's reversal. Following the decision, he added the statement "I do not oppose abortion in cases of rape, incest, or to save the mother's life" to his campaign website. The district has been held by Republican gubernatorial candidate Lee Zeldin since 2015. Largely unchanged in the redistricting process, it covers the North Shore of Suffolk County along with the Hamptons. The nonpartisan Cook Political Report rates it leaning 3 points Republican. In 2020, Biden would've won this redrawn district 50.1% to 49.9%.
2nd Congressional District
Democrat Jackie Gordon is seeking to unseat Republican Rep. Andrew Garbarino in a rematch to represent the South Shore of Suffolk County and a sliver of Nassau County, making it one of the wealthiest districts in the state. The two ran in 2020 to replace longtime Republican Rep. Pete King. Like Zeldin's district, this one also leans 3 points Republican according to Cook. Gordon is an Army veteran, former Babylon Town Council member and was a public school teacher for more than three decades. In a recent interview with PoliticsNY, she said codifying Roe v. Wade was the top issue in this district. Gun control has been another prominent talking point for Gordon, who has tied the issue to her experience working in public schools and the importance of preventing school shootings. Garbarino, who defeated Gordon by 7 points in 2020, has leaned on rising inflation and gas prices, along with border protection to appeal to voters.
3rd Congressional District
Republican George Santos and Democrat Robert Zimmerman are battling to replace Rep. Tom Suozzi in this mainly Nassau County, with a little bit of northeastern Queens, district. The 3rd District leans two points Democratic, according to Cook. Santos has spent his career working for investment firms, while Zimmerman is the founder of a public relations firm. The race has, at times, become explosive. Santos' rhetoric on abortion has been the source of several spats between the two candidates. In August, at an event hosted by the Whitestone Republican Club, he compared reproductive rights to slavery and said abortion was "barbaric," according to the Daily News. Zimmerman, who has capitalized on Santos' dips into extremism, told the tabloid that the statements were "ignorant and dangerous. … He is more extreme than most Republicans are, and dangerously divisive and radical." Santos has also spoken about his attendance at the Jan. 6 insurrection, telling CBS News "that was the most amazing crowd, and the president was at his full awesomeness that day." Zimmerman, meanwhile, is a longtime Democratic activist and donor. He serves on the Democratic National Committee and has advocated for Planned Parenthood, LGBTQ rights, "Medicare for All," gun control and calls himself a "lifelong Zionist." Perhaps the only quality both candidates share is that they are both out gay.
4th Congressional District
This race will likely be less competitive than the other three races on Long Island, as the district leans 5 points to the Democrats, according to Cook. Democrat Laura Gillen handidly won the primary and is facing Republican Anthony D'Esposito, who ran uncontested, to fill Democratic Rep. Kathleen Rice's seat. D'Esposito, a Hempstead Town Council member, has highlighted Gillen's loss to Republican Donald Clavin Jr. in the 2019 Hempstead supervisor race in a bid to frame her as a weakened candidate who does not resonate with voters in the district. In 2017, she became the first Democrat elected as Hempstead supervisor in more than 100 years, according to the Long Island Herald. Both candidates have accused each other of falling into the far ends of the political spectrum, with D'Esposito claiming Gillen will be a "rubber stamp" for Biden, according to The Herald, and Gillen saying the entire Republican Party has been lost to Trumpism. D'Esposito, a retired New York City Police Department detective, has hinged heavily on his law enforcement background and blames bail reform for rising crime. Gillen, meanwhile, is banking on a pro-abortion narrative to draw voters.