Kathy Hochul
Kathy Hochul ekes out a victory in the closest governor's race in decades
The incumbent Democrat narrowly fended off a challenge from Republican Lee Zeldin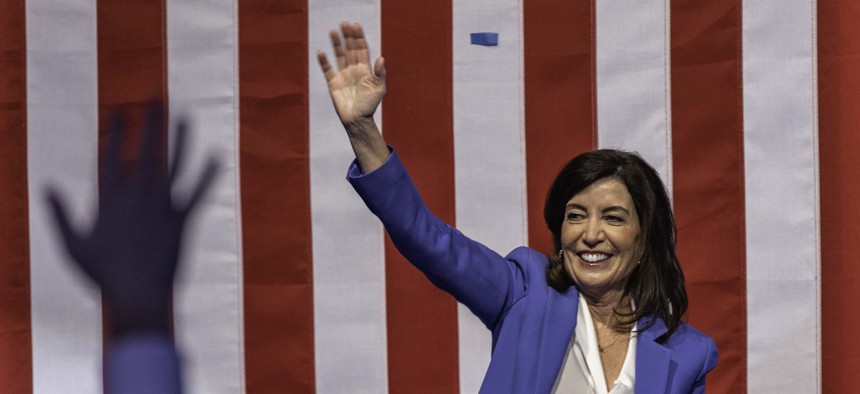 Gov. Kathy Hochul made history Tuesday as the first woman elected governor of New York. She won her first full term as the state's chief executive after stepping into the role last year and following a contentious race against Republican Rep. Lee Zeldin.
Addressing supporters at Capitale in Manhattan's Chinatown, Hochul spoke about the glass ceiling she broke. "You made me the first woman ever elected as governor of the state of New York," Hochul said to raucous applause. "But I'm not here to make history, I'm here to make a difference."
In keeping with the rhetoric many Democrats used on the campaign trail, Hochul also framed her victory as the choice made between two very different paths for the state.
"The lessons of tonight's victory are that given the choice, New Yorkers refuse to go backwards on our long march towards progress," the governor said. Hochul promised that the state would continue leading the nation when it comes to reproductive rights and gun safety, with pledges to bring good-paying jobs to New York.
Despite the celebratory atmosphere at Hochul's election night party, she was on pace to win by the closest margin of any governor in over two decades. As of shortly after midnight on election night, she led by less than 10%. A race hasn't been this tight since George Pataki unseated Mario Cuomo in 1994.
Though early polls had Hochul winning by double digits, more recent surveys showed a surge of support for Zeldin that translated into a strong showing on Election Day. At the time of publishing, Suffolk County, which is expected to break heavily for Zeldin, still had not posted returns because of technical issues its Board of Elections faced.
For his part, Zeldin refused to concede on election night, though he addressed a relatively somber crowd of supporters at the Cipriani 42nd Street in Manhattan.
"As to what's going to happen is that over the course of these next couple of hours, you're going to see the race continue to get closer and closer and closer," Zeldin said, highlighting Long Island as a key battleground where he'd be able to make up ground against Hochul and reminded supporters of key pillars of his campaign: addressing crime, removing District Attorney Alvin Bragg and reversing the state's ban on extracting natural gas.
His message played well in the suburbs, but it appeared to reach parts of New York City as well. Zeldin enjoyed the support of numerous Orthodox Jewish groups and overperformed in Queens compared to Republican gubernatorial candidate Marc Molinaro in Queens. 
Although Democrats appeared to avoid disaster in the race for governor, they still struggled in down ballot races for Congress, state Senate and Assembly. The party will likely suffer some loses once all the results come in. But Hochul didn't mention that on election night, instead choosing to bask in her own historic victory and express positivity about the future of the state.
Powered By
NEXT STORY: 2022 New York state legislative general election results