New York State
More than a third of NY's congressional delegation won't be returning in 2023. Is that bad for the state?
The loss of 10 incumbents to redistricting and retirement means New York is losing some influential representatives, but there's power to gain too.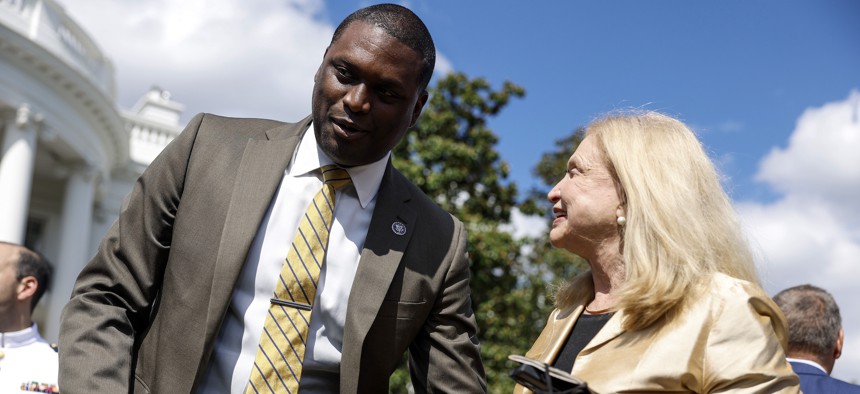 The House of Representatives is not exactly known for turnover. Former Rep. Charlie Rangel held the job for 46 years. Rep. Jerry Nadler first won 30 years ago, in 1992 – and he didn't even make the Wikipedia page of the 115 longest-serving Congress members. 
Sure, the Founding Fathers set up a system of elections every two years, putting members of the lower house in semipermanent campaign mode. But it's also a system with no term limits and countless advantages for incumbents. If you're in, it isn't that hard to stay in. And the incentives to do so are pretty great. 
So it's remarkable that New York's House delegation has lost 10 members this year. That's the largest single-year turnover in at least the past six cycles. 
But it also doesn't mean that New York is screwed, as a state. Seniority might not help the member's district as much as you think, and the Empire State will likely lead House Democrats, with presumptive Minority Leader Hakeem Jeffries, and the U.S. Senate, with Majority Leader Chuck Schumer. 
The 10 members are gone for a mix of reasons. Reps. Tom Suozzi and Lee Zeldin both ran for governor (in the Democratic primary and the general election respectively) and lost to Gov. Kathy Hochul (a former member of Congress herself). Antonio Delgado resigned to serve as lieutenant governor. Reps. Kathleen Rice, John Katko, Chris Jacobs and former Rep. Tom Reed all declined to seek reelection – and Reed even resigned mid-year to join a lobbying firm, after he was accused of inappropriately touching a lobbyist. Reed apologized for the incident. His temporary replacement, Rep. Joe Sempolinski, isn't even giving himself a shot to build up seniority – he didn't seek reelection and will serve just four months. (We're not even counting him. Sempolinksi would make 11 members leaving.) Three more sitting Congress members went out in dramatic fashion, losing bids for reelection: Mondaire Jones and Carolyn Maloney in the primary, and Sean Patrick Maloney in the general. 
"There's a lot of remarkable people. Everyone can point out the flaws in each person … (but) we're losing a lot of tremendous talent," Suozzi told City & State. Still, "there will be new people to pick up the mantle." The Long Islander noted that New York has always been losing members. When he was born, in 1962, New York had 43 Congressional seats. With states in the South and West outpacing New York, we're down to 26 seats. 
Of course, turnover isn't uncommon in a redistricting year. At the last one in 2012, New York lost seven incumbents – and two more, Chris Lee and Anthony Weiner, resigned mid-term amid sex scandals. This year, redistricting can be pointed to for the losses. Carolyn Maloney was brought together in a district with Nadler, and lost. And after Sean Patrick Maloney decided to run in the new 17th Congressional District, Jones went searching for greener pastures in Brooklyn. He didn't find them there and lost. The male Maloney also lost, in a district where only a quarter of the residents had been his constituents before. 
Some of the departing members carry more weight than others. Carolyn Maloney, 76 years old, had risen to chair of the Oversight and Reform Committee after 30 years in Washington. But New York City Council Member Gale Brewer, who has known her the whole time, gave her particular credit for success on the kind of yearslong projects that don't just require clout, but years of political pressure. "Maloney can really take a lot of credit for the subway, the Second Avenue subway. She talks about it, but it's no joke," Brewer said. There's also Maloney's continued efforts securing benefits for survivors of 9/11 and creating a National Women's History Museum in Washington. 
 The loss of folks like Maloney? "I think it does hurt the state," said Brewer, an outspoken opponent of legislative term limits. 
Indeed, sources City & State spoke to emphasized the benefits seniority has for long term, major infrastructure projects. It helps to have a cheerleader in Congress. But for smaller ticket items (It's all relative – this is a multitrillion-dollar budget.), the benefits of seniority are often overemphasized. Research has suggested that senior members of Congress, on average, don't bring any more money to their districts than freshmen. 
And while New York is losing more experienced members, the state's delegation is also making a massive gain. "Sure we're losing 10 members, but at the same time, Hakeem Jeffries has completely secured being (Democratic) leader. It's like 'the king is dead, long live the king'" said an aide to a senior New York Democratic member, who asked for anonymity to speak about the delegation. The U.S. Senate majority leader, Schumer, is also from New York, and on the Republican side, upstate Rep. Elise Stefanik was just reelected conference chair, the fourth-ranked position in the House. 
The bigger loss for the state of New York may not be the number of incumbents, but the expected shift of control from Democrats to Republicans, moving committee chairs like Nadler (Judiciary), Meeks (Foreign Affairs) and Velázquez (Small Business) out of power, at least temporarily. 
Still, "New York has always had a lot of power since the formulation of the Republic, since the first Congress," the aide said. "And I think New York will continue to. That's what happens."
Powered By
NEXT STORY: Pending power struggle over BOE appointment in Manhattan