Politics
Republican Brooklyn Assembly member-elect voted in Manhattan last year
Lester Chang has to have established residency in Brooklyn within six days after last year's election to be eligible for the Assembly seat he just won.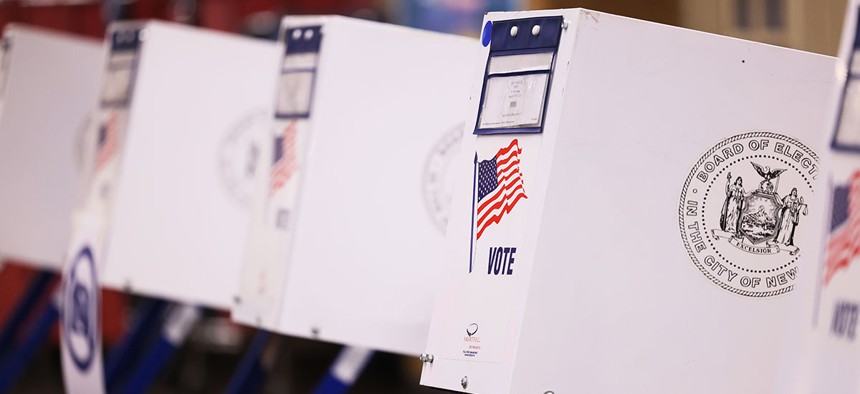 Assembly Member-elect Lester Chang's voting record is raising questions about his eligibility to hold office in Brooklyn. The Republican, who won election to Brooklyn's Assembly District 49 last week, beating 36-year incumbent Peter Abbate Jr., voted in Manhattan in last year's general election, records show.
That gives Chang a narrow six-day window to have established residency in Brooklyn after voting in Manhattan in the Nov. 2 election, assuming he voted on Election Day last year. If he voted early in that election, that window would be slightly longer. State Legislature candidates this year are required to live in the county they're running in for 12 months prior to election day, which in this case means candidates need to have been residents of the county they are running to hold office in by Nov. 8, 2021.
Chang and his campaign did not respond to City & State with a comment or proof of his residency in Brooklyn by Nov. 8, 2021. 
Election lawyers said that residency cases are complicated ones that rely on a variety of facts that can establish a person's residency – not just where they vote. Challenges to a candidate's residency usually come up during the petitioning process and play out in court. In those challenges, an objector can lay out a case for why the candidate hasn't established residency, while the candidate can defend himself with evidence of his residency. That evidence might look like credit card statements, a change of address filed with the post office, or where a person votes. It's unclear what evidence Chang has to support his residency in Brooklyn before Nov. 8, 2021.
"There could be any explanation for why that's okay," said John Conklin, director of public information at the state Board of Elections, when asked whether Chang's voting in Manhattan last year struck him as questionable on its face. "That's why you need an objection process to play out that has evidence that proves one way or another." Conklin noted that questions about Chang's residency wouldn't have come to the state Board of Elections, because his petition and ballot access documents would have gone to the New York City Board of Elections. A spokesperson for the city Board of Elections did not immediately respond to a request for comment.
Election lawyer Sarah Steiner said that it would be difficult to prove that Chang hadn't established residency in Brooklyn a year prior to this election. "You have to show by clear and convincing evidence that the person you're talking to didn't live in the district at all during that period," she said. "You can be a resident of two places at once, but you can only have one voting address, and one address for the purpose of running for office." In addition to the possibility that Chang moved to Brooklyn in that narrow window between voting in Manhattan in last year's general election and Nov. 8, it's possible that Chang had legitimate addresses in Manhattan and Brooklyn, but previously chose to vote in Manhattan. "It's a fact-specific inquiry, and it's hard to make a judgment as to how it would turn out without knowing the facts," Steiner said.
In a redistricting year, Assembly and state Senate candidates are only required to live in the county where they are running for 12 months prior to the election, not the specific district where they are running. As it happens, Chang's listed Brooklyn address is in Assembly District 42, in Midwood, not 49, which includes parts of Dyker Heights, Bath Beach, Bensonhurst and Borough Park.
Abbate, who said he learned of this potential eligibility issue in the past couple days, said he hasn't yet taken any action to formally challenge Chang's eligibility. "I think I'm going to meet with one of the lawyers from the Democratic Party and find out if he can be seated or not," Abbate told City & State. Chang won the seat by 4.5 percentage points, getting 7200 votes to Abbate's 6500.
Sources City & State spoke to weren't in agreement about what would happen if Chang is found ineligible to hold office. Southern Brooklyn Democrats had been sharing concerns about Chang's residency in the past few days. One election lawyer, Brooklyn Democrat Howard Graubard, told City & State that if Chang were to be found ineligible to run, he would expect the governor would have to hold a special election to fill the seat. It was not immediately clear whether Chang would be eligible to run in such an election, given questions about his residency. 
Records reviewed at the New York City Board of Elections office in Manhattan show that Chang changed his address on his voter registration from a Manhattan address to a Brooklyn address on March 1 of this year. He had run for office in Manhattan multiple times before. He filed to run for New York City Council in district 1, in Lower Manhattan, in March 2021. However he suspended his campaign soon after, and never made the ballot. Chang previously ran for state Senate District 26, which straddled Manhattan and Brooklyn in 2020, but lost to Democrat Brian Kavanagh. He also got third place in the 2016 special election in Assembly District 65, to fill the seat vacated after former Assembly Speaker Sheldon Silver's first conviction.