Politics
Sean Patrick Maloney's long fall
After a controversial decision to seek reelection in the 17th Congressional district, the DCCC chair will end his decade in Congress.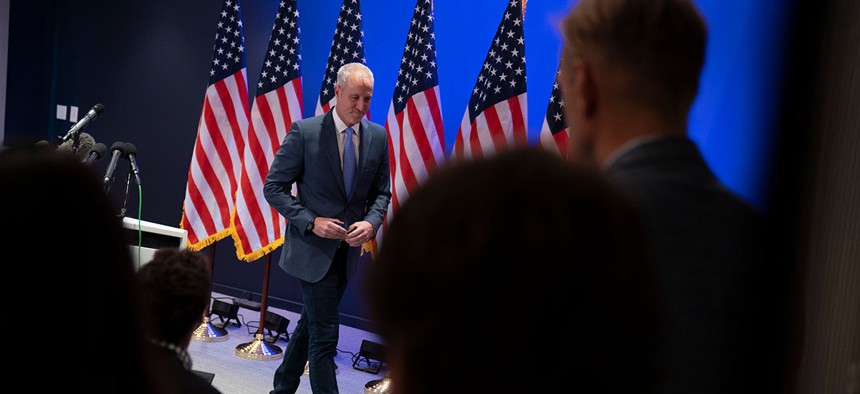 As Republicans strive to gain seats in Congress in midterm elections this year, Democrats suffered a major loss on Tuesday when Assembly Member Mike Lawler eked out a victory over Rep. Sean Patrick Maloney for the 17th Congressional District. The loss is especially heavy for Democrats because the five-term Congress member is also chair of the Democratic Congressional Campaign Committee.
Maloney, who currently represents the 18th Congressional District, decided to run in the 17th Congressional District after a chaotic redistricting process. The controversial decision earned the Congress member major backlash because it forced freshman Rep. Mondaire Jones out. Jones then unsuccessfully ran in the June primary in Brooklyn's crowded 10th Congressional District. Despite Maloney's opponent Alessandra Biaggi's popularity, he went on to win the Democratic primary for the 17th Congressional District only to be met with a fierce challenge by a freshman Assembly member and lobbyist.
Hank Sheinkopf, a veteran Democratic political consultant, suspected Maloney did not think he had any chance of losing the election. "He probably thought he could not have been beaten, and this race was an easier win," Sheinkopf said. "Nobody saw this coming." But the race tightened, and several political pundits identified it as increasingly competitive, including The Cook Political Report, which shifted its rating from "lean-dem" to " toss-up" just two weeks before Election Day. 
As of Wednesday morning, Lawler was ahead of Maloney with 92% reporting of votes counted, and the race had been called by several news outlets. Maloney, who did not attend his election night party in New York on Tuesday, formally conceded to Lawler shortly after. 
"I don't like to lose, but my opponent won this race, and he won it fair and square. And that means something," Maloney told reporters in Washington, D.C. on Wednesday. "So I'm going to step aside, and I had a good run." 
Lawler responded via Twitter thanking Maloney for his time serving the Hudson Valley. "Humble in victory, gracious in defeat," Lawler wrote. "Campaigns are tough and he was a tough, and worthy opponent."
Lawler centered much of his platform around crime, and recent polls highlighted the issue as among the top concerns for voters this election season. The Assembly member also vowed to address the economy while criticizing his opponent for "wasteful spending in Washington'' – which he said has contributed to rising inflation. In addition, Lawler centered much of his campaign around the fentanyl crisis. While experts debunked the Assembly member's theory that the Biden administration's southern border policy is driving the opioid crisis, addressing the crisis is extremely important to Hudson Valley voters as the number of overdose deaths continues to rise at alarming rates.
On the other hand, Maloney prioritized abortion rights and gun safety. Sheinkopf said Maloney's "tremendous loss" was because the Congress member was late when it came to focusing on crime. "It was very clear a year ago that crime would be an issue this election cycle. (Maloney) was more concerned about national standing than he was about local issues," Sheinkopf said. "Running in a new district requires a sole commitment to that district."
While Maloney attempted to pivot his messaging to crime in the days leading up to the election by releasing an ad featuring a police officer vouching for him, Sheinkopf noted crime was not a natural fit for the Congress member. "Becoming a tough-on-crime guy would not have fit Sean Patrick Maloney's profile. It just wasn't him. It was not believable," Sheinkopf said.
Maloney wasn't the only Democratic candidate to fall short. Democratic candidates in the state Senate also suffered losses. In Rockland County, Republican challenger Bill Weber bested freshman state Sen. Elijah Reichlin-Melnick with his campaign focused on "keeping communities safe" and repealing bail reform. In the 39th state Senate District, Democrat Julie Shiroishi lost decisively to Poughkeepsie mayor and former police officer Rob Rolison. Like Lawler, Rolison vowed to prioritize the economy, crime and public safety if elected.
Jack O'Donnell, a veteran Democratic strategist and managing partner at the political consulting firm O'Donnell & Associates, said Maloney relied heavily on his accomplishments through his time in Congress, including his work on addressing climate change and drinking water infrastructure, as his campaign strategy, but it ultimately was not enough to convince his new constituents to vote for him on Election Day. O'Donnell also pointed to Maloney's senior position within the House Democrats as a possible reason for his struggle to win the race.
"As chair of the DCCC, Maloney was viewed by a lot of folks as a total embodiment of the Democratic Party – including the Democratic left, which is somewhat ironic considering his centrist background – and I think that was also a time commitment away from his district," O'Donnell said. "He ultimately paid the price for it."
With Maloney gone, House Democrats will have to find a new chair of the Democratic Congressional Campaign Committee. According to Sheinkopf, there is life after loss for the Democratic Party and Maloney's political career. "The great thing about political campaigns and politics is that after you lose, you wake up the next morning and you go to work," Sheinkopf said.
Powered By
NEXT STORY: Hochul won her election, but at what cost?