New York State
'When cab drivers are talking about it…' How Republicans turned out in huge numbers for the NY midterms
The taste of hope and fear of crime mobilized the right like it was 2016 again.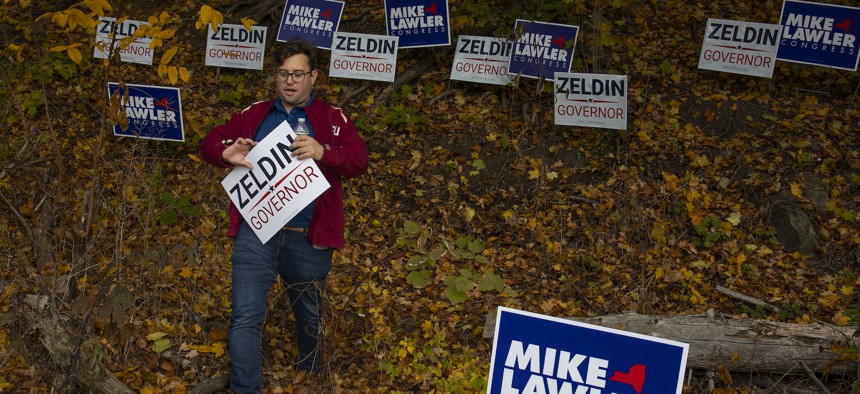 Republicans turned out to vote this year in record numbers for a midterm election in New York. While it still wasn't enough to clinch statewide office, the GOP managed to run the closest gubernatorial race in decades and picked up several previously Democratic seats. For a party on the brink of obsolescence just a few years ago, Republicans took advantage of a perfect storm of factors to display an unusual show of force. But a repeat will likely be much harder.
Statewide, Republicans voted in numbers generally only seen during presidential years. According to an analysis by the the Times Union, 63% of registered Republicans voted in the governor's race this year, compared to the more typical midterm turnout of Democrats at 47%. And for the left, that number came only after a last minute get-out-the-vote effort in the Democratic strongholds of New York City and Westchester County that included a campaign visit from President Joe Biden. The number of GOP voters also significantly outpaced overall turnout, which saw a little under half of all registered voters head to the polls. 
Rep. Lee Zeldin, the GOP candidate for governor, performed even better in his home on Long Island, where about two-thirds of registered Republicans cast ballots in the gubernatorial race. Those numbers doubtless helped the party win all four congressional seats on the island, including those that still leaned Democratic even after redistricting. But the GOP didn't just turn out big on Long Island. In every county outside of New York City, Republicans hit over 60% turnout, per the Times Union, numbers that applied to the majority of congressional districts as well.
The reasoning, according to one GOP consultant, is simple: crime. Tom Doherty, a strategist with Mercury, said that compared to other candidates across the country, New York Republicans remained hyper-focused on the one specific issue of crime and public safety, and it energized the base in ways that typical rightwing talking points in a state like New York haven't done in years. "If you don't have an issue where people are getting mugged on the subway every day and little kids are getting shot, what is your issue in (the) state other than taxes?" Doherty told City & State about the strength of this year's messaging that propelled Zeldin compared to strong candidates like Marc Molinaro in the past. "Taxes have been an issue in this state for the last 50 years." 
Adding to the clear messaging that galvanized the base, Republicans benefited from a lack of cohesion in Democratic messaging to combat rightwing claims about crime and defend measures Democratic lawmakers passed like bail reform that became the target of GOP attacks. "Zeldin was relentless in hitting reliable crime and inflation messages that were not countered by comparable force by Democrats," Democratic consultant and former state Democratic Party Executive Director Basil Smikle told City & State. He added that Zeldin's popularity as a Trump loyalist on the right rivaled that of Gov. Kathy Hochul, a new governor who was previously pretty unknown, among Democrats.
The buzz that surrounded polls that showed an increasingly close race also played a factor, as Hochul's lead dwindled from 17 percentage points to single digits in the final polls of the race. "Nothing motivates a base more than the possibility of success," GOP consultant Bill O'Reilly, who worked on the Zeldin campaign, told City & State. "When a shot at victory is in the air – when cab drivers are talking about it – (the) party's naturally energized." The fact that this year marked the first time Democrats did not have Andrew Cuomo as the incumbent likely added to the excitement around the prospect of winning statewide. Before his downfall, the former governor's war chest and political savvy made the prospect of his loss seem incredibly slim.
But both sides of the aisle cautioned against overestimating what the strong turnout this year means for the future of the Republican Party despite resulting in the best election for Republicans in New York in several cycles. "Zeldin got within five (points of Hochul)," Doherty said. "Five may be the best you can do in this state anymore, particularly if Democrat turnout was down and yours was up." He said that the GOP's best bet is to "protect what (they've) got" and continue to run strong candidates for legislative seats, but that overall, Republicans still remain the underdog. 
When asked whether the results for Republicans this year may be replicable at more local levels in the future, Smikle bluntly said no. "I expect Democrats to make changes to strategy and infrastructure," he said. "I know Dems are really trying to figure out how to fix this mess." Smikle added that at least in 2024, results will depend heavily on whether Trump is on the ballot. His presence in 2018 played a huge factor in flipping the state Senate and ridding Republicans of their final stronghold of power in New York.
Democrats certainly received significant criticism this year for their performance in New York, from Hochul's narrow margin of victory to costing the party the House. It has led to vocal contingents of the Democrats demanding new leadership of the state party and to replace the current Chair Jay Jacobs. But despite speculation about who may replace him, Hochul has publicly maintained she's sticking with Jacobs, even as Democrats end the year with some soul searching in the wake of Republicans' banner year.
Powered By
NEXT STORY: Speculation continues about who could replace Jay Jacobs