New York State
Speculation continues about who could replace Jay Jacobs
At an informal meeting, state Democratic Committee members floated state Sen. Jessica Ramos' name - and Rep. Adriano Espaillat is in the mix too, sources say.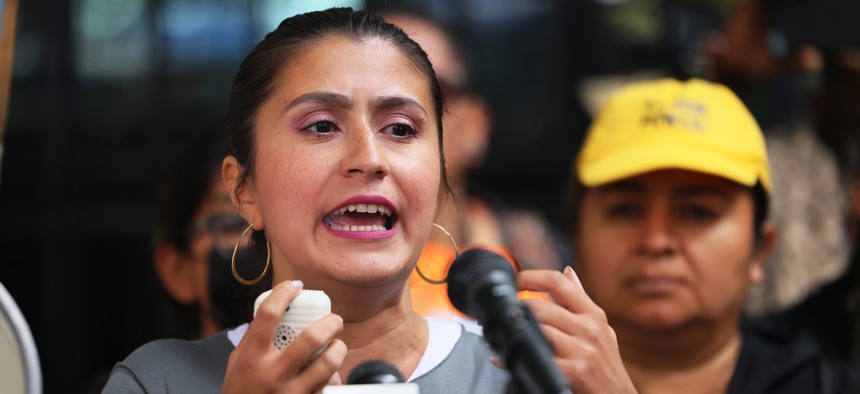 As speculation continues around the future of state Democratic Party Chair Jay Jacobs, two new names have entered the conversation around who may replace him: state Sen. Jessica Ramos and Rep. Adriano Espaillat.
A group of about two dozen state Democratic Committee members met over the weekend to discuss the electoral failures of the party in this year's congressional races, as well as the prospect of replacing Jacobs, according to people at the meeting. Calls for Jacobs' resignation continue to grow after Democrats lost several House seats earlier this month. According to multiple sources who were part of that meeting, Ramos' name came up as a potential candidate who could take on the challenge of leading the state Democratic Party. The sources said that Ramos has made calls to express her interest in the role and to gauge reactions. 
One state committee member said that Ramos garnered excitement at the weekend meeting. But another expressed reservations. "I'm not sure a legislator who tries to start beef publicly with a fellow Democrat is the coalition-builder we're looking for in our next state party chair," the committee member, who requested anonymity to speak candidly, told City & State, referencing Ramos' criticisms of Rep. Alexandria Ocasio-Cortez, whose Queens congressional district overlaps with Ramos', over the summer. Ramos did not return a request for comment.
A few politicos also tell City & State that Gov. Kathy Hochul has quietly begun looking for someone to replace Jacobs. Multiple sources say that she's specifically looking at Espaillat, who in recent years has made moves to establish himself as a political power broker in his part of Manhattan and the Bronx. State committee members who attended the informal meeting over the weekend said that the rumors surrounding Espaillat came up, but that most there did not support the idea of him becoming chair. Publicly, Hochul has continued to back Jacobs and maintained that she has no plans to shake up leadership of the state Democratic Party. A spokesperson for Espaillat did not immediately offer comment about whether he's seeking the position.
Jacobs has faced increasing calls to step down since the election, culminating in a letter signed by over 1,000 elected officials, committee members, organizations and individuals demanding a new chair take his place. Not long after, a letter of support for Jacobs circulated among county chairs, gaining 41 signatures among local Democratic Party leaders. Since City & State first reported on the signatories, at least one county chair has said he didn't sign the letter despite his name being present.
With reporting by Jeff Coltin
Powered By
NEXT STORY: More than a third of NY's congressional delegation won't be returning in 2023. Is that bad for the state?