Politics
Jay Jacobs responds with letter signed by over 40 county chairs
His support among the upper ranks of the state Democratic Party lacks three county chairs in New York City.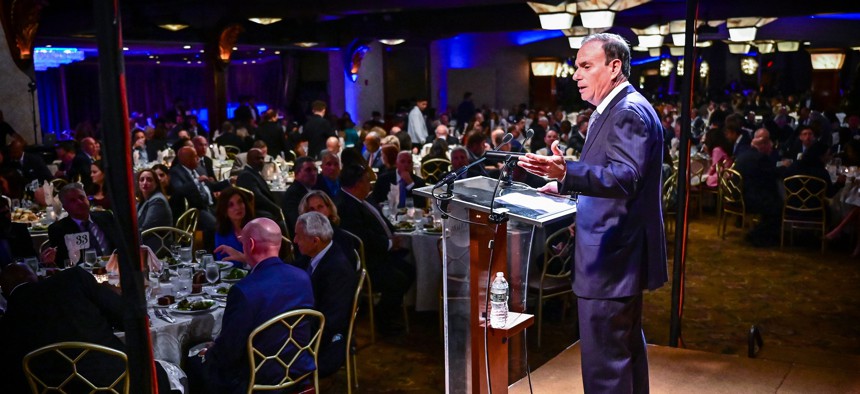 State Democratic Party Chair Jay Jacobs has a lot of vocal opponents in the aftermath of the midterm elections, but he still has plenty of support among county chairs.
In a letter shared exclusively with City & State, over 40 county Democratic Party chairs are backing Jacobs, who has been under fire from many elected officials and observers in his party following the loss of several congressional seats that Joe Biden won by 10 points or more in 2020. "While unfortunately Democrats came up short in several Congressional Districts, it was not due to a lack of resources or effort from Chairman Jacobs or the State Party," reads the letter, which was still circulating among the county chairs as of Wednesday night. "Chairman Jacobs has guided our party through unprecedented crossroads during his tenure and has consistently led with a steady hand."
NY1 first reported the existence of the letter, as well as that Jacobs was personally making calls to county chairs asking them to sign on. In a text to City & State, Jacobs said the reporting about him making those calls was "not accurate."
Jacobs added: "I have not been making calls. Two chairs have called me to voice support and it came up in conversation. Beyond that I have not been calling for support but appreciate the effort by the chairs that have been supportive."
Although a majority of New York's 62 county chairs signed the letter of support, including upstate and suburban leaders, some names were notably absent. Rep. Gregory Meeks, who chairs the Queens Democratic Party, state Sen. Jamaal Bailey, who leads the Bronx Democrats, and Assembly Member Michael Cusick, who heads the Staten Island Democrats, did not sign the letter. Neither did Zak Constantine and John Gromada, the county chairs for Orange and Rockland counties, where Democrats underperformed on election night. Also missing was Westchester County Democratic Party Chair Suzanne Berger. Fellow Hudson Valley Democratic Party Chairs Kei Reing of Putnam County – part of the district where Rep. Sean Patrick Maloney lost big – and Kelleigh McKenzie of Ulster County were also absent from the letter. Westchester was a bright spot in an otherwise bleak night for Lower Hudson Valley Democrats.
Democrats also fared poorly on Long Island, but Jacobs himself is the Nassau County Democratic Party chair, and Suffolk County Democratic Party Chair Rich Schaffer, who has frequently teamed up with Jacobs, offered his support. Brooklyn Democratic Party Chair Rodneyse Bichotte Hermelyn, who has received her own criticisms over the county party's lack of spending on its candidates in several southern Brooklyn races where incumbents lost, also signed on. Manhattan Democratic Party Chair Keith Wright also gave his support, as did Erie County Democratic Party Chair Jeremy Zellner.
The letter of support came after over 1,000 Democratic elected officials, Democratic state committee members, political organizations and others called on Gov. Kathy Hochul to replace Jacobs in their own letter. Hochul has so far remained supportive of the state party chair.
Update: This story has been updated to reflect that the letter of support for Jacobs was still circulating among the county chairs as of Wednesday night.
Powered By
NEXT STORY: Don't blame the maps: analysis suggests different districts wouldn't have helped Dems much