Elections
State legislative elections spell disappointment for Brooklyn Democrats
Is southern Brooklyn the Democratic Party's forgotten step-child?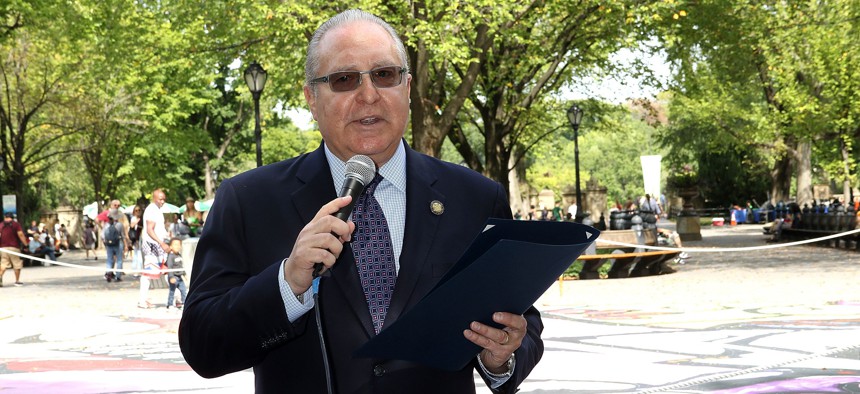 Democratic Assembly Member Mathylde Frontus is facing down the very real possibility of losing her southern Brooklyn seat to Republican challenger Alec Brook-Krasny, trailing the former state legislator by fewer than 1,000 votes.
But unlike some Brooklyn Democrats involved in party politics, Frontus is adamant that she's not pointing fingers – not even at the Brooklyn Democratic Party, which has been criticized for not getting more involved in helping Democratic candidates this election cycle. "I certainly didn't get a call either from county or state," Frontus said, referring to both the county Democratic party and the state Democratic party, when asked about any help her campaign received. "But I'm not someone who believes in blaming others for your actions," she added. "The first person who is responsible for their campaign is a candidate. It was my race, and I'm the candidate," Frontus said, adding that she felt she did everything she could in the campaign. 
Still, Frontus, who represents a section of southern Brooklyn stretching from Bay Ridge to Coney Island, acknowledged that a helping hand from the county party – or the state party, for that matter – wouldn't have hurt in such a close race. City & State previously reported that her race would be tight and that the county party had yet to provide resources to support her. "Potentially and theoretically, to the extent that the county or the state could have provided some infrastructure, of course that would have been helpful," she said. "What a county infrastructure brings, and what a state party could have brought, is support from the backend, whether that looks like robocalls, texting, mailers, galvanizing the base turning out Dems." The county party said that it worked to organize phone banking for the Democratic slate, but Caitlin Kawaguchi, president of the reform organization New Kings Democrats, said that that organizing effort only got underway in the last week. New York Focus previously reported that just a week before the election, the county party hosted a gala – with tickets going from $500 to $10,000 – but the proceeds went to party "housekeeping," not Democrats on the ballot. 
Frontus is one of several Democratic incumbents who are in trouble in the increasingly red southern Brooklyn after last night. Four close state legislative races in the area had still yet to be officially called by The Associated Press as of late Wednesday afternoon, including in Assembly District 46, where Frontus said she will wait for every vote to be counted, having been locked in close races before. 
Two other incumbent Assembly Democrats – Steven Cymbrowitz in District 45 and Peter Abbate Jr. in District 49 – trailed by larger margins, and Cymbrowitz conceded. Meanwhile, Democratic state Senate candidate Iwen Chu, running against Republican Vito LaBella in the 17th District, leads by only a few hundred votes. And in the congressional district split between parts of Staten Island and southern Brooklyn, Republican Rep. Nicole Malliotakis easily beat former Democratic Rep. Max Rose.
The potential red wavelet in southern Brooklyn shouldn't be a total surprise. Last year, Republican mayoral candidate Curtis Sliwa won each of the above Assembly districts by a comfortable margin. And southern Brooklyn has been an increasingly red hotspot in recent city and statewide races, including in Gov. Kathy Hochul's victory on Tuesday.
But Tuesday's results are nonetheless renewing discussions about how Democrats can hang on in future races in these southern Brooklyn neighborhoods, and what role the county party and other party leaders should play in that fight. "Outside of Bay Ridge, the Democratic Party has all but lost large swaths of voters in southern Brooklyn who are now reliably voting Republican," New York City Council Member Justin Brannan, who represents Bay Ridge, said. "We've been sounding the alarm on these political headwinds for years. Maybe now they'll listen?"
Explaining the potential wave of upsets for Democrats, some southern Brooklyn lawmakers and political observers said the county Democratic party's involvement in getting out the vote – including in those more competitive races – has been too little too late. "We don't have a functioning party here in Brooklyn, we don't have a Brooklyn Democratic Party that raises funds for candidates, that turns out volunteers for candidates, that uses the full weight of Brooklyn Democrats to support folks in competitive races," said Kawaguchi, the New Kings Democrats president.
Frontus and Abbate told City & State that the Brooklyn Democratic Party did not do anything to help their own campaigns. Cymbrowitz and Chu's campaigns could not immediately be reached, but it doesn't appear that any donations were made to their campaigns either according to available campaign finance filings. In a press release sent out on Wednesday, the party said that it helped to engage Democrats through phone banking, canvassing, rallies and more, reaching more than 1.1 million voters, but it's unclear how much of that work reached Democrats in competitive districts.
Reformists have long targeted the Brooklyn Democratic Party and its establishment leadership. In several statements on Wednesday, the party, which is led by Assembly Member Rodneyse Bichotte Hermelyn, focused largely on celebrating Democratic wins on the statewide ticket, calling out victories by Hochul, Senate Majority Leader Chuck Schumer, and Attorney General Letitia James. 
But the party did acknowledge the Republican momentum in southern Brooklyn. "There were parts of southern Brooklyn where the headwinds appear to have been too great, but all that means is we go to work to return those seats to the Democratic column in 2024," Bichotte Hermelyn said in an emailed statement. The press release sent out by the party added, "While there is a blue wave in the state of New York, Democratic nominees all over the city and state, including parts of South Brooklyn faced unprecedented GOP challengers and we express respect for these nominees who fought hard but may have fell short." 
"I don't think they know how to do it," Abbate said on Wednesday, when asked why he thought the county party didn't get more involved in his race. "There's so much turmoil between the factions in the Democratic Party, but they haven't been involved in 10 years, 15 years in southern Brooklyn." Abbate said the party needs to devote resources to educating voters about the issues, including putting out effective messaging on crime, which Republicans statewide campaigned on.
State Sen. Andrew Gounardes, who handily won reelection in his southern Brooklyn district on Tuesday, also pointed out the lack of attention on the area, saying in a tweet, "Speaking from direct experience, the only organized political party that did an ounce of work in southern Brooklyn this election cycle was the (New York Working Families Party)."
Frontus may not be laying blame at the county or state party's feet, but she espoused some hope in a more active party in the future.  "It's nice to have support because we're not orphans or stepchildren, we belong to the Democratic Party," she said. "The party shouldn't be fighting itself, and eating its own," added Frontus, who fended off a primary challenge earlier this year from a district leader.  "We're not always going to be on the same page, but we have to have each other's back."