Kathy Hochul
Hochul won her election, but at what cost?
Democrats may have kept hold of the governorship, but Gov. Kathy Hochul's weak performance may have lost the party the House.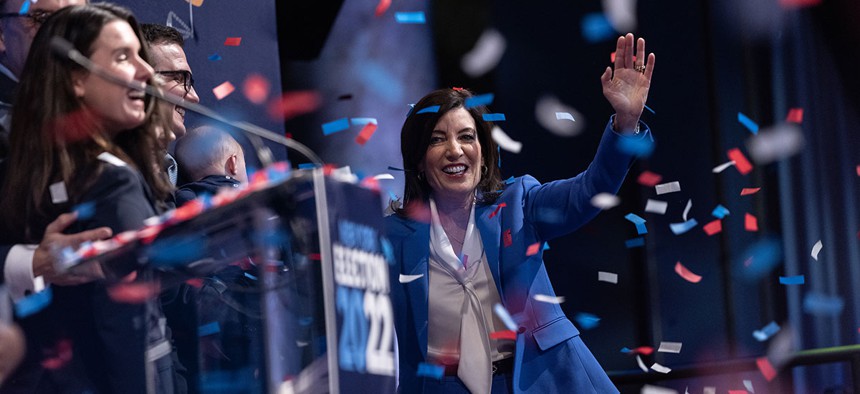 On election night, Gov. Kathy Hochul basked in the applause of her supporters after declaring victory and becoming the first woman ever elected governor of New York. The glass-ceiling-breaking moment was certainly cause for celebration, but it didn't take away from the fact Hochul ended the night with just a five percentage point lead, the closest race in nearly three decades. 
The celebratory atmosphere also belied the far more somber mood in other parts of the state as the returns showed a number of significant losses for Democrats down ballot. Although the party can weather the handful of lost seats in the state Senate – and surprisingly in the Assembly – a poor showing at the congressional level may become the reason Democrats lose the House. 
Hochul hardly had an easy path to victory – what had originally started as a double digit lead in early polling soon narrowed to a troubling degree for the incumbent. Her race attracted national attention as major Democrats stumped in New York, a rarity for the Democratic stronghold. But the state also found itself as a battleground for the House after redistricting and a handful of electoral reshuffling left a large number of seats up for grabs. With Democrats in control of the White House and Congress, most political observers expected Republicans to perform well during this year's midterms, and New York was no exception. 
Only New York wound up as one of the only states to experience the Republican backlash. Across the country, GOP candidates underperformed expectations and Democrats won a number of key elections in swing states. But in New York, the Democratic governor won only by a narrow margin, and down ballot candidates suffered in parts of the state where she lost big. Long Island and parts of the Hudson Valley in particular suffered the worst, and every highly competitive congressional race went red. "The New York Democratic Party was selfish and reckless – and they paid for it by possibly costing Dems the House," progressive Democratic consultant Camille Rivera told City & State. "Absolutely no reason why Dems win in swing seats in Michigan and OHIO and not New York. You can thank (state Democratic Party Chair) Jay Jacobs and FORMER Rep. Sean Patrick Maloney for this."
Jacobs denied that Hochul had a detrimental effect on other candidates and also refused to accept blame for both her performance and losses in Congress. "New York did underperform, but so did California," Jacobs told City & State. "What do those two states have in common? Well, governmentally, we're among the two most progressive states in the country." 
Instead, Jacobs placed blame on progressive politicians who have shifted the party too far to the left, costing them swing and moderate voters. "I'm not going to take responsibility for or blame, if you will, for losses that we had here," Jacobs said, dismissing claims that he did nothing for vulnerable candidates by pointing to maxed-out donations and behind the scenes organizing he took charge of. He said that Hochul performed admirably given the circumstances and that her close race didn't cost Democrats seats. "I think that it's more the Democratic brand in New York that had difficulty in some of these tough, tougher districts, more competitive districts," Jacobs said.
But looking at the numbers, down ballot Democrats suffered where Hochul lost. Maloney, who also chairs the Democratic Congressional Campaign Committee, won a healthy majority of votes in the Westchester portion of his district, a county that Hochul performed well in. Although down ballot Democratic candidates for state Senate and Assembly in Westchester also kept their seats even as some of their fellow Hudson Valley colleagues did not. But in Rockland County, which makes up a large portion of the district Maloney chose to run in, he lost significantly. State Sen. Elijah Reichlin-Melnick also found himself trailing on election night, even as he waited for all absentee ballots to get counted. Hochul lost in Rockland County by a 10 percentage point margin. 
The same thing happened on Long Island, where Republicans picked up three state Senate seats and won the three open seats for Congress as well. In Nassau County, Hochul lost to Zeldin by over 10 percentage points. The margin in Suffolk was even wider, with Zeldin winning 17 percentage points more of the vote than Hochul. While Suffolk tends to trend more red, Nassau has elected Democrats to Congress and the state Legislature consistently for the past several years. Biden won the county in 2020, as did former governor Andrew Cuomo in 2018 and Hillary Clinton in the 2016 presidential election. A red wave hit both counties at the local level in 2021, and though Democrats expressed confidence that it would not translate to results this year, candidates failed to perform from the top of the ticket on down. 
In the final days of the race, Hochul held major rallies in New York City and Westchester and an attempt to bring out her base. And it worked with a strong showing in the northern suburb and keeping Zeldin at just below 30% in New York City despite the significant inroads he had made with certain communities like Orthodox Jews and overall low turnout in the boroughs. But based on her campaign schedule, Long Island seemed like it was already a lost cause. 
Hochul's lackluster election performance has some Democrats grumbling. One Assembly Member who spoke on background to be candid, called her a weak leader and criticized her campaign. "The campaign reminded me of the person who's running in fifth place in a 25 person council race in Queens," the Assembly Member told City & State. Others, especially progressives like Rivera, questioned Jacobs' leadership of the party, which became a common refrain on social media. Soon-to-be former Rep. Mondaire Jones summed up the general mood among many Democrats dissatisfied with how Jacobs and Hochul handled this election cycle with a single word tweet: "Yikes."
With reporting by Jeff Coltin