News & Politics
HIV advocates charge Hochul hasn't delivered on promise to end AIDS epidemic in New York
A year has passed since the governor made a commitment to ending the sexually transmitted disease, and HIV advocacy groups are demanding action.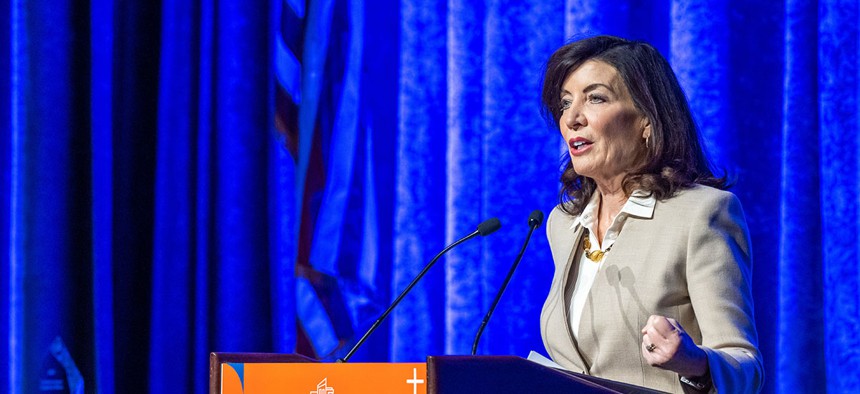 In 2014, the state Department of Health under former Gov. Andrew Cuomo announced an ambitious goal of ending the HIV/AIDS epidemic in New York by 2020, halting the disease's spread and eliminating the emergence of new cases. Two years after that deadline, the end date has been pushed later to 2024 by Gov. Kathy Hochul. Last year, Hochul made a World Aids Day proclamation reaserting her commitment to ending the epidemic and helping those afflicted. But a year later, advocates for HIV positive people say that Hochul has done nothing to make good on her promises. As another World Aids Day comes and goes, they are once again calling on the governor to provide the funding needed to expand affordable and supportive housing for HIV positive people after years of inaction at the state level. 
Although a housing crisis exists throughout the state, New York City has more resources available for HIV positive people to find affordable housing, get rental assistance and find access to services through the HIV/AIDS Services Administration. But outside of the city, those resources are much harder to come by. "HIV doesn't care about a zip code, it don't care about your status, you know, if you're LGBT, if you're Black or white, it doesn't care," Tracie Adams, a Rochester organizer with the harm-reduction-group VOCAL-NY who lives with HIV, told City & State. "I just care that no matter who's positive, no matter what color your skin is, you should be getting adequate housing. And they're not." 
Back in 2018, Cuomo announced a fix as part of his executive budget that year, expanding the HIV/AIDS Services Administration rental assistance program statewide. But the change made the enhanced assistance optional for localities to provide, and did not come with additional state funds to help local agencies with the additional costs. VOCAL-NY claims that since lawmakers adopted the language into the budget, which has since been included in succeeding budgets, no locality has voluntarily offered the rental assistance.
To remedy this, advocates like Adams are asking that Hochul include fixes in her executive budget next year, amending the language to require that local social service agencies provide enhanced rental assistance to HIV positive people, expand the 30% affordable housing rent cap protection that people with HIV have in New York City and allocate $10 million in state dollars to provide the necessary funding for localities to implement the program. "She has done nothing to uphold anything that she said that she would do," Adams said of Hochul and her hope the governor will act in 2023. 
Adams' hope is shared by Assembly Member Harry Bronson, an upstate lawmaker who has long been a champion of the effort to get more affordable housing for people living with HIV. "We cannot end this epidemic while 10,000 or more individuals with HIV across the state remain homeless or are unstably housed," Bronson said in a statement. "Housing is healthcare and I will not stop fighting until we meet this need."
When asked whether the governor would commit to those changes, a spokesperson for Hochul didn't provide an answer. "Under her leadership, the state has invested heavily in the Homeless Housing and Assistance Program and Empire State Supportive Housing Initiative to build hundred of units of supportive housing – including for New Yorkers living with HIV/AIDS – and distributed more than $1.5 billion in rental assistance statewide," Hochul spokesperson Justin Mason said in a statement. "The governor remains committed to working closely with the Legislature on solutions to New York's housing crisis and helping all New Yorkers find safe, stable and affordable homes."
As of late Thursday afternoon, Hochul had not released a public statement about World Aids Day. But last year, she assured in a video message that her administration "is fighting to ensure all New Yorkers have adequate and comprehensive health care for all," and that she remains "committed to ending the AIDS epidemic in New York." For Adams, that can't happen without access to safe and affordable housing. "Without proper housing, what do you expect from anybody?" Adams said. "Nobody's going to take their medication, I ain't got no house! They're not eating right, they're not bathing right; it's essential, it's crucial we have housing."