Politics
Lying isn't a crime, so will George Santos face any consequences?
The Long Island Republican is set to take his seat in Congress next week, despite fabricating his entire resume.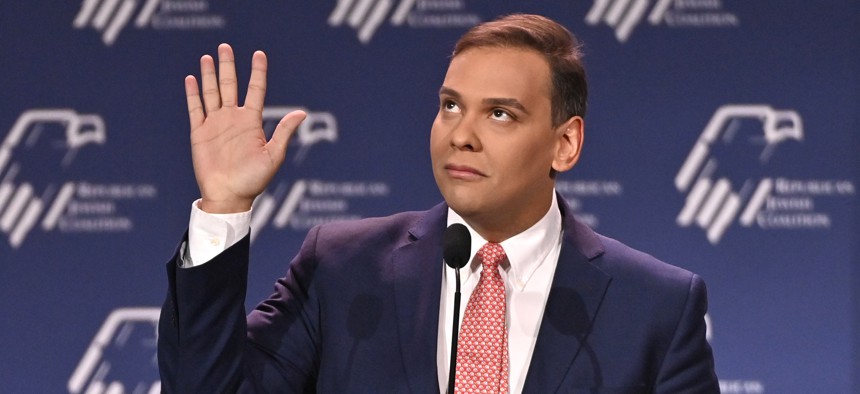 If there's one thing that we know about Rep.-elect George Santos, it's that we don't really know anything.
After coming clean about lying on the campaign trail about his work and education history, as well as addressing a series of other falsehoods and what he calls "embellishments," New Yorkers and the political establishment alike are left with a single question: What happens to Santos now? For now, the short answer is nothing at all – nothing is technically stopping him from taking office in a few days. But as his web of obfuscation continues to get unwound, especially surrounding his opaque finances, the specter of criminal culpability still looms over Santos.
When he finally broke his silence, including in an interview with City & State, Santos reaffirmed he still plans to get sworn into office next month, despite admitting to various lies he told to voters about his personal history. And without any criminal charges levied against him, nothing is stopping him. Democrats have called on Santos to step aside in light of the allegations against him, many of which he acknowledged. Democrat Robert Zimmerman, whom he beat in November, challenged Santos to a special election rematch now that the falsehoods on his resume have been laid bare. Others, including some fellow Republicans, have demanded the House Ethics Committee investigate Santos once he takes office.
But Republican leadership in Congress have thus far remained silent on the matter of Santos, giving no indication that they plan to dole out any discipline, let alone refuse to seat him. With the party's slim control of the House, incoming-Speaker Kevin McCarthy has more incentive to seat Santos without incident than to antagonize a new member of his delegation. 
However, that doesn't assure Santos a consequence-free conclusion to the media circus he has created. Aside from the possibility of a House Ethics Committee investigation, as unlikely as that may be under GOP control, criminal investigations may yet uncover misdeeds that could spell an early exit from Congress. The state attorney general's office has already announced that it is looking into Santos, although a spokesperson could not offer any specifics to City & State on the direction of that investigation. On Wednesday, the Nassau County district attorney – a fellow Republican – also announced an investigation into Santos. With the revelations still fresh, other law enforcement probes may follow. 
Since lying to voters is not actually a crime, the biggest hole in Santos' story that could lead to charges comes from exaggerations about his personal wealth, and in turn his campaign finances. On the campaign trail, Santos billed himself as a successful entrepreneur and Wall Street financier with the cash to lend himself $705,000. But records show that in the past decade, landlords have evicted him twice for failure to pay thousands in rent, and the millions in real estate assets he claimed his family owned don't exist. Santos has offered limited information about where he got the money to self-fund his campaign, telling City & State simply that his business took off, and some political observers have begun to question his potential ties to Russian oligarchs. He denied any such connections, telling City & State he's "no Russian puppet." None of this inherently suggests criminality, but the unknowns have left plenty for law enforcement to investigate. 
Santos could also face more mundane campaign finance violations if concrete evidence emerges that he lied on his financial disclosures. The New York Times noted in its first expose on the incoming Congress that Santos could face trouble if his Devolder Organization had clients he failed to list. Lying on those forms, whether about hypothetical clients or other aspects of his financial history, could result in a felony conviction and up to five years in prison Getting a conviction in such cases is difficult due to the high bar needed to prove someone knowingly and willfully lied, but with Santos' existing admissions about his falsehoods, prosecutors may have an easier time if the evidence emerges. 
Come Jan. 1, George Santos will become the new representative for the 3rd Congressional District. What happens after that remains anyone's guess. And even if Santos serves his full two years, he still has to face the voters again in 2024 with his many "embellishments" brought to light.