New York State
Al Taylor has come around on New York's Equality Amendment
The Assembly member and New York City Council candidate said his personal views should not "overrule the right for someone else to make their own decisions."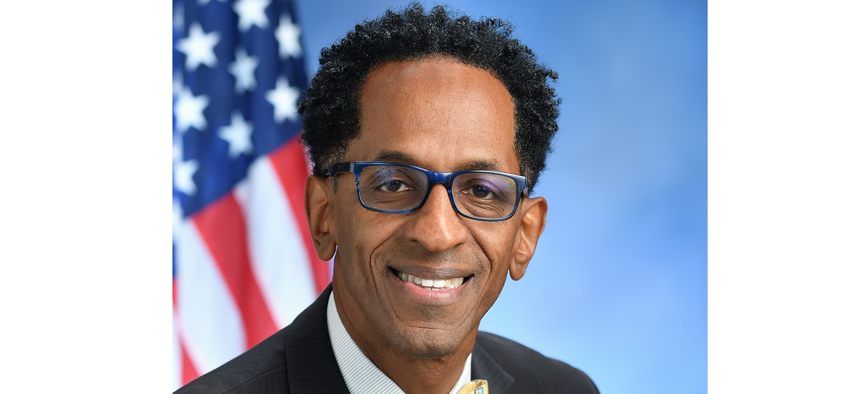 The state Legislature didn't need the support of Assembly Member Al Taylor to advance a constitutional amendment that would prohibit discrimination against LGBTQ people and prevent actions limiting access to reproductive health care. But Taylor, a Democrat and longtime pastor in Harlem, nonetheless voted in favor of the constitutional amendment this week, sending it to voters in November 2024. But just last year, Taylor voted against the same amendment.
Speaking to City & State on Wednesday, Taylor said he voted in favor of the Equality Amendment this year after realizing that his personal beliefs as clergy should not "overrule the right for someone else to make their own decisions." The amendment specifies new protections from discrimination based on ethnicity, national origin, age, disability or sex, including sexual orientation, gender identity, gender expression, pregnancy, pregnancy outcomes, and reproductive health care and autonomy. Currently, the state constitution offers protection from discrimination based on race, color, creed or religion.Taylor did not elaborate when asked what his specific objections to the amendment were when he voted against it last year. But when first asked about his vote this year, he referenced the right to choose. "I felt that I had to take my personal (beliefs) and sit it on the side, and say to the voters, 'You decide. You have a right to make that decision. A woman does have the right to make her own decisions.' And it should go on the ballot," Taylor said. 
Taylor, who is primarying Democratic City Council Member Kristin Richardson Jordan for her Harlem council seat this spring, did not elaborate when asked what he believes abortion access should look like. He voted against the 2019 Reproductive Health Act, which codified the protections of Roe v. Wade in New York. But Taylor noted that he voted for some of the abortion bills that passed last spring after it was reported that the U.S. Supreme Court would overturn its landmark abortion decision.
"I'm clergy. I believe in supporting life 1,000%," Taylor told City & State. "But I have been elected by folks that want me to do the best for the state. And there comes a time when you're making decisions, you have to make sure that you allow everybody's voice to be heard. And I prematurely didn't allow that last year."
Taylor's change of heart on the Equality Amendment comes amid his competitive challenge for Jordan's council seat, where it's likely his positions on abortion and LGBTQ rights will be raised by any of the several Democrats now vying for the seat. "Whether I'm running for reelection on the Assembly side or the council side, this was one of those things you had to address," Taylor said when asked whether that change of heart had anything to do with his council race. "I was glad to be able to step into this space, and do what I should have done last year, which is allow people to go into the booth and pull the lever and make their own decision."
Last spring, Taylor voted in favor of two bills that prohibit misconduct charges, malpractice suits and other adverse actions against health care practitioners who perform abortions or provide other reproductive health services for people who travel from out of state. And he voted in favor of a bill requiring a report on the unmet health needs of pregnant people and their access to "accurate, noncoercive health care information."
But Taylor also voted against three of the abortion bills that his Democratic colleagues overwhelmingly championed and passed last spring. That included a bill providing some legal protections for abortion service providers, a bill allowing people who access or provide reproductive health care to enroll in an address confidentiality program and a bill allowing people to bring a claim against someone who is suing them for accessing reproductive health care.
The Jim Owles Liberal Democratic Club in December called for some state lawmakers who endorsed Taylor's council run to withdraw their support, noting his past vote against the Equality Amendment and asserting that Taylor refuses to perform same-sex marriages.
Taylor said Wednesday that he supports the LGBTQ community "1,000%" and that he believes the U.S. Supreme Court has settled gay marriage. But he didn't deny that he told Jim Owles President Allen Roskoff before that he won't perform same-sex marriages, saying that he would lose his credentials to perform marriages or pastor if he did so. "While I was pleasantly surprised to see that our efforts and pressure prevailed in ensuring that Al Taylor voted correctly with the LGBTQ community yesterday, I am still deeply concerned by his positions, and his track record on our issues," Roskoff said in a text message on Wednesday about Taylor's "yes" vote on the Equality Amendment. (Taylor said he did not talk to the Jim Owles club about the bill.) "His inconsistent behavior on our issues is about as reliable as George Santos," Roskoff added.
Taylor described his vote flipping on the Equality Amendment as an evolution. "You wrestle with that, with what I personally believe and say, 'OK, well, that's what I believe. And no one's taking that from me. But am I allowing others to exercise their own right to believe?'" Taylor said. "You can't talk about being a change agent or supportive of change if you're not willing to first be a part of it yourself."