Politics
Nassau Republicans call on George Santos to resign
"He is a stain on the House of Representatives," said County Executive Bruce Blakeman.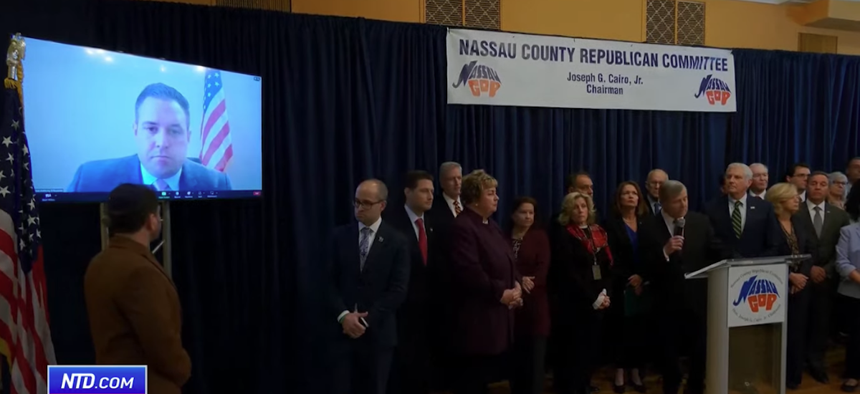 Nassau County Republican officials called on disgraced Republican Rep. George Santos to immediately resign from Congress, just four days after being sworn into office.
"He has no place in the Nassau County Republican Committee, nor should he serve in public service," Nassau County Republican Committee Chair Joseph Cairo said of Santos on Wednesday alongside a bevy of Nassau County Republicans, including Rep. Anthony D'Esposito. Cairo and other officials said that Santos deceived not only voters but the Nassau County GOP itself. 
In late December, The New York Times reported on a bewildering number of lies Santos told about his resume and background during the campaign, including that he worked on Wall Street, that his grandparents survived the Holocaust and that he lost employees in the 2016 Pulse nightclub shooting in Florida. The North Shore Leader, a small newspaper on Long Island, was the first to report on many of Santos' questionable and false claims.
Cairo and Nassau County Executive Bruce Blakeman mentioned Santos' lie about having family who survived the Holocaust as particularly offensive to voters and Jewish residents of the 3rd Congressional District. "He is a stain on the House of Representatives. He is a stain on the 3rd Congressional District," Blakeman said. Blakeman said that his office will have no interaction with his office or staff until he resigns, and said that his office will direct any constituent calls from the 3rd district to D'Esposito, who represents the 4th Congressional District, instead. 
"We will continue to do the people's work, but it will not include Santos," said state Sen. Jack Martins who, along with everyone else at Wednesday's press conference, called for Santos' immediate resignation.
That's quite a change for the party, which gave Santos its full support in both his 2020 and 2022 Congressional runs. Cairo said he was duped by Santos, just like everyone else – "Shame on me for believing people" – and insisted he was a "Queens Republican," rather than one from the county. Santos' current place of residence is unknown, and it isn't clear where he lived for much of the campaign. 
Santos and political action committees associated with him were major donors to the Nassau GOP, Newsday reported. The party said it would return the money.
Santos himself has shown no interest in resigning, and told City & State in December that he planned to earn back his constituents' trust by working hard in Congress. He reiterated that Wednesday, telling reporters at the U.S. Capitol "I will not," step down. "I was elected to serve the people of #NY03 not the party & politicians," he added in a tweet. "I remain committed to doing that and regret to hear that local officials refuse to work with my office to deliver results to keep our community safe and lower the cost of living. I will NOT resign!"
And with multiple investigations swirling around him, Santos may be making a strategic decision to hold on to his seat for now, as explained by a tongue-in-cheek tweet from former Rep. Mondaire Jones, who is a lawyer. "If I were George Santos' lawyer," Jones said, "I, too, would advise him not to resign until such time as he could negotiate that as part of a plea deal."
The backlash to the revelation of Santos' lies has been swift and fierce. Santos, who was nevertheless sworn into Congress last weekend, is now facing multiple investigations at local, state and federal levels.  
New York Democratic Reps. Ritchie Torres and Dan Goldman made a formal complaint with the House Ethics Committee Tuesday, and a nonpartisan campaign watchdog group has filed a complaint to the Federal Elections Commission. State Attorney General Letitia James has also begun an inquiry.
But the call for Santos to resign from the Nassau County GOP is the harshest condemnation yet of Santos' actions from within his own party. National Republicans have not made similar calls or been as vocal in criticizing Santos. "House Republican leadership remains SILENT about the fraudulence of George Santos, claiming that the matter should be 'handled internally,'" Torres said in a tweet on Wednesday. "'Handling it internally' is code for not handling it at all."
City & State previously reported on who could end up running for Santos' seat whether he leaves office before 2024 or not.
More than 20 Long Island Republicans appeared alongside Cairo on Wednesday, including D'Esposito, who appeared over video conference, Blakeman, Martins, Assembly Member Ed Ra, state Sen. Patricia Canzoneri-Fitzpatrick, County Comptroller Elaine Phillips, County Clerk Maureen O'Connell and several other county legislators and town supervisors. Republican Rep. Andrew Garbarino, whose Long Island district includes a small sliver of Nassau County, was not present. Garbarino did not immediately return a call on Wednesday, but a spokesperson for the Congress member has said that Garbarino hasn't commented on Santos because he is a member of an ethics subcommittee and could be called to participate in potential investigations of the matter.
The Conservative Party of New York State joined in the county Republican Party's call for Santos' resignation in a statement on Wednesday afternoon. "Mr. Santos's profound use of mistruths as a candidate morally disqualifies him from serving in public office and exposes him to potential legal action, seriously compromising his ability to represent his constituents," Conservative Party Chair Gerard Kassar said. Santos also ran on the Conservative Party line in both 2020 and 2022. 
With reporting by Jeff Coltin
Update: This developing story was updated with comment from Santos. A list of some of the politicians at the press conference, and comment from the Conservative Party of New York State were also added.
Powered By
NEXT STORY: Hochul projects amity – even as chief judge fight clouds start of session