News & Politics
'New York has done its share,' Eric Adams says on migrant crisis
The mayor is making direct calls for action from the federal government to address the influx of asylum seekers, many of whom have landed in New York City.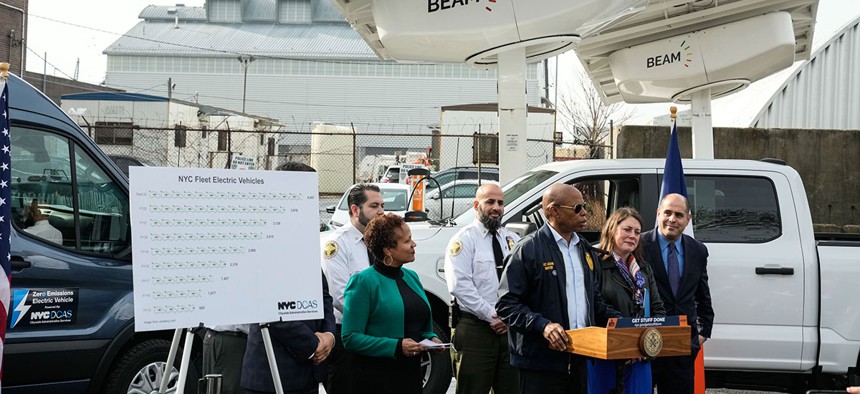 At the start of his second year in office, New York City Mayor Eric Adams appears to have little interest in pulling punches. At a press conference on Wednesday, Adams doubled down on his assertion that there is "no more room at the inn" for additional asylum seekers, including those who are set to arrive in the city from Colorado. 
Adams denied it when asked by a reporter whether that statement, made in an interview on WABC on Tuesday, was callous. "What's callous is how we have been ignored as a city," Adams said. "We had over 30,000 people show up at our doorstep, and we opened our doors to them. It is time for the federal government to step up."
More than 31,000 migrants, many seeking asylum from Venezuela, arrived to New York City from the southern border last year. Many were sent to largely Democratic cities like New York by leaders near the border including El Paso Mayor Oscar Leeser and Texas Gov. Greg Abbott, who bragged this week about busing more than 5,100 asylum seekers to New York alone.
But new arrivals aren't only being sent to sanctuary cities as a political act. Colorado Gov. Jared Polis, a Democrat, said that the state is helping migrants get to their intended destinations, which in some cases is not in the Rocky Mountains, but New York City. 
As the crisis continues into a new year, Adams is issuing his most direct calls for relief – in the form of federal action on immigration as well as federal funding – as he said that New York City is being pushed to a breaking point. "We're not only having to make sure that they have a place to sleep, which we are doing. But we also are having to overcrowd our schools, feed, clothe, (provide) health care. And we're not receiving any money from anyone," Adams said. 
Last fall, New York City requested $1 billion from the federal government to cover the costs of managing the influx of asylum seekers, and even included that yet-to-be-fulfilled commitment in its modified budget for this fiscal year. In late December, the Federal Emergency Management Agency awarded just under $8 million to the city to start covering those costs, but City Hall has said that it's hoping for more allocations, including hundreds of millions of dollars from the federal omnibus bill passed last month.
Though Adams said that he agreed with Chicago Mayor Lori Lightfoot's assertion that Colorado sending migrants to Chicago and New York is "inhumane," he maintained that the ultimate responsibility for handling the crisis lies with the federal government, though he didn't mention specific action that should be taken. "We have a problem at our borders. El Paso shouldn't be going through this, and no other city should be going through this," Adams said. "When I say the federal government, I'm talking about Congress and the executive branch resolving this issue of our migrants. That's what I'm talking about."