Heard Around Town
Top Black electeds met to talk about crime, but they don't have much to say yet
Rev. Al Sharpton brought some of New York's leaders together for a closed door discussion.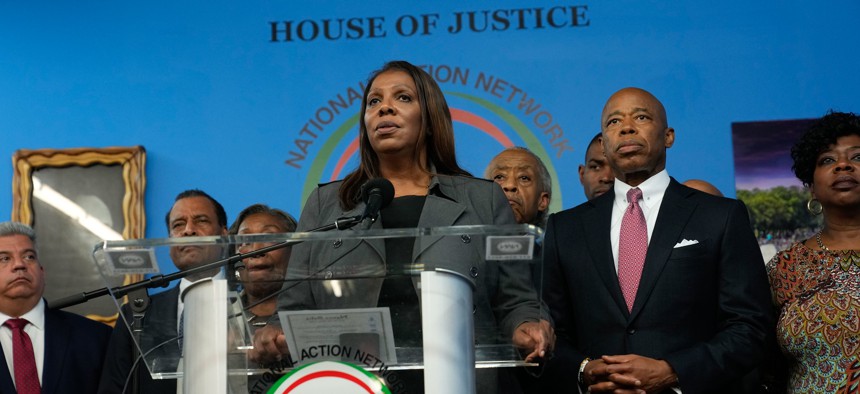 New York City and state's Black elected leaders say they're finally communicating with each other about how to combat crime. But they're not eager to tell the public about it just yet.
Rev. Al Sharpton convened a public safety summit including New York City Mayor Eric Adams, state Senate Majority Leader Andrea Stewart-Cousins, Assembly Speaker Carl Heastie, Attorney General Letitia James, Lt. Gov. Antonio Delgado, District Attorneys Darcel Clark, Alvin Bragg and Eric Gonzalez, New York City Council Speaker Adrienne Adams and more in Harlem on Thursday night. The closed-doors discussion, which lasted about two hours, followed Sharpton's call for a sit-down conversation and consensus-building among the historic number of Black New Yorkers in the state's top jobs. 
The leaders projected unity in their vision of public safety in a short briefing with the media, but did not discuss specifics or take any questions. "We love the press, but we don't need to communicate with each other through the press," Stewart-Cousins said. Last year, divisions on bail reform between leaders including Stewart-Cousins and Adams played out publicly while combating crime became successful election messaging for Republicans. 
It's unclear if any consensus was reached on topics like bail reform on Thursday, but James said that they talked about specific issues, along with more general topics.. "None of those issues will be discussed here before the media," James said. "We will discuss them in private. We will come forth with a plan. We will map out where the issues are. And we will join together as one."