Politics
Tracking which NY GOP Congress members have called on George Santos to resign
The state's Republican delegation is split on the perfidious Long Island rep.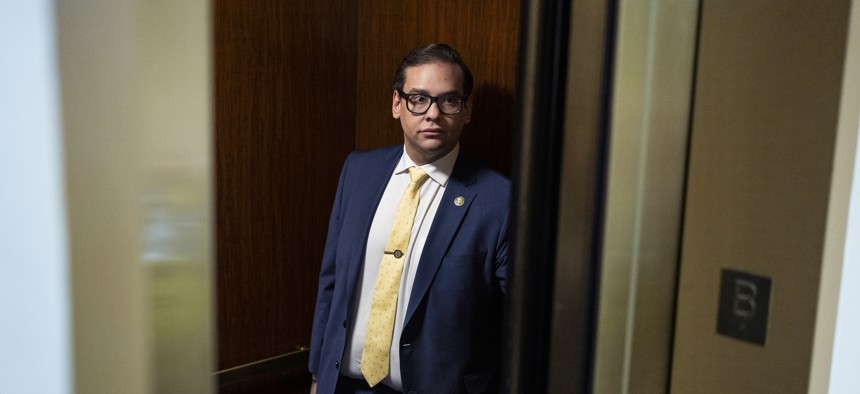 It's been a little over a month since a New York Times investigation exposed Republican Rep. George Santos for "embellishing" his resume during his campaign. Santos lied about his wealth, his prior employment, his real estate assets, his college degree, his nonprofit pet rescue and his religious background among other things. He also made bizarre claims including that he employed four people who died in the Pulse nightclub shooting in 2016. The story was first reported by the North Shore Leader in September. Since the Times investigation was published on Dec. 19, it seems like the list of lies have grown with each passing day, as well as the calls for Santos' resignation. 
Republicans' reactions to Santos have been mixed. After weeks of silence, Speaker Kevin McCarthy said this week Santos should be removed from Congress if he is found to have broken the law. Other members within his own party have called for the Congress member to resign, including the Nassau County GOP on Jan. 11. Meanwhile, other Republican lawmakers in Congress have kept a tight lip while the drama unfolds. 
Here's how New York Republican Congress members have responded to the lies. 
Republicans who've called for Santos to resign 
Nick LaLota
Not only did Rep. Nick LaLota call for the resignation of Santos on Jan. 11, the Long Island Congress member urged the Department of Justice and the Federal Election Commission to freeze funds in Santos' campaign account in a statement on Jan. 15. "To the extent there is actually any real money in the campaign account of Congressman George Santos, the funds should be immediately frozen by the United States Department of Justice or Federal Election Commission," LaLota wrote.
Anthony D'Esposito
Nassau County Rep. Anthony D'Esposito joined the county GOP to call on Santos to resign. "When public servants deceive and mislead those they are tasked with serving, they are no longer fit to work for the people," D'Esposito wrote in a statement on Jan. 11. "For his betrayal of the public's trust, I call on Congressman George Santos to resign."
Brandon Williams
Central New York Rep. Brandon Williams joined the growing list of Republicans calling for Santos to resign on Jan. 11. "As more revelations become public, I concur with the Nassau Republicans' decision to request George Santos's resignation," Williams wrote in a statement.
Mike Lawler
Former New York Assembly Member Mike Lawler has been vocal of his criticism of Santos for some time. In a formal statement on Dec. 28, the newly elected Republican Congress member called for Santos to fully cooperate on investigations. A few weeks later, Lawler went a step further, calling on the embattled Congress member to resign in a statement on Jan. 12. "With the extent and severity of the allegations against him, his inability to take full responsibility for his conduct, and the numerous investigations underway, I believe he is unable to fulfill his duties and should resign," Lawler wrote.
Marc Molinaro
Hudson Valley Republican Rep. Marc Molinaro joined Lawler to call for Santos to resign and said the embattled Congress member is not able to serve his district. "George Santos' dishonesty has eroded his ability to represent his neighbors and serve in Congress," Molinaro wrote in a statement to the Times Union published Jan. 12. "I don't see how he can continue."
Republicans who have not made calls for Santos to resign 
Nicole Malliotakis
While Rep. Nicole Malliotakis hasn't formally called for Santos to resign, the Staten Island representative admitted that she did not trust the Congress member from the 3rd Congressional District in an interview with NY1 on Jan. 4. "It's going to be very difficult for him to move forward. It's going to be very difficult for him to govern, to work with others. His colleagues can't trust him. And I think that's a major issue," Malliotakis said.
Elise Stefanik
North Country Rep. Elise Stefanik, the GOP conference chair, endorsed and raised money for Santos through his campaign. Stefanik has remained silent on the calls to oust Santos. In an interview with Spectrum News on Jan. 10, Stefanik said the Santos situation would "play itself out."
Andrew Garbarino
Long Island Rep. Andrew Garbarino is a member of the House Ethics Investigation Subcommittee and cited his committee involvement as the reason he cannot comment on Santos, in an interview with Axios.
Claudia Tenney
Finger Lakes and Western New York Rep. Claudia Tenney has not called for Santos to resign and has said she plans to wait for the conclusion of the ongoing investigation. "I want to see what an investigation or a campaign finance issue reveals. I don't want to interfere with the voters of the 3rd district," Tenney said while at a news conference, as reported by WAMC on Jan. 13.
George Santos
The man of the hour has insisted he will not step down until "142,000" people call on him to resign.