Politics
Anthony Cannataro gives State of the Judiciary in front of Hector LaSalle
He said the courts were addressing the backlog of cases amid pandemic-era challenges and lacking a chief judge.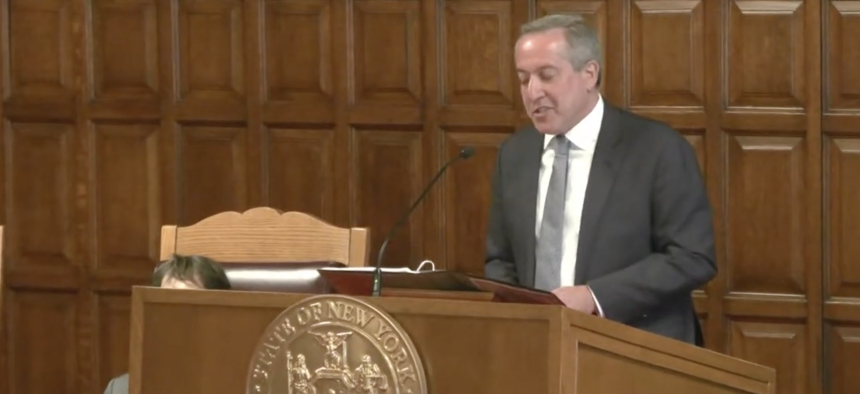 State Court of Appeals acting Chief Judge Anthony Cannataro touted the accomplishments of the court system amid challenges brought on by the COVID-19 pandemic and the uncertainty of the vacant chief judge seat, during his State of the Judiciary address on Tuesday morning.
After two years of virtual State of the Judiciary speeches, Cannataro described last year as a "year of transition" in which the court system had to modernize its operations and work to cut down backlogs of court cases exacerbated by the COVID-19 pandemic. According to the acting chief judge, courts across the state resolved more than 2.1 million cases, criminal courts increased trials by 68% in 2022 and New York City courts had a notable reduction in pending misdemeanor cases.
"I am proud to say that our courts are open and operational," Cannataro said. "New Yorkers can rest assured that their criminal courts are taking proactive and creative approaches to managing resources with a view towards tackling caseloads and rebounding from pandemic backlogs."
Cannataro gave credit to the "tireless service" of judges and nonjudicial personnel in addressing the backlogs. He was also transparent that the courts still have a lot of work ahead, including working toward pre-pandemic staffing levels and addressing scheduling issues in family and criminal courts.
"Make no mistake, our criminal courts have more work to do on minimizing delays and adjudicating cases that have lingered for far too long when individual liberties and freedoms are at stake," Cannataro said. "The need for careful but prompt justice is paramount."
While it's been more than seven months since former Chief Judge Janet DiFiore resigned, Gov. Kathy Hochul said she plans to wait until after the budget is finalized by the April 1 deadline to name her next chief judge nominee – following the bitter nomination fight over her first nominee, Hector LaSalle, who was also present for the address.
The acting chief judge concluded his speech by addressing the chief justice nomination process and the "unexpected duration" of his interim service. LaSalle listened as the acting chief judge sang his praises, and LaSalle even received an extended standing ovation from his fellow judges. "We are lucky to have him as a jurist and as the administrative head of the Second Department, and I am personally deeply honored by his presence here today. Thank you Justice LaSalle," Cannataro said.
Cannataro addressed the recent criticisms of judicial rulings and quoted the late Chief Judge Judith Kaye to assert the importance of judges impartially applying the law – even when it goes against their own personal views and beliefs. "Since its founding, New York's judiciary and court system has supported the essential pillars of our democracy by delivering fair and impartial justice without regard to political persuasion or the headwinds of public opinion," Cannataro said.
He added: "This our judiciary has done since its founding. And this I am confident we will continue to do."