Politics
Being the city's social services commissioner is a hard job. And Gary Jenkins is leaving at a particularly difficult time.
The New York City shelter population is at a record high, and more homeless New Yorkers died last year than ever before.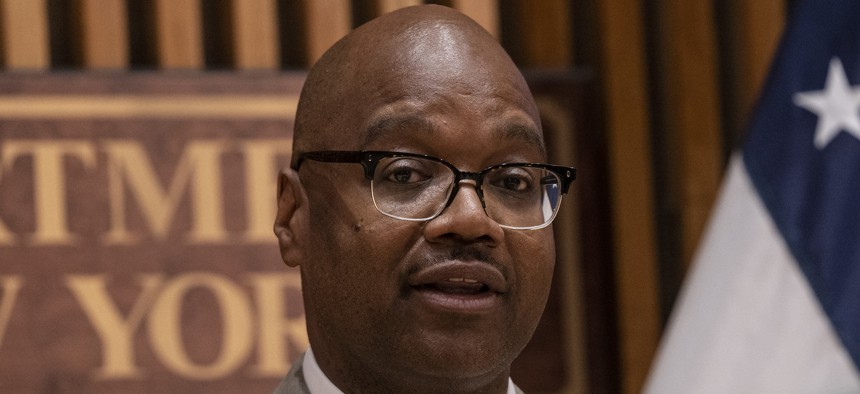 It's not an easy job to head New York City's Department of Social Services. Ask any of the former commissioners. It's an agency tasked with combating some of the city's most challenging issues, like homelessness, poverty, the allocation of food stamps, and – recently – supporting the influx of asylum-seekers.
Steven Banks was somewhat of an anomaly in that he served as the department's commissioner from 2014 through 2021 – almost two full mayoral terms. Still, he recalls the difficulties of the job being underscored from the start.
"Colleagues in government told me that the social services commissioner usually goes out in a pine box after about two years," he said. "Serving for eight years defied the odds."
The gears are now once again turning for a new leader to step into the role. Gary Jenkins, the department's current commissioner, announced his resignation Tuesday night after serving at the agency's helm for a little over a year. While several homeless advocates noted his devotion throughout his 36 year career at the agency and acknowledged that his departure will be a significant loss, they also expressed confidence in remaining leaders' ability to move work forward compassionately, hopefully free from setbacks that marred some previous transitions.
Still, Jenkins does seem to be leaving at a particularly difficult moment for the agency. The city is contending with the arrival of over 44,000 migrants – around 26,700 of whom were still in the city's care as of mid-January. That has contributed to the city's population sleeping in homeless shelters hitting an all time record high, exacerbated further by the COVID-19 pandemic and record-high rents. The number of homeless people who died in public spaces, shelters and hospitals hit at least 815 during the 2022 fiscal year – the most on record, according to a recently published city report. A group of New Yorkers also sued Jenkins and several others for the slow delivery of SNAP benefits. 
The city's Department of Investigation has also launched an investigation into allegations that Jenkins tried to hide the fact that some families stayed overnight at a Bronx intake office in August after they tried to apply for shelter. Jenkins has denied any wrongdoing, and provided text messages showing that he alerted a deputy mayor that same day.
But Jenkins denied that his plans to leave the job had anything to do with that.
"There is no discord, there is no running away – this was something that was already planned," Jenkins said in an interview on NY1 Tuesday night. "I'm happy I could take this opportunity after serving 36 years in the agency."
Homeless advocate Shams DaBaron said he wasn't too surprised by Jenkins' departure as the commissioner had mentioned to him toward the end of last summer that he wasn't sure whether he wanted to continue. Still, the news still struck a solemn cord. DaBaron praised Jenkins for his efforts throughout his tenure, saying his work helped him build confidence in the city's ability to address issues that have long negatively impacted Black and Brown and other people of color. 
"I can call at four o'clock in the morning and he'll answer that call. Never have I not gotten it. And if I need to get somebody into Safe Haven it happens on the spot. He makes it happen," DaBaron said. "Anything that needs to be addressed. I call him about complaints I've gotten from a shelter, or a person that's in need, a family who is stuck in the shelter after a fire – he will leave in the middle of the night … Clearly we are losing a lot."
Jenkins' knowledge stemming from his personal experience of having navigated the shelter system years ago is also a loss for the city, according to Josh Goldfein of The Legal Aid Society's Homeless Rights Project. On the flip side though, the department of homeless services is unlikely to experience a major leadership crisis in the short term, he said, pointing to the work of DSS First Deputy Commissioner Molly Park, who will become the acting commissioner after Jenkins officially leaves next month.
Banks, too, downplayed the effect of Jenkins leaving. "At the end of the day, the frontline staff and management team are the heart and soul of the department of social services and their work will continue," Banks said.
But looking at the bigger picture, The Legal Aid Society has continued to urge the city that a deputy mayor who is responsible for both homelessness and the city's housing plan is necessary to actually solve homelessness.
"What we need is a world where the city as a whole has a goal of ending homelessness and you can't have that if you bifurcate the responsibility for the housing plan from the responsibility for running the shelter system," Goldfein said. "Then you end up with a system where the commissioner of the agency, even if they have the best ideas and intentions, doesn't have the resources to do what they need to do."
Jenkins, who did not respond to a request for comment for this story, did not specify what he would be doing next, just telling NY1 that he was leaving to "explore other opportunities that's been presented to me," and promised "more to come within a month or so." That left the city's political class to fervently speculate. City & State heard no fewer than five rumored jobs for the longtime public servant, among them, going to work at anti-poverty nonprofit United Way, or joining Adams' former Chief of Staff Frank Carone at his consulting firm. A spokesperson for United Way said Thursday Jenkins was not joining them. And Carone told City & State they had never talked about a job, but praised Jenkins. "He's a phenomenally smart and decent person, and a wide range of organizations would be lucky to hire him," he said. A source who talked with Jenkins said the commissioner is telling people that he doesn't have a job lined up, but is looking at opportunities.
With reporting by Jeff Coltin
Powered By
NEXT STORY: State Senate GOP sues to force LaSalle vote