Politics
City Hall talks public safety, with a new briefing
New York City Mayor Eric Adams has said media coverage is affecting the perception of crime in the city, so he's trying something new.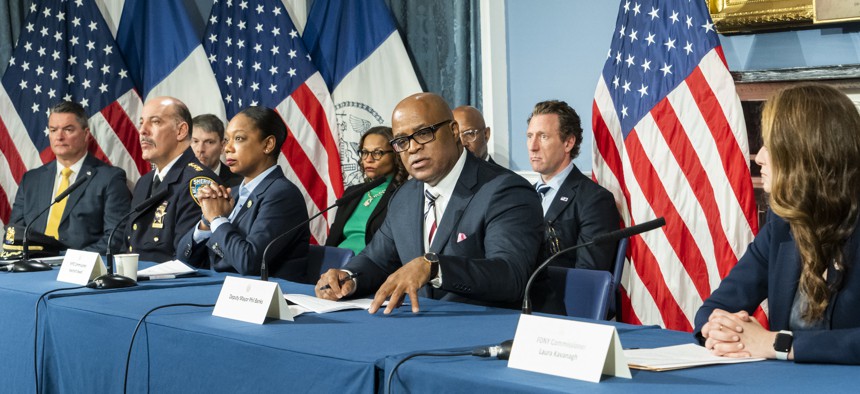 Some of New York City's top public safety officials held the first in a series of public briefings Friday afternoon and provided updates about issues like lithium-ion battery safety, the rise of subway surfing, and a one year update on the city's Subway Safety Plan. 
While much of the information covered Friday has been previously shared or documented in reports, the briefing is the latest in a string of efforts undertaken by New York City Mayor Eric Adams to side step traditional media methods to talk directly with New Yorkers. Adams has criticized media coverage, saying it's fueled a perception the city isn't safe. Though the mayor himself has been inconsistent on this, emphasizing the prevalence of gun crime in the city especially.   
Adams wasn't at Friday's briefing, but the mayor has held a number of community town halls on public safety since July in various parts of the city. He also recently launched a podcast where he interviews New Yorkers and an email newsletter where he conveys information about new initiatives, policies and other reports. 
The meeting was led by Deputy Mayor for Public Safety Phil Banks, who has otherwise largely avoided public appearances despite his key role. "Prior to the mayor taking office, he stated repeatedly, publicly and privately, that public safety is a prerequisite to prosperity," Banks said today. "The city has to get public safety right. People need to be safe and just as importantly they need to feel safe."
Powered By
NEXT STORY: Bronx to state leaders: Fix the MTA