Heard Around Town
Zeldin still hammering on Hochul
The former Republican gubernatorial candidate slammed the governor's State of the State address and executive budget in his first public remarks since Election Day.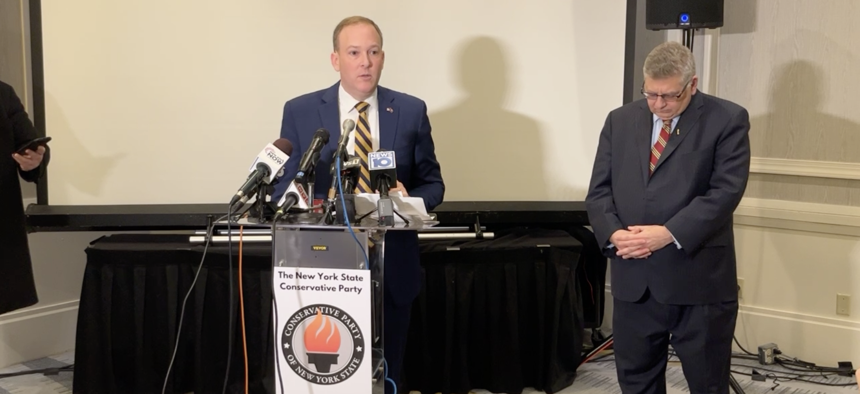 Former Republican gubernatorial candidate Lee Zeldin didn't hold back in his remarks about Gov. Kathy Hochul at his first public, post-election appearance Monday during a press conference with the New York State Conservative Party in Albany.
Not only had Zeldin's criticism of Gov. Kathy Hochul not wavered in the months since Election Day, but it may also have intensified. The former member of Congress likened Hochul's State of the State address to a "college student who waits until the last possible minute to write that essay" while saying the speech was centered on random topics that don't sum up what New Yorkers want to save the state. In terms of the governor's proposed executive budget, the former candidate offered harsh pushback on key tenets of Hochu's proposal – from increasing a payroll tax to help fund the MTA to increasing housing and addressing the bail reform laws.
When answering questions from reporters, Zeldin took time to publicly offer an analysis of his well-fought campaign and competitive gubernatorial race. "They were in a terrible campaign on the other side. The last week and a half, they were cramming for a final exam," Zeldin said while pointing to Hochul's campaign tapping key Democratic figures to rally for the governor, including President Joe Biden, former President Bill Clinton, Vice President Kamala Harris and former President Barack Obama's radio advertisements. 
Leading into the final weeks of the election, polls did display Hochul with a tightening lead over Zeldin. The former candidate admitted the race was tight on Nov. 8 but said he speculated the race would have been tighter if the election was held earlier. "It would have been a little bit of a different result. That's not necessarily saying we would come in first … but it would have been a much tighter race, significantly," Zeldin said.
In the weeks after the campaign, there's been much speculation about what's next for Zeldin. The former candidate shared he's received calls about running for several offices – including running against Hochul in 2024, running against U.S. Sen. Kristen Gillibrand, running for Suffolk County Executive and Republican National Committee chair – and said he was "very grateful" to everyone who's been reaching out with their ideas.
When asked by reporters if he had plans to run for elected office again, Zeldin said he didn't have anything to announce at the time but wanted to stay active and do his part. 
"I do believe at some point there will be a reentry to government, exactly what that will be and when? We'll see," Zeldin said.