Heard Around Town
The City Hall steps are closing for renovation
Visitors to the center of New York City government will have to enter through a side door for the next year.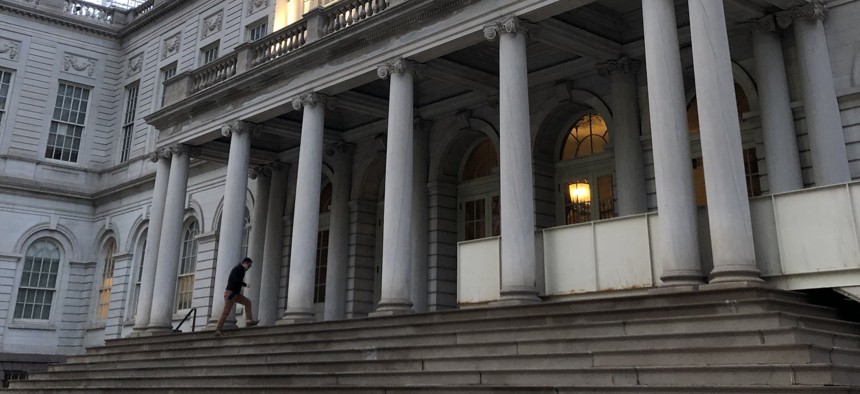 The City Hall steps are the political world's Madison Square Garden – the most famous arena for rallies and press conferences. But unlike MSG, they're about to get demolished. New York City contractors will be jackhammering the austere steps starting March 20 for renovations that are scheduled to last until January 2024, according to Catherine Drum, facilities director of the mayor's office. That means City Hall's main entrance, at the top of the steps, will be closed, and everyone will have to enter through the side – primarily, the east doors, over where Mayor Eric Adams' motorcade usually parks.
The 11-stepped staircase on the south face of City Hall serves as setting, backdrop and bleachers for countless press conferences. The city is pitching the lesser used City Hall Park, outside the building's security cordon, as an alternative. That's earned some grumbles from legislators, who think the Parks Department doesn't coordinate events as well. And the temporary closure of such a frequent stage earned a quip from Council Member Joe Borelli. "When the steps are under construction it will be hard to pontificate," he said. "I suppose some members will have to come inside and legislate."
But at least one member has found a silver lining in the closing of the building's main entrance. Council Member Gale Brewer, at 71 years old, can't get around as nimbly as she used to. "I can walk up the steps. I do it every day," she told City & State. "But if you give me steps versus elevator, I'm going to have that elevator. I love that elevator."
Still, Brewer recalled a previous City Hall renovation that kept meetings out of the council chamber for a year and a half in 2010 and 2011. "It was discombobulating," she said.
Nicholson & Galloway, a Long Island based exterior restoration company, is leading the project after winning the $3.86 million contract from the Department of Design and Construction. City Hall is landmarked, so don't expect any major changes to the design. But the renovation will include a new wheelchair lift.  
New Yorkers should hope the project is easier – and cheaper – than the issues besetting the eastern steps of the state Capitol in Albany. The grand Eastern Approach staircase there has been closed to the public since at least 2016, and the Times Union reported that a full renovation has been pegged at $41 million for three years of work. 
Last week, Drum warned the reporters in Room 9 that the loud noises of construction would soon be buzzing just outside the City Hall pressroom. So readers – consider sending your scoops by email or text instead.
Powered By
NEXT STORY: Brooklyn Dems sued for breaking office lease