Politics
Cuomo campaign has lots of money in Signature Bank
The former governor shouldn't expect to lose any money though, even though the bank was taken over by the state of New York.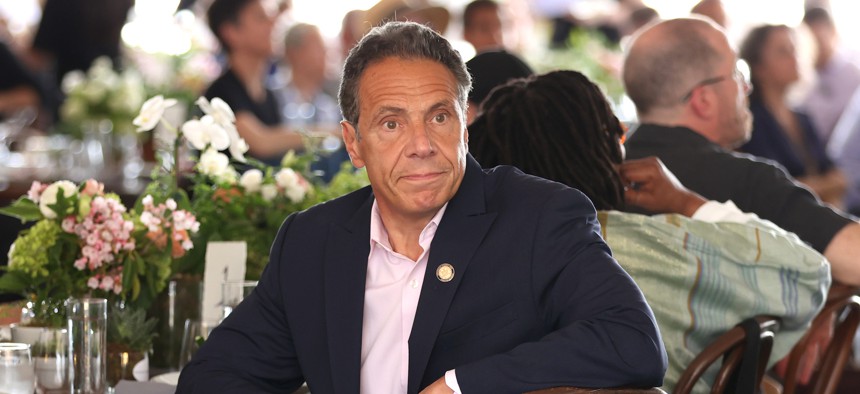 The Daily Beast asked a $9 million question Saturday: "What's Andrew Cuomo's next move?" Here's a slight update: Some of that $9,289,815 in the Friends of Andrew Cuomo campaign account was held at Signature Bank, which was taken over by the state Department of Financial Services Sunday.
Cuomo's campaign apparently won't lose any money. "New Yorkers should have confidence that their money is secure," Gov. Kathy Hochul said Monday, after federal regulators announced that all depositors would be made whole by tapping an insurance fund. Signature came close to collapsing due to its reliance on large deposits, The New York Times reported, and its willingness to work in the cryptocurrency space, which is now in meltdown. So it's notable that Signature Bank was the primary bank for the campaign committee of the man who was once the most powerful politician in New York. And in fact, Cuomo's campaign seems to have been doubling down on Signature Bank recently. 
Cuomo reported just over $69,000 in "interest/dividends" from Signature Bank in the latest campaign finance filing, covering July to December 2022. That's a huge increase from the roughly $16,000 each reported in the previous two filings, suggesting that the campaign was consolidating its assets in the bank. Cuomo campaign spokesperson Rich Azzopardi told City & State he didn't know exactly how much money the campaign had in Signature. The campaign has reported interest from at least 10 bank accounts dating back to his first campaign in 2001, but Signature appears to have been the main account since 2014.
Much of the research into Cuomo's filings was done by Kelly Grace Price, co-chair of the Village Independent Democrats' campaign finance committee, and a close watcher of Cuomo's finances.
"Signature was one of several banks that the campaign had its funding in," Azzopardi told City & State. "Up until it wasn't, it had one of the best rates of return, according to our campaign treasurer (Richard Sirota, who served as treasurer from 2007 until 2020.) He's pleased that the system worked the way it should have, and that everybody's going to be made whole. We're going to continue to monitor the situation and make adjustments as needed."
The former governor does not seem to use Signature Bank for his personal banking. His 2020 personal financial disclosure just included accounts with JP Morgan Chase and AMG National Trust. 
Cuomo's campaign has reported at least $905,160 in interest payments from Signature since 2008, but neither the bank itself nor its top executive seems to have ever donated to Cuomo directly. A Signature Bank PAC hasn't reported a single New York state donation since 2012. And campaign finance filings show (now-former) Signature Bank Chair Scott Shay has only given once in the past 20 years – $5,000 to the WRCC 21st Century Fund, an account reportedly controlled by the Westchester Republican County Committee. Signature was a go-to lender to former President Donald Trump and his associates, when other banks stayed away. 
And as for the Daily Beast's reporting that Cuomo is preparing a run against U.S. Sen. Kirsten Gillibrand? Azzopardi declined to comment, but on Twitter, he denied pitching the story, and suggested there wasn't any "there there."
It's not just Cuomo who had money tied up in failing banks. News outlet Pensions & Investments notes that Silicon Valley Bank, which collapsed on Friday, is "held in tiny amounts by pension funds" including the New York State Common Retirement Fund and the New York State Teachers' Retirement System. The state Comptroller's office, which manages the funds, did not respond to a request for comment on the potential impact.
Correction: This story has been updated to reflect that Azzopardi was referring to Richard Sirota, the former campaign treasurer, and not Brian O'Donoghue, Cuomo's brother-in-law and current campaign treasurer.
Powered By
NEXT STORY: New plan for asylum-seekers, restraints in schools and a possible Trump indictment