Politics
Ed Cox: Just Trumpy enough for the NY GOP?
The former state Republican Party chair seems to be angling for a comeback.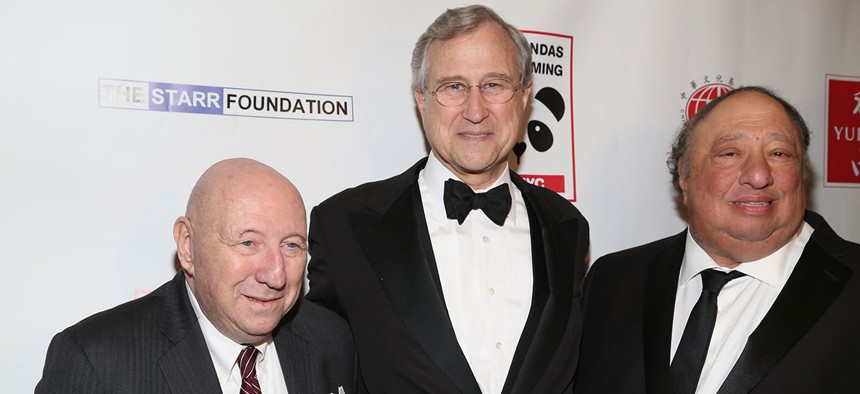 While it's been years since Ed Cox was at the helm of the state Republican Party, there's been recent speculation that the former chair is considering stepping into the race to lead the party in the coming weeks. GOP politicos tell City & State that Cox may just be the Goldilocks of Trumpiness: not too MAGA, but also not feuding with the former president. It's a tricky line to walk in a state with a spectrum of Republican ideologies. 
"Those who believe that the Republican primary voter has moved away from the former president are sadly mistaken," said Thomas Doherty, a partner at Mercury Public Affairs who worked in former Gov. George Pataki's administration. "(Cox's) relationship with the former president will play into it."
As reported by Spectrum News, the speculation that the former chair is considering stepping into the race to lead the party was fueled on Wednesday when Rockland County GOP Chair Lawrence Garvey issued a press release endorsing Cox. Reached by phone, Cox declined to answer questions.
Contenders include former state attorney general candidate Michael Henry, Assembly Member Chris Tague and former congressional candidate Colin Schmitt among others.
After serving as chair of the state GOP from 2009 to 2019, Cox was widely criticized for his role in Republicans performing poorly in the 2018 elections – resulting in Republicans losing the state Senate. Cox faced calls for resignation from several GOP county leaders. He did end up resigning, and was replaced by Nick Langworthy. Cox joined then-President Donald Trump's reelection campaign instead of running for his own reelection. Cox and Trump's fraught relationship goes back to 2014, when Trump was considering a run for governor. Cox supported Rob Astorino, and Trump publicly criticized him. In 2019, Trump reportedly helped to orchestrate Cox's ouster, though he provided him with a campaign job. 
Republican political consultant William F. B. O'Reilly said the former chair's relationship with Trump "struck a balance" in Republican ideals. "(Cox) supported the President, but no one would call him Trumpy. Ed should have a broad appeal within the Party," O'Reilly wrote in a statement to City & State.
While it's too early to predict whether Cox would be successful in his efforts to lead the party, experts who spoke with City & State argued Cox leading the party will be beneficial given his background in raising money. Along with working on Trump's finance team, Cox has also established a big donor base in New York in recent years at a time when New York will likely be a campaign stomping ground for 2024 presidential hopefuls.
"Ed can raise money, which is the toughest and most important part of the job, and he knows every square inch of the state," O'Reilly wrote. "This would be a very positive development for a party already riding a boost of momentum from last year's congressional victories."
Cox was also involved in Republicans' successful legal challenge to Democratic-drawn congressional maps – widely credited with allowing the GOP to take the House in the midterms. 
Chapin Fay, managing director of Actum, agreed with this sentiment and underscored Cox's ability to fundraise in a text to City & State. "Ed Cox 2.0 will be great for New York Republicans! He will be a steady hand with a prior record of success and proven ability to raise money," Fay wrote.
Conversely, Doherty said Cox, who is now in his mid-70s, did his best in his tenure leading the party years ago. Doherty said getting a Republican to win a statewide race in New York is the "litmus test" for judging a chairperson – and Ed Cox already had his shot.
"Republicans winning statewide in New York is climbing a rather tall mountain … winning statewide is really tough," Doherty said while asserting the 1994 win by Pataki was a very different time politically compared to 2023. "It's not like anyone's expecting you to do it, but it's got to be the goal."
Doherty added: "Why does he think he's the best person to do it? I don't think going back to Ed is the best direction for the party going forward."
A previous version of this story incorrectly referred to Michael Henry as a former Senate candidate. This version correctly lists Henry as a former attorney general candidate.
Powered By
NEXT STORY: NYC to work with private funders to serve migrants