Heard Around Town
Senate Judiciary chair: Rowan Wilson or Shirley Troutman could be chief judge
If Gov. Hochul nominates either of the two Court of Appeals associate judges to be chief judge, they will likely have a smooth path to state Senate confirmation.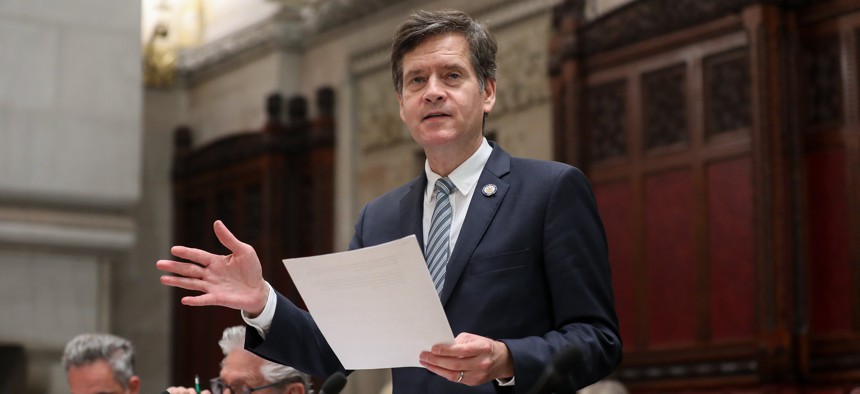 After the Commission on Judicial Nomination released a shortlist of seven potential nominees for the chief judge position, state Senate Judiciary Chair Brad Hoylman-Sigal told City & State he was particularly glad to see that two current Court of Appeals associate judges who had been left off the previous shortlist – Rowan Wilson and Shirley Troutman – had made it onto the new one. 
"They have both been approved by the state Senate in previous years for the positions they now hold, so they're familiar with not only the Court but members of the Senate," he said. "In some ways, should they be selected, it smooths the path."
"But that said, ultimately it's the governor's selection," he added. Gov. Kathy Hochul now has to select one of the seven candidates to nominate sometime between April 8 and April 23. 
The governor's previous nominee, appellate judge Hector LaSalle, had anything but a smooth path. After organized labor and progressive advocacy groups came out against him, the state Senate ultimately voted 39-20 to reject his nomination. Hoylman-Sigal is hopeful that won't happen again. "I hope we have a nominee that the Senate and New Yorkers can support," he said.
Although the shortlist was released in the middle of final state budget negotiations, Hoylman-Sigal said that he does not expect the governor to mix discussions about a potential nominee with negotiations over the budget.
"Nobody asked for this timing," he said. "The governor does have 30 days. So I think it's probably one step at a time in terms of negotiating the final pieces of the budget over the next week and then turning shortly thereafter to the nomination."
As City & State previously reported, Hoylman-Sigal and others in the state Senate tried to dissuade the governor from nominating LaSalle in the days and weeks leading up to her announcement of the nomination. Although the governor didn't take that advice last year, he said that Senators would be happy to share their thoughts with the governor regarding the latest potential nominees once they review the candidates' records.
"I think it's premature (now) but I know that we will be able and willing to provide insight to the governor, should she seek it," he said.