Signature Bank falls and lawmakers rebuff Hochul's budget proposal
Rounding up the week's political news.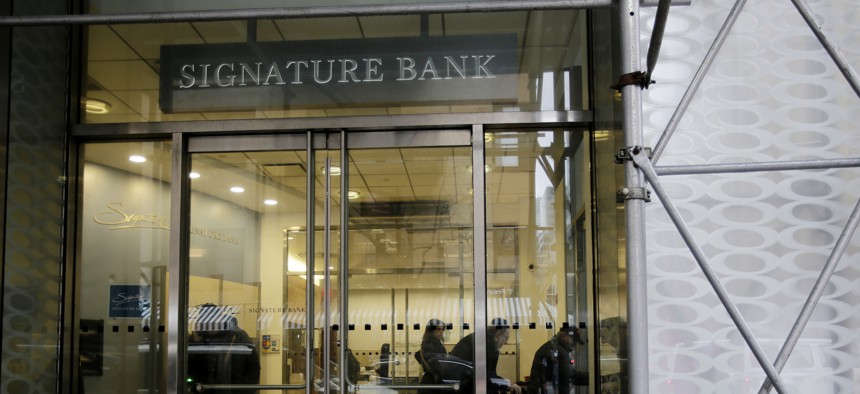 There's a movement trumpeting up in the New York City Council that would see the city's two remaining elephants freed to roam more space.  New York City Council Member Shahana Hanif recently introduced the legislation, which would require elephants in the city to have a habitat of at least 15 acres. Happy and Patty, the city's two elephants who live in the Bronx Zoo, currently live on about an acre. If the bill passed, zoo officials would likely need to give them up to a sanctuary where they'd have far more room. Now if only New York City apartments were that big. Read on for more of this week's biggest news.
Budget battle
On the heels of a surprisingly tight gubernatorial election and a contentious fight over the governor's chief judge nominee, New York senators took a knife to Gov. Kathy Hochul's agenda for next fiscal year. Their one-house budget excluded many of her biggest priorities like her bid to further change the state's bail laws, remove the charter school cap in New York City, and housing mandates for the suburbs. Senators instead proposed a slate of progressive policies that Hochul has largely ignored such as health insurance coverage for undocumented immigrants and "good cause" eviction protections. Hochul had a little bit more luck with the Assembly – but only a little. They too offered a strong rebuke of the governor's agenda in their one-house budget, but didn't go quite as far as their counterparts in the Senate. All in all the series of proposals unveiled last week demonstrate just how far off top Democratic lawmakers and Hochul are from reaching a deal on the state budget. There's not much time. The deadline is April 1 so many tense negotiations likely lie ahead. 
AirTrain no more
It's official. An AirTrain like the one that's long linked to Kennedy International Airport will no longer be built to LaGuardia Airport.  Hochul pulled the plug on plans to build the light-rail link after a review concluded that carrying out the project would cost about $2.4 billion – over five times more than the figure initially estimated by Cuomo who'd announced the plan in 2015. In the years since, controversy and opposition has grown towards the project, which was originally intended to be the cherry on top of the $8 billion renovation of the airport. Transportation experts recommended that the state instead increase public bus service to LaGuardia Airport and add a shuttle that can go between the airport and other subway stations throughout northern Queens. That probably wouldn't shave travel time to the airport to the 30-minutes from Midtown Manhattan to LaGuardia that Cuomo had dreamed of, but it's something. Planners believe the bus services could garner up to five million riders a year – far more than the AirTrain would have.
Rikers deadline in question
Fresh off of reiterating her commitment to closing Rikers Island within four years, New York City Council Speaker Adrienne Adams, advocates and other elected officials aren't pleased by what they see as Mayor Adams' inconsistent statements about the city's ability to meet the 2027 deadline. She and Comptroller Brad Lander and Public Advocate Jumaane Williams held a press conference March 16 where they urged the mayor to clarify a matter in which there should be "no question." The rally came several days after the city published a contract notice that suggested that a jail being built in Brooklyn to replace Rikers wouldn't be finished until 2029 – two years after the jail complex was legally required to close.
Banking woes
Two days after Silicon Valley Bank became the largest American bank to fall since the height of the global financial crisis in 2008, New York financial authorities took possession of Signature Bank on Sunday, March 12. Regulators thought closing the massive bank – which provided lending services for real estate companies and law firms – would stem the risk of broader instability in the banking sector. Like the people who used Silicon Valley Bank, most clients at Signature Bank had more than $250,000 in their accounts. Former Gov. Andrew Cuomo is one of the bank's clients. A swath of his $9,289,815 in his Friends of Andrew Cuomo campaign account was held at Signature Bank, although his campaign won't lose any money. Hochul, amid a wave of panic across the state, said that New York's banking system remains on solid ground and that New Yorkers' "money is secure"