Heard Around Town
Sixth time's the charm?
With criminal charges against Donald Trump looming, lawmakers kick the former president while he's down with a reignited push to remove his name from a state park.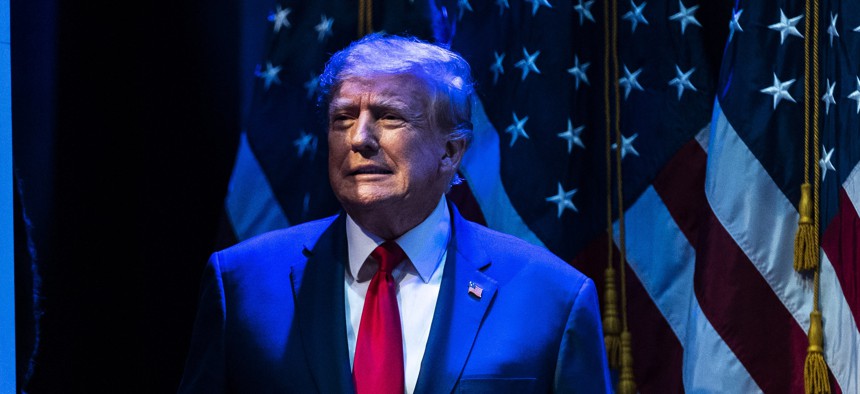 You know how the old saying goes: if at first you don't succeed … dust yourself off and tackle TRUMP again. While observers await a possible criminal indictment against Donald Trump, lawmakers are seizing on the moment to finally remove Trump's name from a state park in the Hudson Valley. 
The former president donated about 436 acres of land to establish the park back in 2006. For the past seven years, lawmakers have been trying unsuccessfully to pay back his generosity by removing his name from the park. In each session since 2016, state Sen. Brad Hoylman-Sigal and Assembly Member Nily Rozic have introduced bills to remove the Trump taint from the park. But legal questions about whether the state actually has the power to change the park's name have stymied these efforts. Although the bill made it through the Senate once, in 2021, it never passed the Assembly.
So what makes this time different? "A new Assembly champion who represents the park, which we've never had," Hoylman-Sigal said in a text to City & State. "Plus new outrages by Trump." 
That new champion is first-term Assembly Member Dana Levenberg, who introduced the latest version of the bill earlier this month. Levenberg has a key advantage over Rozic, the bill's previous Assembly sponsor – the park is actually in her district! Apparently, since taking over the 95th Assembly District, Levenberg's phone has been ringing off the hook with calls from angry constituents complaining that Trump's name needs to be wiped. And it's not just angry Democrats. One early call came from a Republican who said having Trump's name on the park was an embarrassment.
The bill has already attracted about 20 co-sponsors in the Assembly. Not bad considering her office only started looking for co-sponsors on Tuesday. She's happy to be leading the fight against the Trump name and hopes the latest drama surrounding Trump will finally get the bill over the finish line. "As I started to see the bi-partisan constituent outreach, I felt it was important to take it on!" Levenberg told City & State in a text message. "And now more than ever I feel that it is important to take back our Park!"
With additional reporting by Peter Sterne
Powered By
NEXT STORY: What does Kathy Hochul need $5 million in promotional content for?