Heard Around Town
Speaker Adams pushes back on the mayor: Close Rikers by 2027
But the speaker didn't offer any specifics of how the city would reach that goal.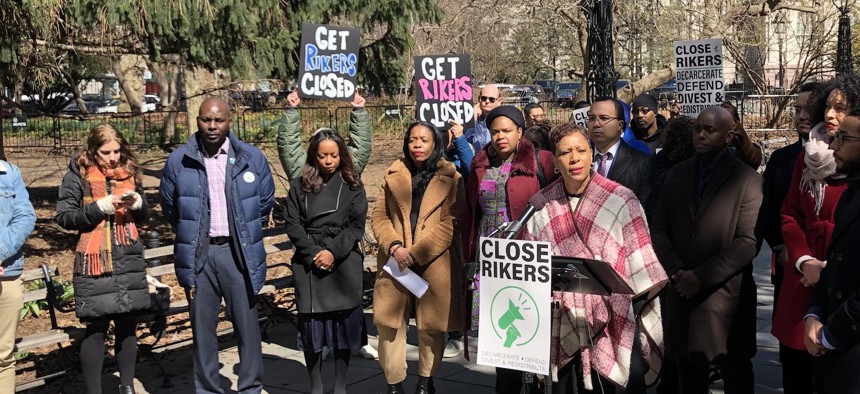 Advocates for closing Rikers Island, along with New York City elected officials including City Council Speaker Adrienne Adams, Comptroller Brad Lander and Public Advocate Jumaane Williams, chanted what has been Mayor Eric Adams' catchphrase over the last year.
"Get stuff done," with the added remark, "get Rikers closed."
The rally in City Hall Park Thursday came days after the city published a contract notice suggesting that a jail being built in Brooklyn to help replace Rikers would not be finished until 2029 – two years after the controversial jail complex was legally set to close. Mayor Adams made reference to the delay Wednesday, saying that the city would have to house inmates in the unfinished jail to comply with the 2027 deadline.
The speaker, who just reiterated her commitment to closing Rikers within four years in her State of the City address, pushed back on the mayor. "The inconsistent statements from the administration over the past few days have unacceptably created questions when there should be NO question," she said.
The speaker followed up later at a regularly scheduled press conference. "We're going to utilize our powers as a legislative body to ensure that (Rikers closes by 2027)," Speaker Adams said. "The law is the law. It is what it is. Rikers is to be closed by 2027."
There are nearly 6,000 people incarcerated in city jails, while the borough-based replacements for Rikers only have a capacity of 3,300. The speaker didn't offer any substantial policy changes the council could take to address both the jail's population and its replacements' delayed construction.
"We will consider a shift if necessary," she said. "(There's) ongoing consideration and conversation, but it is exactly that: ongoing. So there are no definitive answers that I can give as far as (the Brooklyn jail)."