New York City Council
Adrienne Adams wants New York City to get creative with its staffing crisis
At her State of the City address, the City Council speaker called for expanding programs to get people from the correctional system into civil service jobs.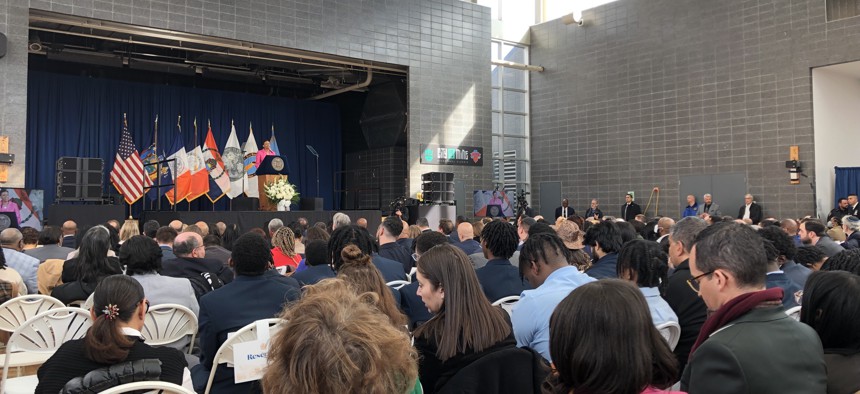 For months, New York City Council Speaker Adrienne Adams has drawn attention to the city's municipal staffing shortage, calling out how attrition and trouble hiring at city agencies have kept New Yorkers from accessing key services and benefits.
And in her State of the City address on Wednesday, the speaker signaled that the council will not let up the pressure on Mayor Eric Adams' administration to accelerate hiring at city agencies. "When a New Yorker can't access their SNAP food benefits because of agency delays, a family is left hungry. When a CityFHEPS housing voucher is slow to be processed, a family faces eviction," the speaker said in prepared remarks in the Bronx. "We cannot wait for the last domino to fall. The city must act now to fully fund and staff our city agencies."
The speaker's annual address came at the start of several weeks of preliminary budget hearings held by the City Council – an early step in the mayor's and council's monthslong budget dance. And Adams reiterated that staffing up would be a focus. In response to the mayor's release of his preliminary budget – which council leaders have referred to as an austerity budget and which reduces existing vacant jobs by about 4,300 – Adams and City Council Finance Committee Chair Justin Brannan noted the need to "prioritize solutions to the staffing challenges that have hindered city agencies in delivering key services to New Yorkers."
In addition to calling for the city to fully staff its agencies, Adams promised on Wednesday to expand a pipeline for New Yorkers in the correctional system to move into city jobs – a goal that could work in tandem with the speaker's renewed call to close Rikers Island by limiting recidivism.
The speaker said the council has passed laws to expand that pipeline – one would direct outreach about civil service opportunities to juvenile justice facilities and other populations – and will pass more going forward. "We will work with our partners in labor to eliminate barriers to entry for civil service jobs, identifying positions that do not require a degree and removing unnecessary qualifications," Adams said in her address.
New York City's staffing crisis has hit certain titles and agencies – including the Department of Buildings and the Department of Social Services – harder than others. But the Adams administration has consistently said that it's not just New York City that's having trouble hiring, but it's affecting other governments and private sector companies. (Gov. Kathy Hochul, notably, has said that the state is exploring new ways to attack its own staffing challenges.)
Last month, the Adams administration signaled an openness to exploring one rule change that some council members and city employees have suggested exacerbates the staffing challenges. Announcing an initial contract agreement with District Council 37, the city's largest municipal union, the mayor committed to exploring hybrid work schedules for employees who are able to work from home in a pilot program.
Adrienne Adams has not publicly offered many detailed proposals about how the city can surmount its staffing challenges, though she has been critical of the administration's budget cuts to city agencies and has broadly called for investing in "essential agencies," which could presumably allow for hiring at higher salaries. Adams has not come down hard for or against remote work, though the City Council backed off a plan last fall to send its employees back to the office full time, favoring the continued allowance of hybrid work instead. Adams also said on Wednesday that the council would work with the mayor to hold hiring events across the city.
But Eric Adams' administration doesn't seem to take well to criticisms of City Hall's hiring struggles. Budget Director Jacques Jiha was clearly annoyed at a preliminary budget hearing Monday by City Council members questioning why empty positions were being cut from budget lines. There are still 23,000 vacant city jobs, Jiha emphasized, adding that city agencies should fill those positions before asking for more. "Let them hire people," Jiha said. "If there is need, let them come back."
Experts focused on the city's workforce were hopeful there's more to come. "There seems to be consensus in city government about the scale of the problem, which wasn't the case a year ago, but there's still not much clarity in terms of what concrete actions needs to be taken," said Eli Dvorkin, editorial and policy director at the Center for an Urban Future, a think tank focused on economic opportunity. He talked to City & State after the speech. "I'm hoping to hear in the days ahead. One helpful consideration is removing degree requirements from city jobs, which could help alleviate the staffing crunch and expand access to good jobs to New Yorkers qualified through other means."
In her second State of the City address – which focused on "economic mobility, housing, and healthier and safer neighborhoods" – Adams also proposed building new public housing on existing empty land in New York City Housing Authority developments. Similar NYCHA infill plans have been introduced before, but the speaker's proposal would mean the first new public housing built in the city since the 1990s. She also committed to funding an expansion of workforce development centers in NYCHA developments from one to an additional three.
Notably, Adams also reiterated her commitment to closing Rikers Island, at a time when the mayor has publicly suggested that reaching the goal to close the jails by 2027 could be unrealistic, calling for a "plan B." The speaker did not present any new solutions, but said she would focus on increasing the use of alternatives to incarceration and reducing recidivism by offering more supportive housing. She did not acknowledge the city's increasing arrest rate that has led in part to the rise in jail population. And while she maligned the conditions on the island for "only creating harm," she avoided mentioning the controversial proposal to further limit the use of solitary confinement in city jails that has stalled in the council.
The speech was a relatively rare moment in the spotlight for Adams, who has been a lowkey speaker compared to her predecessors. She filled the basketball gym at NYCHA's Justice Sonia Sotomayor Houses in Soundview in the Bronx with elected officials including Mayor Eric Adams, Queens District Attorney Melinda Katz and nearly every City Council member, as well as labor leaders, representatives of interest groups and private lobbyists. All of them waited through more than an hour of warm up before Adams' main act, including six faith leaders leading a combined 25 minutes of prayer, soul singer Martha Redbone's rendition of "A Change Gonna Come" and a high school choir seeming to sing for the speaker herself: "Give a little bit of your love to me."