New York City Council
Council to Adams: there's more money to be found
At issue is the very size of New York City's operating budget, and how it gets spent.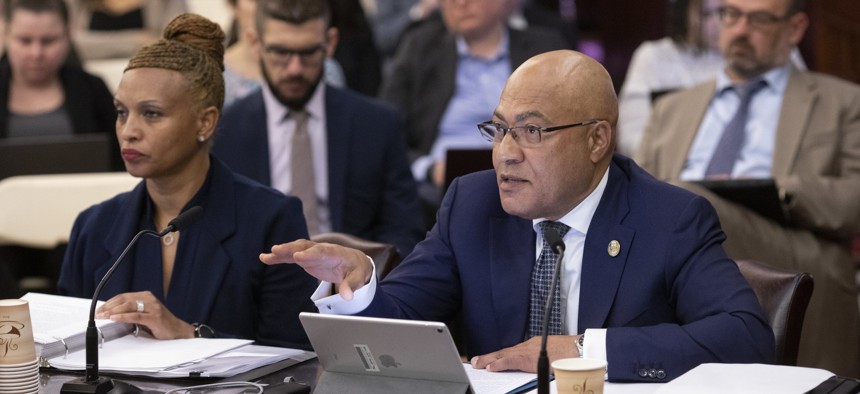 The New York City Council demanded less conservative budgeting from Mayor Eric Adams' administration Monday – and the two branches' differences in revenue estimates could set the stage for budget negotiations over the coming months.
"The present economy continues to defy expectations, but (the Office of Management and Budget) seems to unfortunately operate out of an abundance of pessimism," Finance Committee Chair Justin Brannan said, as the Council kicked off its series of hearings on Adams' $102.7 billion preliminary budget for fiscal year 2024. Brannan urged Budget Director Jacques Jiha to do "a realistic assessment of the city's economy," so the council and the administration could work together ahead of the executive budget's release before the end of May.
At issue is the very size of the city's operating budget. The City Council Finance Division projects the city will bring in $5.2 billion more in revenue over fiscal years 2023 and 2024 combined than OMB projections. That is, to oversimplify, $5.2 billion in more spending that could go towards reinstating budget cuts, hiring and paying city workers, and funding nonprofit service providers.  
"It's incredible that you come forth with this kind of a budget discussion when in fact money is available," City Council Member Charles Barron said to Jiha. It's rare for Barron, a Black radical socialist, to get nods of approval from his colleagues, but they came on Monday. He was essentially giving the same message as Brannan and Speaker Adrienne Adams, but in Barron's usual direct language. "You don't have a money problem, you have a prioritization of spending problem…" he continued. "The rich are getting richer and the poor are getting poorer with your Republican austerity budget."  
Jiha, of course, disagreed. Over nearly three hours of testimony, he continued to paint a dire picture of the city's finances. The city's budget was balanced, yes, but only because thousands of unfilled positions were being removed from the books, as nearly every agency saw its budget reduced amid rounds of PEGs, or programs to eliminate the gap. Jiha also highlighted three new financial challenges for the city. The deal reached with District Council 37 last month means a new labor contract pattern of 3% annual raises – much larger than the 1.25% increase the city claims it predicted in the preliminary budget. Gov. Kathy Hochul's executive budget also means about $1 billion more in city spending, thanks in large part to an expected $530 million cost shift from the state to the city for Metropolitan Transportation Authority services. Adams has been pushing back, but it will have to be reflected in the city budget if it stays in the state budget, due April 1. And costs associated with housing and serving asylum-seekers have also increased from the preliminary budget, which effectively used a $1 billion cost as a placeholder. Reflecting the mayor's update, Jiha noted that serving these migrants in New York City is estimated to cost $2.8 billion in fiscal year 2024, and that state and federal support will be limited. 
So Jiha, it seemed, wasn't sure why the Council was so optimistic. 
"We face these unplanned, new and ongoing needs at a time when the city's tax revenue growth is slowing, and many economists fear that the economy is on the verge of a downturn," he said. "We are in a very difficult situation."
Of course, the city always budgets conservatively – even during the days of former Mayor Bill de Blasio, where budgets grew in apparent relation to the mayor's own towering height. The general pattern has been that the OMB underestimates revenue, and then when more money comes in, it's rolled forward to the next year's budget, "prepaying" some expenses. The council, historically, has pushed for higher revenue estimates that would allow them to allocate more spending. 
In this case, Comptroller Brad Lander broadly agreed with the City Council – his office's preliminary budget report released Monday projected $3.7 billion more in revenue over fiscal years 2023 and 2024 than OMB did. But that doesn't mean the city has extra money to work with. Lander projects a $1.5 billion budget gap to be closed in 2024, and that's not including impacts from the governor's executive budget, or the full cost of serving asylum-seekers. The Independent Budget Office too, thought that OMB underestimated revenue – but provided testimony Monday saying that the new labor contracts will likely eat that up, resulting in a budget gap to be closed. The state Comptroller reported too: the city has some budget gaps to close. 
OMB is the office that actually has access to all the numbers though, and the one that crafts the budget that the others can only review and comment on. Last year, Adams pitched his executive budget as one that was full of gifts, funded by increased revenue projections. Time will tell if Santa can come again in fiscal year 2024.