Eric Adams speaks to the haters
The mayor's executive budget address assuaged his critics with new funding for their initiatives.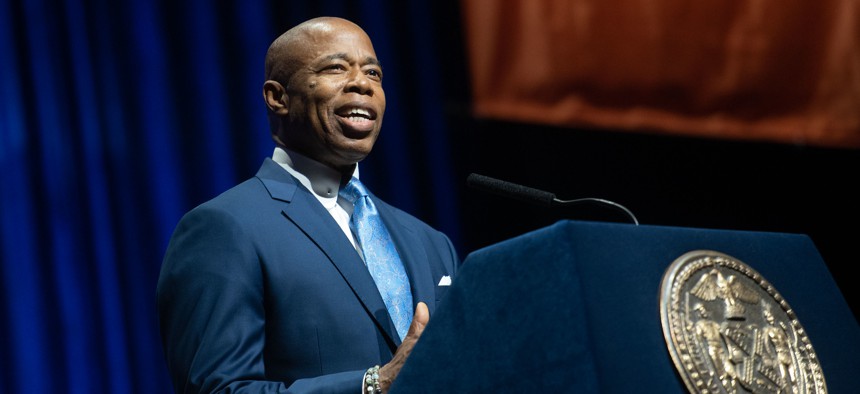 New York City Mayor Eric Adams, it seems, just wants to be loved. And he used his executive budget address Tuesday to respond to his critics by showering them with money.
"You got this!" Adams said to close out his 50-minute speech. The city's cheerleader might have meant it as a generic cry of encouragement. But it sounded like a summary of the budget. You wanted money for a cause? You got it.
"Let me tell you something," the mayor said from the stage of the Kings Theatre in Brooklyn. "It's going to be hard for people to hate me, because we are listening to those who have been on the ground."
The new mayor has received a fair amount of hate so far, especially in the city's progressive circles. To name just two examples, he created a controversial anti-gun unit in the New York City Police Department, which critics have feared would violate New Yorkers' civil liberties, as similar units have previously done. And to the chagrin of advocates for homeless people, Adams' government conducted sweeps of people living on the streets – often throwing away their personal belongings – in an effort to promote order and get them into housing or shelters.
But Adams acknowledged and responded to the criticisms, emphasizing additional funding for, as he calls them, "upstream solutions" meant to keep New Yorkers from turning to violence, rather than responding afterward. He also highlighted $171 million in new funding for shelter beds targeting people who have been living on the streets. These have been top priorities for New York City Council Speaker Adrienne Adams, and the mayor's proposed spending actually exceeded the council's request.
In fact the cop mayor was eager to preempt criticisms that he was just a two-dimensional retired police officer. His executive budget plan included $55 million in new spending for the Behavioral Health Emergency Assistance Response Division, which directs mental health workers to respond to certain 911 calls. "This is not my idea. This is your idea," Adams said to the crowd. "You told me you needed this, and I heard you. And we put it in the budget. Not every emergency call needs the police."
That was an initiative the council called on Adams to fund in its response to the mayor's preliminary budget, which he released in February. The council had also raised concerns about Adams' plan to reduce the employee headcount in a number of agencies. On Tuesday, Adams' budget showed that many of those cuts would be reversed or greatly reduced, including at the Department of Sanitation and the Department of Housing Preservation and Development.
That was welcome news for Speaker Adams and City Council Member Justin Brannan, the Finance Committee chair, who put out a joint statement appreciating the mayor for taking "real steps to incorporate funding for many critical priorities from our response." The final fiscal year 2023 budget is due before July 1, and there's little doubt that the proverbial "budget dance" between the mayor and the council will continue in the coming months, as the specifics get worked out.
But Adams seemed to revel in his position as the man with the money, letting cash mend any political disagreements. The mayor framed the previously announced funding for bumping up the Summer Youth Employment Program to 100,000 slots as his gift to the other citywide elected officials. "(Comptroller) Brad Lander, (Public Advocate) Jumaane (Williams), Adrienne Adams – some of you, you've been fighting for this for years and people ignored you. But you came to me and told me what you needed. And what happened? You got it."
Sure enough, Adams made it hard not to like him. "It's good to be an incumbent in a year with a flush budget. And he's used that power to satisfy almost every constituency," said one elected official in attendance who asked for anonymity to speak candidly about the mayor's speech. "It was a good speech that will shore up his political standing."
Of course, there were moments Tuesday when Adams' response to his critics got a bit more pointed. The administration added 578 new slots for uniformed correction officers between the preliminary budget and the executive budget. At a Q&A after the speech at City Hall, Adams said the new roles were needed to staff areas at city jails where those being detained could be held with limited interaction with others – or a new version of solitary confinement. The mayor bristled at that term, "solitary confinement," as he has done before, and preferred to say "punitive segregation." But the debate over semantics was secondary to its implementation, and Adams' embrace of punitive segregation earned him an early, public rebuke from the speaker as well as a majority of the City Council. Most progressive council members don't want to see solitary confinement in any form in city jails, and don't want to see more correction officers – but Adams framed it as if they had left him no choice. "Advocates call for the end of solitary confinement – that I support," he said. "Punitive segregation comes with a price tag. New correction officers. And that is why we have these new correction officers."
Others were less than pleased about Adams' spending. The city's revenue projections improved, raising the proposed budget from $98.5 billion in February to $99.7 billion on Tuesday. But most of the new money was for new spending, rather than shoring up the city's reserves, which bothered the watchdogs at the Citizen Budget Commission, a pro-business group that often advocates for fiscal restraint. CBC President Andrew Rein told City & State that the executive budget seemed to be lacking the discussions of efficiency and fiscal discipline that Adams had emphasized when he released his preliminary budget. "There are real challenges up ahead and he did not reduce those challenges and in fact made them worse," Rein said.
Mostly, though, it was all love for Adams. The mayor's speech largely avoided discussing the ongoing COVID-19 pandemic, which Adams has treated as something that happened in the past. While the mayor has talked up the importance of events and entertainment in the city's economic recovery, he canceled his planned January inauguration at the Kings Theatre due to the relatively high incidence of coronavirus cases at the time. The New York City Campaign Finance Board gave Adams until the end of April to spend transition funds on an inauguration, but it's now clear that won't happen (and transition Executive Director Katie Moore did not respond to a request for comment on what the committee planned to do with its estimated $888,371). Instead, Tuesday's event took its place, with the pomp and circumstance in the gilded theater far exceeding his predecessor's executive budget rollouts, which normally were City Hall press conferences. This was a State of the City-style address to a room packed with admirers. Adams ate up the stage like a showman, and worked the crowd, even calling out the progressive stalwart Williams, who stood up and applauded the mayor's announcement of funding first responders for mental health crises. 
"You know I did something right because Jumaane stood up and applauded me," Adams joked.
Williams credited the mayor after the ceremony. "Not only is he responding to the folks who have been trying to present ways for us to help move the city forward," the public advocate told City & State. "That's actually all you can ask for."