News & Politics
Caitlin Halligan confirmed to the New York Court of Appeals
The state Senate voted 47-12 to confirm Gov. Kathy Hochul's associate chief judge nominee.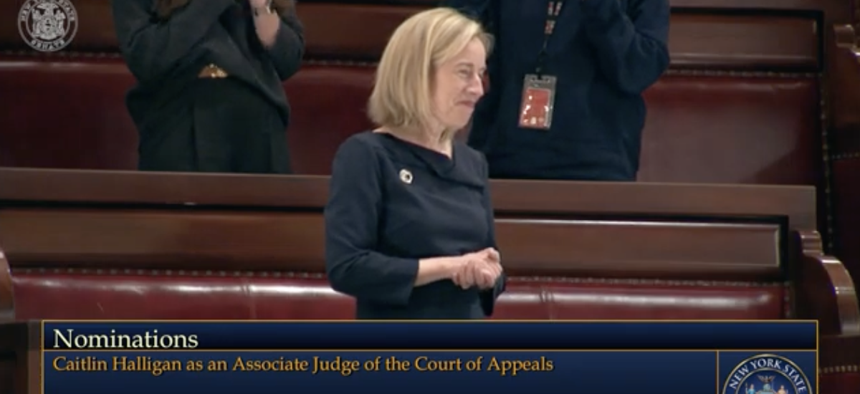 After the confirmation of Rowan Wilson to lead the state Court of Appeals, the state Senate voted 47-12 to confirm Caitlin Halligan as an associate judge of the state's highest court on Wednesday.
Gov. Kathy Hochul announced her intention to pick the former state solicitor general to replace Rowan Wilson as an associate judge earlier this month. The state Senate Judiciary Committee held a three-hour hearing to review Halligan's record on Tuesday but had to wait until Wilson's seat was officially vacant to vote on advancing Halligan. Just a few minutes before the full Senate vote on Wednesday, the Judiciary Committee voted 18-1 to advance Halligan to be considered for confirmation.
State Senate Judiciary Committee Chair Brad Hoylman-Sigal affirmed his support of Halligan shortly after the hearing and again in an address on the Senate floor. "She will be an inspiration for young lawyers, particularly women across the state. And I'm sure the court can become the best appellate court in the nation with her on the bench," Hoylman-Sigal said. The governor also congratulated Halligan for her confirmation in a statement pointing to Halligan's experience in public service and private practice. "I am confident that Caitlin Halligan will be a phenomenal addition to our state's highest court, helping the New York State Court of Appeals once again become one of our country's leading examples of thoughtful, high-quality jurisprudence," Hochul said.
Halligan had faced backlash from progressive groups for defending Chevron Corp. in a decadeslong legal battle with Steven Donziger. Chevron sought racketeering charges against the human rights lawyer after Donziger secured $9 billion in a class-action lawsuit against the oil company over pollution in the Amazon rainforest.
At the confirmation hearing, state Sen. Anthony Palumbo – a Republican ranking member of the Senate Judiciary Committee – noted the difference between Halligan's nomination and the bitter nomination fight over Hochul's first chief judge pick, Hector LaSalle. "I'm pleased to see that this nominee was treated with the dignity and respect that Court of Appeals nominees deserve, a vigorous debate on either side and a vote," Palumbo said.
The state senator added: "My concern is this is being done during the budget. There seems to be a bit of a quid pro quo here and I think that is offensive to the process of nominating judges," Palumbo said.
State Senate Republicans are considering a lawsuit to challenge the constitutionality of Halligan's nomination after Hochul signed a bill changing the nominating process to allow the governor to make two nominations for the Court of Appeals from a single shortlist.
With the confirmation of Halligan to serve on the Court of Appeals, the state's highest court is free from vacancies for the first time since August 2022 – when then-Chief Judge Janet DiFiore resigned. Republican and Democratic lawmakers celebrated the news at the end of Halligan's confirmation hearing. "It's nice to have a full Court of Appeals again," state Senate Deputy Majority Leader Michael Gianaris said.