Politics
Rowan Wilson picked to be chief judge, as Hochul eyes Caitlin Halligan for associate judge
Wilson, who would be the first Black chief judge in New York state, was tapped following the rejection of Hector LaSalle.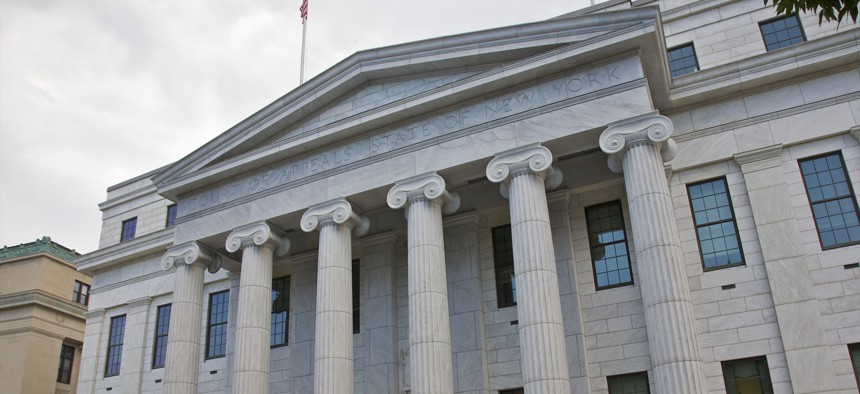 On Tuesday, Gov. Kathy Hochul formally announced the nomination of Rowan Wilson, currently an associate judge on the Court of Appeals, to be the chief judge of the court. At the same time, she announced that she intended to nominate Caitlin Halligan, the state's former solicitor general, to replace Wilson as an associate judge on the court – though that could set up a fight with Republicans over the state constitution.
"Judge Wilson's sterling record of upholding justice and fairness makes him well-suited to lead the court at this critical time," the governor said in a statement announcing the nominations. "To ensure the court continues to function effectively, I also intend to nominate Caitlin Halligan, who will bring a critical perspective to our justice system."
Wilson, 62 years old, would be the first Black chief judge in the state's history. He was nominated by former Gov. Andrew Cuomo to the Court of Appeals, and confirmed by the Republican-majority state Senate, in 2017. Since joining the court, he has developed a reputation as a staunch liberal who frequently dissented from opinions written by former Chief Judge Janet DiFiore and the court's more conservative majority. Chief judge is one of the most powerful positions in the state. In the role, Wilson would not just lead New York's highest court, but also lead the entire New York State Unified Court System.
Wilson is the governor's second pick for chief judge. Her first choice, appellate justice Hector LaSalle, was rejected by the state Senate in the face of overwhelming opposition from progressives, organized labor and reproductive rights groups. By contrast, Wilson is not expected to face much opposition. In an interview with City & State last month, state Senate Judiciary Committee chair Brad Hoylman-Sigal said that because Wilson had already been confirmed to sit on the highest court, he would likely have a smooth path to confirmation – a point that he made again on Monday.
"I can't predict the outcome, but many of the members of the (Judiciary) Committee and the full Senate have already reviewed Judge Wilson's qualifications … We know him, we are familiar with him, and we voted for him," Hoylman-Sigal told City & State.
Halligan's record is less clear. She was a top appointee in then-Attorney General Eliot Spitzer's office from 2001 to 2007. She is generally considered less progressive than Wilson, though she's hardly a conservative. When President Obama nominated her to a federal judgeship in 2011, Politico reported at the time, U.S. Senate Republicans blocked her nomination because then-Senate Majority Leader Mitch McConnell found her to be too much of an "activist." Halligan is currently a partner at Manhattan law firm Selendy, Gay, Elsberg where she has argued before the Court of Appeals and the U.S. Supreme Court. She reportedly came close to representing Hochul earlier this year when the governor considered suing the state Senate over the LaSalle nomination.
Positive reactions
On Monday, state Senate leadership voiced support for Wilson and Halligan's nominations.
"The Governor has put forth Associate Judge Rowan Wilson, who has a distinguished record and has served the state effectively, to serve as Chief Judge. She has also put forward Caitlin Halligan, who has an impressive legal resume and a strong legal mind, to fill the potentially vacant Associate Judge position," said state Senate Majority Leader Andrea Stewart-Cousins in a statement.
State Senate Deputy Majority Leader Michael Gianaris, one of the most powerful Senate Democrats to oppose LaSalle's nomination, said that he planned to vote to confirm both Wilson and Halligan. 
"I commend Governor Hochul for selecting Judge Rowan Wilson and Caitlin Halligan for appointments to the Court of Appeals. I am particularly excited about the prospect of Judge Wilson leading our state's highest court as Chief Judge … I look forward to hearing from these nominees and voting for their confirmations in the coming days," Gianaris said in a statement.
Hoylman-Sigal praised the two nominees and pledged to hold hearings on their nomination, though he stopped short of saying that he would vote to confirm them.
"Associate Judge Rowan Wilson is an accomplished and well-respected jurist on the Court of Appeals, with a long and distinguished record in the private sector. Similarly, Caitlin Halligan, a former New York State Solicitor General, has decades of experience in both the public and private sectors and has an excellent reputation in legal circles … I look forward to working with my colleagues to conduct fair and thorough hearings to examine the extensive records of Associate Judge Wilson and Ms. Halligan," he said in a statement.
Peter Martin, the director of judicial accountability at the nonprofit Center for Community Alternatives and one of the lead organizers of the campaign against LaSalle, also released a statement praising the governor's decision to nominate Wilson.
"Judge Wilson's opinions – which include more than 100 dissents and concurrences in which Judge Wilson wrote separately from the majority opinion – have articulated, defended, and expanded the rights of workers, wrongfully convicted people, workplace injury victims, and victims of gun violence … We urge the Senate to confirm Judge Wilson's nomination after the thorough review of his record that should be standard for all Court of Appeals nominees," he said.
He was less enthused about Halligan's nomination, though.
"While we would not have supported Halligan for chief judge, and while we have reservations about her record, we recognize that she would be a marked improvement from departed Chief Judge Janet DiFiore," he said. "Given Halligan's wide-ranging and in some respects contradictory record, it is vital that the Senate scrutinize her closely in its consideration of her nomination."
Hoylman-Sigal said that he is working with state Senate leadership to schedule Judiciary Committee hearings on Wilson and Halligan. Although the hearing on Wilson's nomination is expected to take place within weeks, the hearing on Halligan may have to wait until after Wilson is confirmed.
Two for one?
While Wilson's nomination as chief judge is all but assured, Halligan's path to the Court of Appeals is much less certain. The governor's decision to nominate a current associate judge to be chief judge and then nominate his successor at the same time is unprecedented and legally questionable. 
The state constitution mandates the Commission on Judicial Nomination interview candidates and draw up a shortlist of candidates to fill any vacancy on the Court of Appeals. There is currently only one vacancy on the Court of Appeals – the chief judge position. Once Wilson is confirmed, there would be another vacancy – the associate judge seat he currently occupies. The key question is whether the separate chief judge and associate judge vacancies require separate shortlists of candidates.
Hoylman-Sigal believes that the governor should be allowed to select both the chief judge and an associate judge from the same pool of chief judge candidates.
"If someone is qualified to be chief judge, that seems like a very good candidate to be associate judge," he said. "We want the best and brightest on the court."
Last month, the Legislature approved a bill sponsored by Hoylman-Sigal on behalf of the governor that would address this exact situation and allow Hochul to nominate an associate judge from the same shortlist that she used to select a chief judge.In other words, Hochul wanted to speed up the process if she nominated an associate judge for the top position by skipping a whole new application process to replace that person. Now, since she has nominated Wilson, she could use the law she signed Monday that would allow her to get Halligan approved shortly after Wilson. 
But Republicans in the state Senate as well as a coalition of good government groups have argued that the new law may be unconstitutional, and the minority party has indicated that it may sue over the changes to the nomination process. 
"It's certainly something that we're looking at," state Senate Minority Leader Rob Ortt told reporters late last month. "This process should be done a certain way. It should be handled a certain way in the process of integrity that is very important." 
Republicans succeeded earlier this year in their lawsuit over LaSalle, with a judge ruling in their favor that the state Senate needed to hold a floor vote on his nomination.
"They are a litigious bunch, so we'll just have to see what happens," Hoylman-Sigal said when asked about the possibility of litigation over the new law. "I can't predict what the Senate Republicans will do on any given day."
Latino representation
Hochul may also be offering an olive branch to some Latino lawmakers and activists who had advocated for LaSalle's confirmation and felt snubbed when the new chief judge shortlist did not include any Latino choices.
In addition to nominating Wilson as chief judge and Halligan as associate judge of the Court of Appeals, Hochul also expressed her support for Wilson naming Joseph Zayas the chief administrative judge. Zayas is currently an associate justice for the Appellate Division, Second Department. He previously served as the administrative judge for criminal matters in the Eleventh Judicial District in Queens for nearly a decade. Court observers said that Zayas would be the first Latino chief administrative judge.
Hochul's support for Zayas could ensure that both Black judges and Latino judges are represented at the highest levels of the judicial system. Last year, Hochul nominated LaSalle to be chief judge and expressed support for Edwina Richardson-Mendelson to be chief administrative judge. LaSalle would have been the first Latino chief judge and Richardson-Mendelson would have been the first Black woman to serve as chief administrative judge. Now that Hochul is nominating Wilson to be the first Black chief judge, it likely makes political sense to back a Latino judge like Zayas for chief administrative judge. 
Latinos for LaSalle, an organization formed to support LaSalle's nomination, declined to comment on Hochul's nominations of Wilson and Halligan. Roberto Ramirez, a lobbyist and former Assembly Member who has helped spearhead the group, previously criticized Hochul's plan to fill the two judicial positions at once. An additional process by the Commission on Judicial Nomination would give another opportunity for a Latino judge to be picked, when Latinos are underrepresented in the highest levels of New York government. The group also declined to comment on Hochul's support for Zayas to be named chief administrative judge.
With reporting by Rebecca C. Lewis and Jeff Coltin. This story has been updated with comments from state Sen. Brad Hoylman-Sigal.
Powered By
NEXT STORY: NY government passes second stopgap as budget delays stretch on