Politics
NY Democrats reject Hector LaSalle
Dealing Gov. Kathy Hochul an unprecedented blow, the state Senate Judiciary Committee voted not to send the Court of Appeals nominee to the floor for a full vote.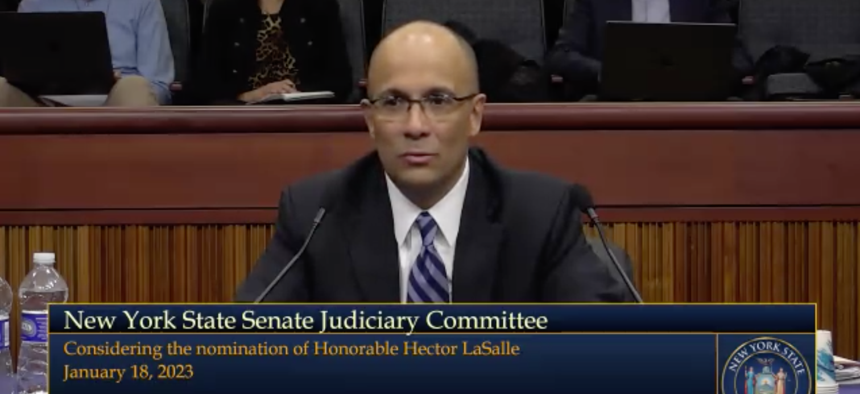 In a historic first in New York, a panel of lawmakers rejected Gov. Kathy Hochul's nominee to lead the state's top court. By a narrow 10-9 margin, members of the state Senate Judiciary Committee voted not to advance Justice Hector LaSalle to the full Senate, opening the door for a potential legal challenge from Hochul.
Ultimately, LaSalle received the go-ahead of all six Republicans on the Judiciary Committee, as well as Democrat Jamaal Bailey, who all voted to advance without recommendation. State Sens. Luis Sepúlveda and Kevin Thomas gave their recommendation. Ten Democrats, including chair state Sen. Brad Hoylman-Sigal, voted against LaSalle. 
After the rejection, state Senate Majority Leader Andrea Stewart-Cousins confirmed that LaSalle's nomination is dead and that she would not give him a floor vote. "The committee has spoken, the nomination was lost," Stewart-Cousins told reporters. Even in the face of a potential lawsuit from the governor, she said she will respect the decision of the Judiciary Committee. "The Senate has rules about how things get to the floor," Stewart-Cousins said. "And our rules dictate that we go through committees, and… if the committee does not advance something, it does not go to the floor."
Hochul expressed disappointment in the rejection of LaSalle, but did not yet say whether she would go through with a lawsuit to force a floor vote. She has already retained outside counsel for the expected legal battle over the nomination "While this was a thorough hearing, it was not a fair one, because the outcome was predetermined," Hochul said in a statement after the vote. "Several Senators stated how they were going to vote before the hearing even began – including those who were recently given seats on the newly expanded Judiciary Committee." She reaffirmed that she believes that the Senate has a constitutionally mandated obligation to perform a full vote on her nominees.
Chaos briefly broke out immediately following the vote when ranking member state Sen. Anthony Palumbo, a Republican, attempted to make a motion to move LaSalle's nomination to the floor of the state Senate. Hoylman-Sigal gavelled the hearing out before Palumbo could finish talking, drawing loud yells and boos from supporters of LaSalle in attendance. "How dare you?" one supporter yelled at the Democratic senators, while another specifically called out to state Sen. Jessica Ramos to "do the right thing."
The vote came after almost five hours of questioning LaSalle on his record and judicial philosophy to gauge his qualifications to lead the state's highest court. "What looms over this hearing, though, isn't just what we do here in Albany, it's Washington D.C.," Hoylman-Sigal said at the start of the hearing. "Some people think we are applying an exacting standard at this hearing. We are, because we have to." Legislative leaders and Hochul have vowed that New York would safeguard rights rolled back by the conservative U.S. Supreme Court, which includes appointing judges who will uphold those rights in the state.
LaSalle, a former prosecutor who currently sits on the Second Department Appellate Court, would be the first Latino judge to lead the Court of Appeals – and his nomination process has brought the question of identity politics to the fore. Progressives have argued that regardless of his ethnic background, LaSalle is too conservative for the role. Many prominent Latino elected leaders have cried foul as they have observed unprecedented opposition to the candidate.  
However, LaSalle faced intense backlash over a number of decisions he joined during his decade on the bench, many of which featured prominently in senators' questions. Many senators focused on one case in particular in which LaSalle and his fellow appellate justices allowed a defamation lawsuit from Cablevision to move forward against individual union members – who are usually protected from legal action from their employers. "How can you expect union members to do their jobs if at any moment they could be sued in their personal capacity?" asked State Sen. Sean Ryan, a Buffalo-area moderate considered a swing vote before the hearing. "Looking at law as policy, how does that not have a chilling effect on all unionization efforts in New York state?" Ryan, who shares a hometown with the governor, ultimately voted no on LaSalle.
Throughout the hearing, LaSalle defended himself against what he called mischaracterizations and misinterpretations of his record. He explicitly stated his support for both unions and reproductive rights – another criticism he has faced due to a decision that limited the scope of a subpoena in an investigation into a crisis pregnancy center. "Like every judge, I know that not everyone agrees with every ruling," LaSalle said in his opening remarks. "But I can promise you that in every case, I have sought and will continue to seek to give everyone their fair shake, to listen to arguments carefully, to work my best to apply the laws and facts before us and to work with my colleagues to reach a just and fair result."
Powered By
NEXT STORY: Examining Hector LaSalle's complex judicial legacy