Politics
Ahead of crucial hearing, Hochul pitches LaSalle
The governor tried to increase support for her chief judge pick as the month-long debate over his nomination culminates in a hearing on his fate.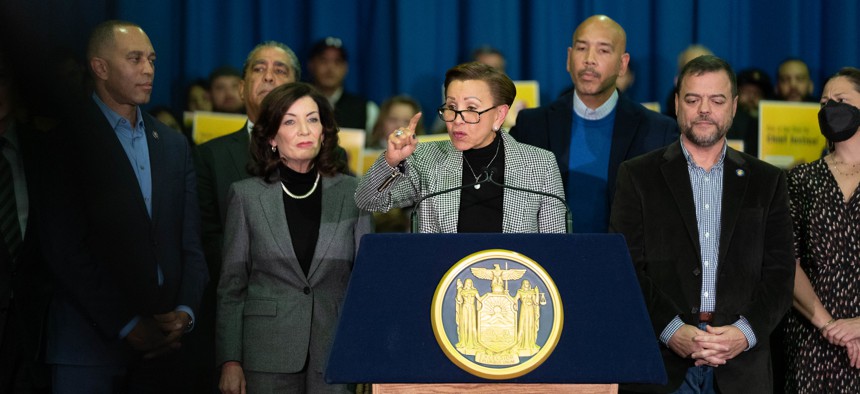 Gov. Kathy Hochul spent the long weekend stumping for her controversial chief judge nominee, Justice Hector LaSalle. The publicity tour was the governor's last ditch effort to drum up support for her nominee ahead of the Wednesday hearing in the state Senate that may determine his fate.LaSalle, an appellate court judge and former prosecutor who would be the first Latino to lead the Court of Appeals, has faced unprecedented pushback from more than a dozen state Senators who say he would continue an emerging pattern of conservatism in the state's highest court. The governor nominates judges to the Court of Appeals, and they are approved by the state Senate. 
On Saturday, Hochul gathered with high-profile Latino officials like Reps. Nydia Velázquez and Adriano Espaillat, as well as other powerful Democrats like House Minority Leader Hakeem Jeffries, to make the case for LaSalle. "I took that process seriously. I examined all the records," Hochul said of her process choosing from among seven candidates sent to her desk. "I saw the cases, even those that are being maligned and used against him, and they are false, being falsely represented, and that's what I will not stand for." 
Over the holiday weekend, she evoked Dr. Martin Luther King Jr., comparing the civil rights leader's struggles to those LaSalle is facing. "On Dr. Martin Luther King weekend, we celebrate a man who stood for doing what's right, and standing up to adversity, standing up to challenges in the pursuit of doing what's right," Hochul said at the pro-LaSalle press conference on Saturday. "That's what today is all about."
On the holiday itself, Hochul again evoked King in reference to LaSalle while speaking at a church in Brooklyn. "Dr. King called upon us to be just and to be fair and to not judge people," Hochul said. "And that has not been afforded to an individual named Judge Hector LaSalle." She added that "it should have never taken this long for a person of color" to lead the state's highest court. 
But unlike on Saturday, Hochul met resistance at the church on Monday, when a protester interrupted her speech. Police escorted the protester – who is Black – out of the church. Anti-LaSalle activists and politicians criticized the governor for attempting to silence a protester at an event celebrating the renowned civil rights leader. "I'm disappointed to see an event honoring MLK's legacy turn into an event that stymied dissent of local activists," state Sen. Andrew Gounardes, a member of the Senate Judiciary Committee who will vote on Wednesday, said in a tweet. "This nomination has raised many concerns and residents deserve to be heard on them." While he did not say whether or not he supports the nomination, the tweet is the most recent statement Gounardes has offered expressing concerns about LaSalle.
Other Democrats in the Judiciary Committee have announced how they plan to vote. State Sens. Jessica Ramos and Shelley Mayer have both said they plan to reject LaSalle's nomination, while state Sens. Luis Sepúlveda – who spoke at the Saturday event with Hochul – and Kevin Thomas have said they would approve it. State Sen. John Liu has publicly expressed opposition to LaSalle, though stopped short of explicitly stating he would vote against him. State Sen. Toby Ann Stavisky has said she has concerns about the nomination.
Despite the level of opposition LaSalle faces, the results of the hearing on Wednesday are far from a foregone conclusion. "I'm looking forward to a robust and respectful hearing tomorrow," state Sen. Brad Hoylman-Sigal, chair of the Judiciary Committee, said in a text to City & State. "The attention being paid to the confirmation hearings of a new chief judge is appropriate, and frankly welcome, given the Trump-takeover of our federal courts." He added that it's right for New Yorkers "to be concerned about a wide range of issues that (will) be decided by our highest court." Opponents of LaSalle have pointed to a handful of opinions that LaSalle has joined on during his decade in the Appellate Division as evidence that he is too conservative on issues including labor, abortion rights and due process. 
The hearing and subsequent vote on Wednesday will determine whether LaSalle will advance to the full state Senate for a confirmation vote. If members reject him in committee, the state will find itself in an unprecedented situation as Hochul and her supporters have argued that the Senate is obligated to hold a floor vote regardless of how the Judiciary Committee votes. The governor has even indicated that she is willing to sue if he doesn't advance, a prospect that would likely open a constitutional can of worms as the judiciary branch would rule on the fate of its own potential leader.
This post has been updated to reflect that Democratic Judiciary Committee member Kevin Thomas also supports LaSalle's nomination.
Powered By
NEXT STORY: Exclusive: New York Assembly staff goes public with union effort