Politics
Former chief judge says LaSalle must have a floor vote
Jonathan Lippman cited 2013 precedent to argue that the full Senate is required to vote on all Court of Appeals nominees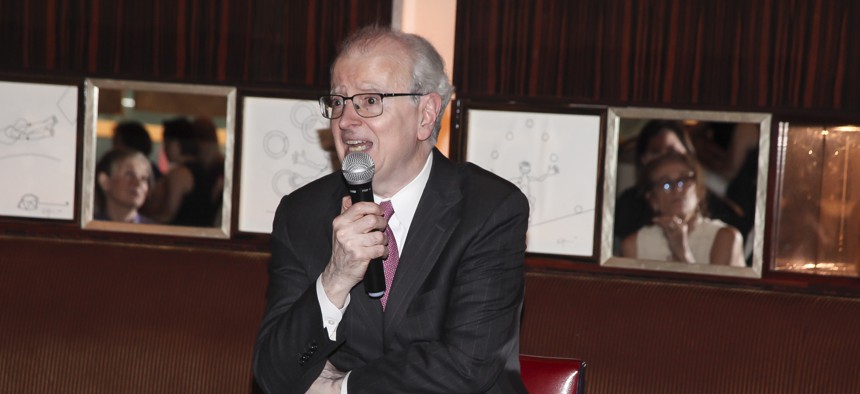 Justice Hector LaSalle's hearing before the state Senate Judiciary Committee finally has a date. Members will hear from the judge as he makes his case to lead the Court of Appeals on Wednesday at 10 a.m. But regardless of what lawmakers decide following that hearing, LaSalle's supporters argue that the full state Senate has a constitutional obligation to vote on his nomination. 
Supporters of LaSalle held a virtual press conference, doubling down on their belief the state Senate should confirm him even as opposition to his nomination grows – a total of 14 senators have said they won't confirm him, with even more indicating they have significant concerns over their perception of a conservative judicial track record. Some members of the Judiciary Committee have already said they intend to vote against LaSalle. But former Chief Judge Jonathan Lippman argued on Thursday that even if the committee votes not to recommend LaSalle, the Senate must still hold a floor vote on his nomination. "That's what the history shows us," Lippman said. "Any other way of doing this is a threat to constitutional design."
Lippman specifically pointed to the nomination of Judge Jenny Rivera, who still serves on the Court of Appeals. When former Gov. Andrew Cuomo tapped her to join the court in 2013, Republicans had control of the state Senate. When she went before the Judiciary Committee, she ultimately did not receive its recommendation, but she did have the votes to advance anyway. Then-Majority Leader Dean Skelos said he supported Rivera and allowed her to come to the floor. In the end, she cleared the Senate with little opposition despite a heated hearing in committee. They confirmed her through a voice vote, meaning there's no record of how individuals voted.
Rivera's situation was unprecedented at the time, and a similar situation has not emerged since. The previous chief judge, Janet DiFiore, received unanimous approval in 2016 from the Republican-controlled Judiciary Committee after getting nominated by Cuomo. The full Senate then confirmed her, like Rivera, through a voice vote, which at the time was described as unanimous. And in 2021, when Madeline Singas' nomination to the Court of Appeals as an associate judge received backlash, only one member of the Judiciary Committee voted to oppose her, with two others voting "no recommendation" while allowing her to advance.
But this time around, state Senate Majority Leader Andrea Stewart-Cousins has given no indication that she would bring LaSalle to the floor without the thumbs up from the Judiciary Committee. "Anything that comes to the floor goes first through committee," Stewart-Cousins told reporters earlier in the week. "And, you know, it doesn't get to the floor unless it gets out of committee." She added, however, that she has not "presumed an outcome." An instance of a nominee failing to receive enough votes to advance, even without a recommendation, remains unprecedented.
Despite what Stewart-Cousins has said so far on the matter, as well as the bloc of Democratic senators who said they would not confirm LaSalle, Lippman remained adamant that she would bring the nomination to a full vote. "I know the leadership of the state Senate, I know many of the senators, and I have every confidence – just as been done in the past when for one reason or another there was controversy – that nomination goes to the floor," Lippman said when asked whether the issue could end up in the courts if Stewart-Cousins refuses. "I have no doubt that's what's going to happen here."