Heard Around Town
Police union President Pat Lynch plans to step down
The long serving leader of the PBA has been a critic of police reform.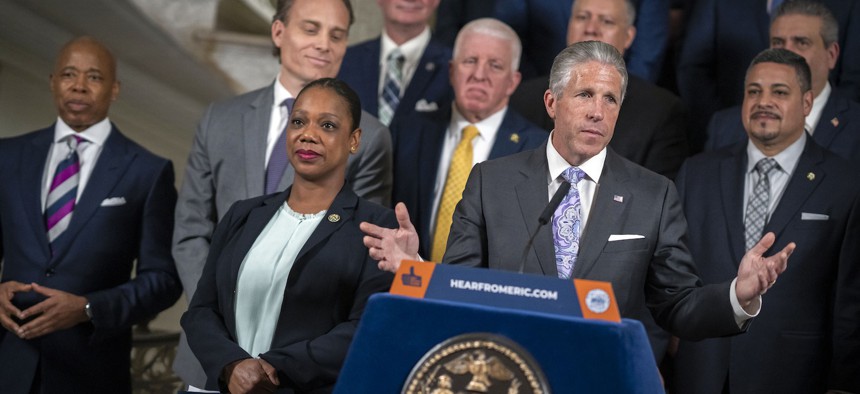 One of the most powerful – and controversial – voices in New York City policing will be stepping down soon, after Police Benevolent Association President Patrick Lynch announced Tuesday he wouldn't be seeking reelection as head of the city's biggest police union. Lynch, who's led the PBA since 1999, endorsed PBA Treasurer Patrick Hendry to succeed him, according to a person familiar with the union. Lynch made the announcement at the monthly meeting of unions delegates. The PBA reportedly represents about 23,000 active members and some 50,000 retirees – including Mayor Eric Adams, a retired cop. 
Lynch's support for Hendry annoyed Corey Grable, the union's transit bureau financial secretary, who is running for union president. "I appreciate Pat Lynch stepping aside and thank him for his many years of service to the NYCPBA. I'm disappointed he attempted to put his finger on the scale of the race to replace him on his way out the door," he said, as part of a longer written statement, adding that he looks forward to a "spirited public debate" with Hendry. 
Lynch just secured a long-delayed labor contract for police officers, which still needs to be ratified by membership. He's the longest serving PBA president in at least the last 60 years, union spokesperson told City & State. Lynch hasn't said what he plans to do next, or whether he'll stay involved with the union after his term is up June 30. 
Lynch seemed to relish the role of antagonist in city politics, holding out for years on union contracts in search of a better deal. The PBA had been working on an expired contract since 2017. Lynch also took his role defending police officers accused of misconduct to the extreme. He was an outspoken critic of any police reform, and his repeated protests where police officers turned their backs on then-Mayor Bill de Blasio are considered a major factor in the progressive mayor's resistance to more stringent reforms. In 2020, Lynch endorsed President Donald Trump and spoke in support of him at the Republican National Convention.
Powered By
NEXT STORY: Guinea pig sales banned in NYC