Heard Around Town
Torres is supportive of Biden, but wary about his age
The 35-year-old Rep. Ritchie Torres – 'an embryo in Congress' – spoke after the 80-year-old president launched his reelection campaign.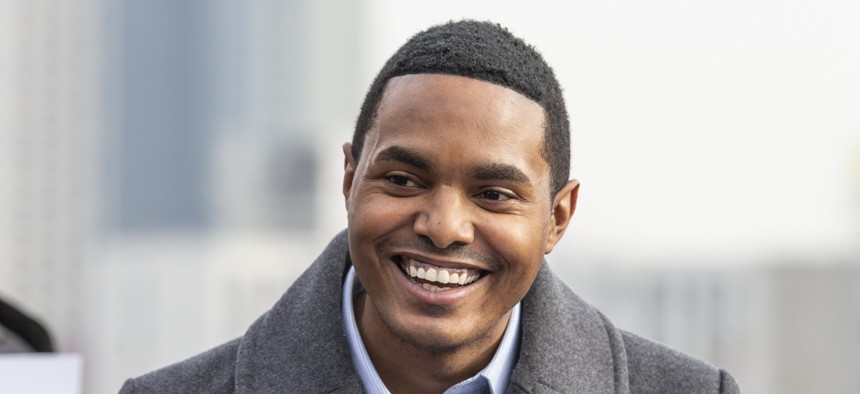 New York's young Democrats in Congress like Rep. Ritchie Torres are having to decide how to talk about their old president, now that Joe Biden, 80, has officially announced he's running for reelection. "I just turned 35, they say old enough to run for president." Torres said at an Association for a Better New York breakfast in Midtown Manhattan Tuesday. "I'm like, 45 years from now, yeah," he said to laughs, adding, "I'm like an embryo in Congress." 
Torres is backing Biden – he tweeted "I'm with Joe" first thing Tuesday, and reiterated at the breakfast that the incumbent "has a powerful record," but admitted wariness about his age. "Is it ideal that we have an 80-year-old running for president? No, but he's the best hope that we have for defeating Donald Trump or Ron DeSantis," Torres said.
Torres is voicing a pretty common opinion. A recent AP-NORC Center for Public Affairs Research poll found that just 47% of Democrats wanted Biden to run again, apparently due to concerns about his age.
Of course that's an issue for Torres' Republican colleagues, too, if 76-year-old Trump keeps rolling towards the nomination. His age – and his politics – clearly aren't an issue for loyal 38-year-old Rep. Elise Stefanik, but 36-year-old Rep. Mike Lawler made waves last November by saying it was time for the party to "move forward" with one of its "rising stars."
Torres, too, has made waves with his public squabbles with the Democrats' left flank, but he was careful to draw a distinction between the major parties Tuesday. "Both parties have their excesses," he said, "but I'm not aware of any leftwing activist who inspired an insurrection against the U.S. Capitol."
Powered By
NEXT STORY: Teachers union rallies for more money, less paperwork