Heard Around Town
Andy King is off the ballot again, after appeal
The former City Council member is trying to win his old seat back, after being expelled in 2020.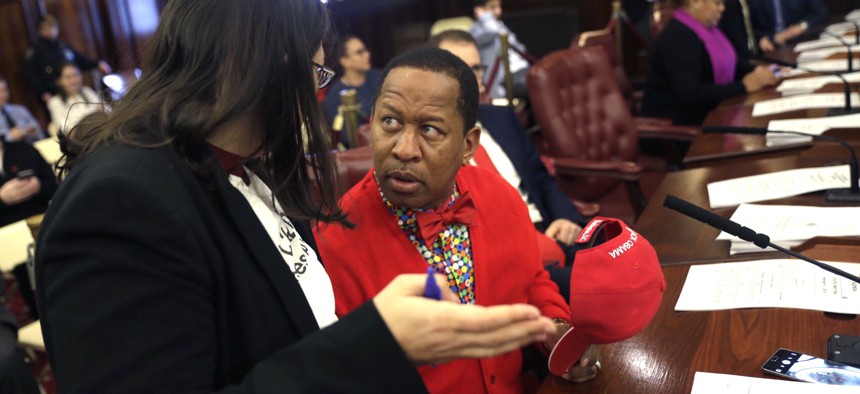 Former New York City Council Member Andy King is off the ballot again, after an appeals court ruled Wednesday that he can't run for his old office this year because of term limits. 
King is trying to make a political comeback after his fellow City Council members expelled him in 2020 for harassing staff and ignoring previous sanctions, among other offenses. But a panel of five judges in the Supreme Court's Appellate Division, First Department, unanimously ruled that the city's term limits mean King isn't eligible to run this year, when he hoped to challenge City Council Member Kevin Riley in the June 27 Democratic primary.
King's legal team had argued that "expulsion" was legally different from "removal" in the City Charter, so he could run, and a Manhattan Supreme Court justice agreed, ruling in his favor last week. But the mid-level appeals court reversed that decision. And King's legal battle may be over – the unanimous decision puts an extra step in the appeals process and makes it unlikely the state's highest court would pick up the case. King's team declined to comment Wednesday.
Will Forero was the lawyer for Allison Simpson, a Bronx Democrat who challenged King's place on the ballot. "The law is clear and we appreciate the First Department's adherence to the law," he told City & State.
That ruling is great news for Riley, who represents District 12 in the northeastern Bronx. Riley declined to comment. But after the lower court ruling last week, he tweeted a fundraising link, which earned an outpouring of support from colleagues – some of whom had voted to expel King three years ago.