Politics
Andy King, expelled from the City Council, wants back in
But the city charter is clear – he can't run this year, due to term limits.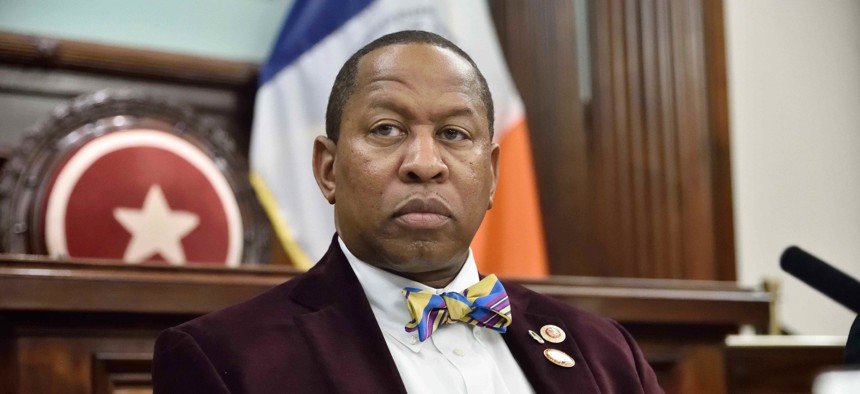 He was expelled from the New York City Council after a committee substantiated claims that he harassed staff, took a $2,000 kickback from an aide and ignored the Council's discipline. Now, former Council Member Andy King is trying to get back in. He filed Wednesday to run for City Council – even though he's legally barred from running this year due to term limits. 
King was first elected to the council in a 2012 special election. He was reelected to a full, four year term in 2013, and again in 2017. The City Charter is clear that members are limited to two consecutive full terms, and that they're not eligible again until "one full term or more has elapsed" since they left. The charter is also clear that the two year term members are currently serving does not count as a full term. And if King thinks he's exempt, because he was expelled before the end of the term, the charter answers that too: "A member of the council who resigns or is removed from office prior to the completion of a full term shall be deemed to have held that office for a full term."
A spokesperson for the council told City & State that they agree the charter is clear – King can't run in 2023. 
King would be eligible to run in 2025, however. He did not respond to a request for comment, and the treasurer of his newly formed committee, "NewYorkers 4 Andy King" declined to comment. 
But he came to a press conference to support military veterans outside City Hall on Jan. 5. Asked if he was making a comeback, King declined to answer directly, but said "I'm going to do what I can to help my neighborhood. I'm going to do what I can to help the district. I'm doing all I can to help Bronxites and the city of New York." 
King filed to run for the seat he once held, in District 12 in the northeastern Bronx. City Council Member Kevin Riley won the seat in a special election in 2020, and has filed to run for reelection. Asked outside City Hall Thursday, Riley declined to comment on King. 
Riley, a protege of the powerful Assembly Speaker Carl Heastie, has a lot of mainstream Democratic support, including from the Bronx Democratic Party. 
"We are aware that Andy King has filed to run and while we are uncertain about Mr. King's eligibility to run, we remain steadfast in our endorsement and support of Council Member Kevin Riley," party spokesperson Jason Laidley told City & State, before praising Riley as part of a longer statement. 
Fellow members are on Riley's side too. "The only king in the northeast Bronx is Council Member Kevin Riley," said Marjorie Velázquez, a Democrat who represents an adjacent district. 
King hasn't been entirely ostracized by the political class, however. Rep. Ritchie Torres and state Sen. Leroy Comrie, for example, recently appeared on King's weekly talk show. New York City Cultural Affairs Commissioner Laurie Cumbo, a former City Council member who voted for King's expulsion, also was scheduled to appear. 
If King could run, he shouldn't be counted out. City Council Member Darlene Mealy reclaimed her old seat in 2021 in an upset victory over the incumbent council member, Alicka Ampry-Samuel, who had overwhelming support from the city's political class. 
While King is trying to get back into the council, he's also trying to get back at the council. He sued the council in federal court, claiming his rights were violated. A district court judge dismissed his case in January 2022, but the court of appeals heard his case in October, and has not yet ruled. 
King has also been sued himself, by a former staffer who said he retaliated against her for cooperating with City Council investigators. A federal judge ruled this month that the case could go forward. 
This story has been updated to reflect the federal lawsuit against King, and a reference to Council Member Darlene Mealy.
Powered By
NEXT STORY: What is the political fallout piece for Hochul after LaSalle?