New York City
Jessica Ramos on halting Steve Cohen's Queens casino plan
The Queens state senator is also working on her remaining legislative priorities, like protecting against wage theft.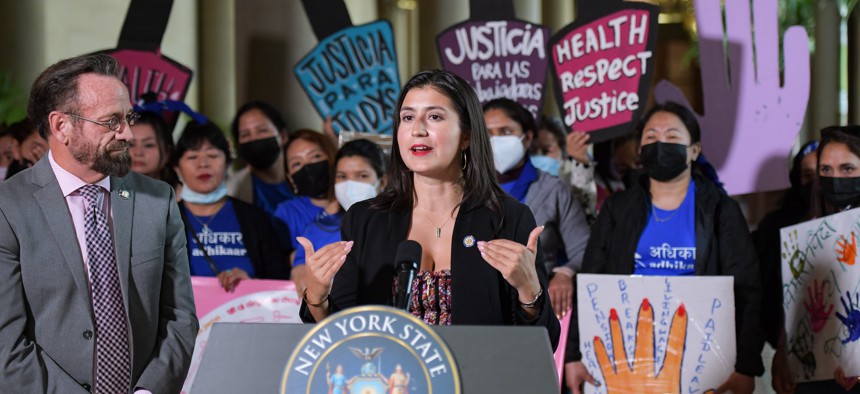 State Sen. Jessica Ramos isn't ready to introduce legislation that would pave the way for New York Mets owner Steve Cohen's casino bid near Citi Field – certainly not until more community conversations happen.
The controversial proposal hit a significant snag on May 19 after Ramos, who represents parts of Corona, East Elmhurst, Elmhurst and Jackson Heights, told community members that she doesn't plan to introduce the parkland alienation bill that Cohen needs before the legislative session ends on June 8. Because a Citi Field parking lot – the prospective site of the casino – is owned by the city and technically considered parkland.
Passions ran high during the town hall that she held to gather public sentiment – the first in a string of meetings that Ramos has planned. While Cohen has spent lots of money trying to woo local and state elected officials to support the casino, Ramos felt that residents' input had been neglected.
It's been a busy month for the Queens senator, one of her biggest legislative priorities – a measure intended to protect against wage theft – will be addressed during a long-awaited hearing today.
City & State caught up with the senator to talk more about her stance on Cohen's casino bid, what it would take for her to get behind the project, her legislative priorities and whether she feels bail law will continue to dominate future budget cycles. This interview has been edited for length and clarity.
I understand you aren't planning to introduce the legislation needed to open the door for Steve Cohen's casino proposal near Citi Field before this year's session ends. Can you please walk me through what prompted your decision?
A community discussion has been sorely lacking. I know that Mr. Cohen and his team have been very hard at work, putting together their proposal and making it known on the government side, but I am a true believer in community conversation about such a major decision. This is a once in a generation opportunity that is going to redefine, not only my district, but the borough of Queens.
I am expecting to hold a few more town halls. I did understand why Mr. Cohen wanted this alienation legislation to be introduced this session, but we have other higher district priorities right now.
Your May 19 town hall brought out a lot of people. What were the big takeaways from discussions?
One part of our community certainly has been yearning for economic development for a long time. East Elmhurst is a neighborhood that has been deprived of public transportation, health care – I mean, there's a lot of work to do in that area. They see this as a potential project that would revitalize the area in a different way. I understand and those are things that we covered and conversations that need to continue.
Hosting a casino in your neighborhood is a very serious responsibility, because I understand that shootings go up around casinos. When I speak to my colleagues who have casinos in their districts already, they tell me that the casino is in a much more desolate area. Here it wouldn't be in a desolate area. Here it would be right off the No. 7 train. That's another thing – talking about gambling addiction, a lot of people would be able to simply walk to the casino down the block. I understand that it's many jobs, thousands of temporary construction and permanent maintenance and operation jobs. But that's another thing – from my understanding it is only the Hotel Trades Council that has a project labor agreement in place.
Could anything sway you at this point to introduce legislation this session? What would need to happen for you to get on board?
The only thing that can sway me is more conversation with my neighbors. If the majority of my neighbors were to come to me when we're having these community conversations and tell me that that's what they want, then we are having a different conversation, but that's not the conversation that has happened.
This is our first town hall. Honestly this whole casino ordeal has only really started to gain more coverage and that is when my neighbors found out about it. As a community, the conversation really hasn't been happening for very long. That's why our first town hall was much more about educating our neighbors about our rights, what we know about the process, because we don't even know what the (casino license request for application) deadline is. This was also a key indicator to me that there's no rush here.
New York City's plan to bring a soccer stadium and 2,500 units of affordable housing to Willets Point wouldn't be in your district, but given the proximity, have you had any involvement in planning or do you have a stance on that project? 
They have not asked for my input, but as a soccer fan, the idea of a stadium being there is convenient and nice. I, of course, like the idea of jobs, but honestly with this project, I'm laser focused on that affordable housing. Is it truly affordable? Is it all really good union jobs? Those are the things that I usually watch out for, especially whether we're defining affordability appropriately in terms of today's economy.
Your name has been floated as a potential mayoral candidate in 2025. Are you considering? Have you been having conversations?
I am doing nothing related to the sort.
Now that we are a couple weeks out from the end of the session, how do you feel that budget negotiations went, specifically around bail law? Do you think that bail reform will continue to be a sticking point in the budget process in the years to come?
Look, in the next few years to come we are focused on building more mental health hospitals, providing for more psychiatric beds. If we can create a real path and what that build out looks like over the next several years, then I can assure you that we will speak about reforming bail laws less and less.
What are your legislative priorities heading into the final days of the session?
My Injury Reduction Act, which is aimed at ensuring much more favorable designs of warehouses for workers because the injury rates are so high. Then there is my (temperature) bill, which is to regulate trucks, outside areas, different types of workplaces – think like farm work, trucking, even some construction. For folks that work in those trucks, they get very hot. Making sure the multinational corporation that they work for is able to provide them with a few bottles of water for their workdays is not a lot to ask for. And, of course, making sure that there's empowered language for the worker to report wrongdoing so that they don't suffer any retaliation.