Rikers Island
Comptroller and public advocate tour Rikers, call on feds to take over Rikers
After touring the jail complex, Brad Lander and Jumaane Williams said the city cannot be trusted to manage Rikers Island.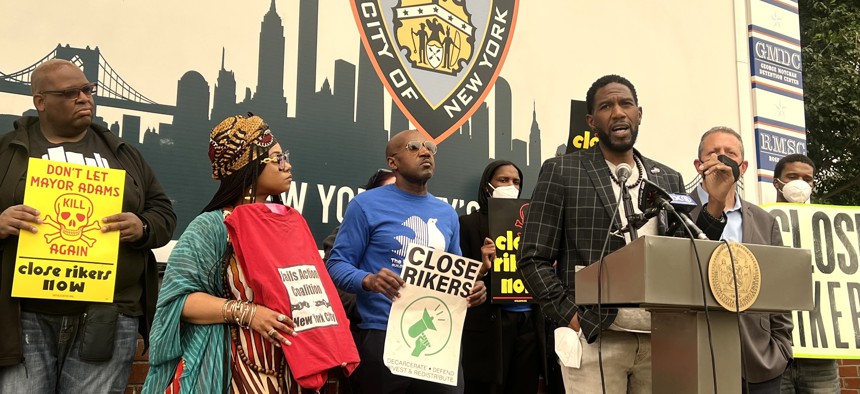 New York City Public Advocate Jumaane Williams and Comptroller Brad Lander called for Rikers Island to be put under federal receivership after touring the embattled jail complex Wednesday morning. Addressing reporters and advocates, the two officials stressed that while they have some trepidations about the prospect, a third-party receiver is perhaps best equipped to make the operational and management reforms needed to make everyone in the system safer unless Mayor Eric Adams comes up with a better plan.
"I don't know that (a federal receiver) is a panacea, but right now we have a problem on Rikers Island where it is dangerous, literally deadly and it is unsustainable and has been for a while," Williams said, adding that he plans to introduce a bill in the City Council on Thursday calling on the federal government to appoint a federal receiver at Rikers. 
His and Lander's visit comes on the heels of the release of a deeply concerning report from the federal monitor overseeing Rikers Island that criticized city officials for failing to properly investigate correction officers' lethal use of force and refusal to provide prompt emergency medical care. The report specifically pointed to five incidents that took place over a two-week period in May, and Federal Monitor Steve Martin said the findings were representative of a bigger trend.
While Williams and Lander noted that things seem to be moving smoother within the complex since their previous visits, the two men said they still saw "multiple places" where conditions didn't comply with Board of Correction rules. They said that they witnessed incarcerated people shackled hand and foot to desks in Enhanced Supervision Level 1 housing – including an 18-year-old who shouldn't have even been held with other adults to begin with – and people held in conditions akin to solitary confinement with no clear protocols on how they could get out. 
Lander said that they didn't get any "good or clear answers" either on what happened with the elderly man who'd been mentioned in the recent federal report as having suffered from severe, life-altering injuries in custody. He described the department's response as a slew of "cross, finger-pointing."
While Lander first expressed his desire for a federal receiver in October, Williams didn't join the call until late May, following the release of the special report. He said he still has some concerns about federal receivership, particularly whether the federal receiver would be willing to work alongside an existing task force of people who have already spent years trying to hold Rikers accountable.
"What we really want to see is a plan that makes everyone safer on the island – people who are detained there, people who work there are often from the same communities. I have not seen that yet," Williams said. "What we want to see is a commitment to close Rikers down. Whoever can do that is who I want to see running Rikers."
The Department of Correction has recently rolled back several practices aimed at increasing transparency into what occurs at Rikers Island. Most notably, DOC recently announced that it will no longer notify the public whenever someone dies while in the department's custody – though it later walked that back, claiming that members of the media will still be able to request alerts about deaths. Throughout 2022, at least 19 people incarcerated at city jails died, either while in custody or shortly after being released – the highest rate of death in two decades. At least three people are known to have died at Rikers so far this year.
Lander, whose office maintains an updated tracker of deaths on Rikers, said his visit to Rikers on Wednesday was specifically prompted by DOC's decision to stop reporting deaths in custody. The comptroller's office recently updated its tracker to show that the number of deaths is now "unknown."
"When we had to change that indicator from the number that we had been able to report in each month to unknown, that to me felt like a system that is not at a basic level one, being transparent and honest about the most critical details and two, it just doesn't reflect an understanding of the humanity of those lives lost," Lander said.
Throughout the press conference, Williams and Lander were heckled by Correctional Officers Benevolent Association head Benny Boscio. The union leader and and other critics accused Williams, Lander and other city officials of ignoring the violence and sexual assault that guards have experienced.
"I don't want to ignore what's being said over here because there were 50 officers who had been injured … There are officers who are sexually assaulted on a regular basis. That is a problem. Where we disagree is what the solution is," Williams said. "What I do know is that that exists in what is currently happening at Rikers Island, which says to me what is currently happening at Rikers Island is not working. We have detainees dying, we have officers being sexually assaulted and being injured and harmed. That kind of violence has been in Rikers for way too long and the way Rikers have been breeds that kind of violence."
Powered By
NEXT STORY: The super PAC fundraising for George Santos' could-be opponents