Campaign Confidential
Isis McIntosh Green falls short in City Council challenge to Darlene Mealy
Mealy, a City Council member in Central Brooklyn, won despite being notoriously absent from both City Hall and her district.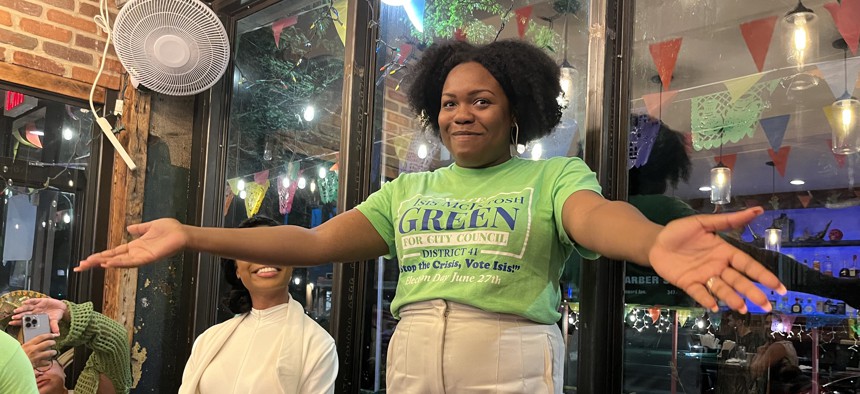 Sonora Restaurant & Bar in Bedford-Stuyvesant was hot and loud, crowded with friends, relatives and political supporters of New York City Council District 41 candidate Isis McIntosh Green when she lost.
Watch party attendees refreshed the New York City Board of Elections vote counter on their phones repeatedly, hopefully, in front of a backdrop of NY1's election coverage. For around an hour, the vote counts barely changed. And then, at around 10:30 p.m., with 92% of the votes in, the race was called for City Council Member Darlene Mealy, with 62% of the vote.
"Although the election results did not turn out how we wanted them to be, we understand that this is a two-year term," McIntosh Green said in a speech at the end of the night. "I am extremely grateful for each and every one of you who are here that have started from the beginning of the campaign, that joined in the middle, all the way on to volunteers, words of encouragement and prayers."
McIntosh Green was the top challenger in the Democratic primary race against Mealy. Tenant advocate Reginald Bowman and previously unsuccessful candidate Joyce Shearin also ran for the seat. 
There's no Republican running in this district for the general election, so Mealy will be reelected to another term.
Despite jumping into the race late, McIntosh Green outraised Mealy in private donations – with the challenger raising $73,188 and the incumbent raising $20,241 as of the primary day. Due to her late entry, though, McIntosh Green didn't qualify for matching funds, which Mealy received $46,000.
The challenger was also able to swing some big-name endorsements, including Assembly Member Latrice Walker, the Working Families Party, District Council 37, the Hotel and Gaming Trade Council and more.
Mealy has represented the district for more than 13 years over two separate stints, but has a reputation as being absent both in the council chamber and in her district. She missed a third of her council and committee meetings this term,  missed last year's budget vote and hasn't been the primary sponsor of a single bill this session. In all her years in office, she's only passed six bills. Even on the district side of the job, Mealy is lacking, according to reporting by The City that found that constituents struggle to reach her office for help.
Mealy defended herself in a phone call with City & State earlier Tuesday, saying she's going to keep doing the work like she always has. "I serve the community the way the community needs to be served," she said. "You don't know how much I've been in the churches."
"Darlene Mealy is someone the party has a history with," Working Families Party New York City Organizing Director Divya Sundaram told City & State ahead of the results, referring to how the party endorsed her in previous runs. But that's changed, she said. "I don't think she's been totally aligned with our values, has been showing up in the ways that we expect WFP champions to show up. She didn't even bother to apply for our endorsement this year."