Ethics
De Blasio ordered to pay $475,000 for using city resources in 2019 in failed presidential run
The former mayor has been dogged by debt to the city for using NYPD security on his many campaign trips, but now the city Conflict of Interest Board is inflicting additional punitive fines.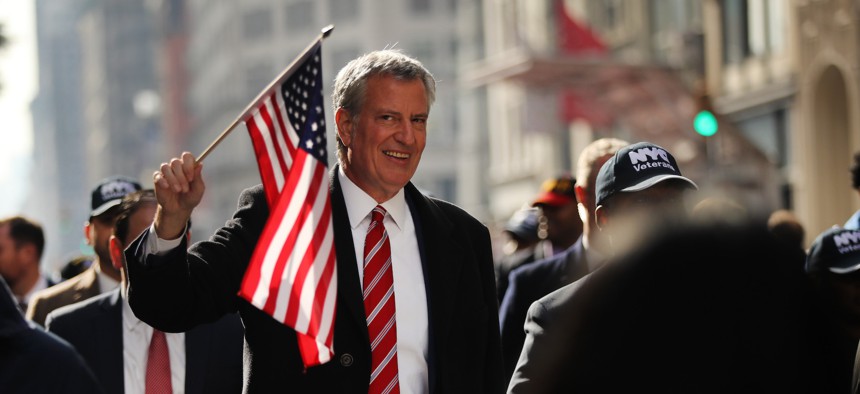 Former New York City Mayor Bill de Blasio was fined $155,000 and told to repay the city another $320,000 for taking his security detail along with him on trips for his failed presidential campaign. It's the largest fine ever imposed by the city Conflict of Interest Board. 
The board ordered Thursday that de Blasio be fined $5,000 for each of the 31 trips he took between May 2019 and September 2019, explaining that he failed to pay the travel expenses of the police department security details that accompanied him and his wife, Chirlane McCray, as they traveled out of state for trips associated with his campaign. Ethics laws bar elected officials from using city resources for non-city purposes. 
"When a public servant uses City resources for private purposes, it erodes the public's trust and makes city government less efficient," the ruling said. "For this reason, the Board has routinely enforced this prohibition, particularly where a public servant uses City resources for the non-City purpose of advancing a campaign for elective office or other political activity."
The ruling, signed by COIB Chair Milton Williams, says de Blasio has just 30 days to pay the $474,794.20.  However, he has the right to appeal the ruling in state court. 
That's a step de Blasio's legal team immediately took, saying the ruling undermines elected officials' safety. "In a time of unprecedented threats of political violence, the COIB's reckless and arbitrary ruling threatens the safety and security of our democratically-elected public servants," Andrew Celli, Jr., an attorney at Emery Celli Brinckerhoff Abady Ward & Maazel wrote as part of a longer statement. Celli accused COIB of breaking "with decades of NYPD policy and precedent" and said de Blasio has filed a suit hoping to block the order. 
COIB had advised de Blasio back in 2019 that he would have to pay for the security detail on campaign trips, The City reported last year. The then-mayor ignored that advice, and was later found to have misused the security detail for personal purposes in a damning report from the New York City Department of Investigation in 2021.
"(COIB)'s conclusions regarding former Mayor Bill de Blasio's misuse of his security detail reaffirms DOI's investigative findings, and shows that public officials, including the most senior, will be held accountable when they violate the rules," Department of Investigation Commissioner Jocelyn Strauber said in a statement on today's ruling. 
This is just one of a handful of de Blasio's debts. As of last July, de Blasio owed a lobbyist law firm that had previously represented him $425,000 when he was investigated for allegations of a pay-to-play scheme by the Manhattan U.S. attorney and district attorney, according to The City. His presidential campaign last month was fined $53,000 by the Federal Elections Commission for illegal transfers from political action committees. 
De Blasio has a penchant for launching campaigns – and fundraising off them. His state committee, New Yorkers for a Fair Future, reported a balance of $146,754 as of January. (He flirted with a run for governor in 2022.) His congressional committee for his failed bid for the 10th district in 2022 reported a balance of $163,687. But he's got some campaign debt too: His presidential committee account last reported $823 on hand and $57,373 in debts, and his city committee account reported $156,881 in debts.
"Just another rock on the de Blasio pile of bad management, poor decision making, and a belief that politics – not conscience nor service – is all that matters to the permanent class of which he is a charter member," political strategist Hank Sheinkopf said of Thursday's ruling.