Politics
Driscoll down, but not out
The state Senate won't give Hochul's NYPA CEO nominee a vote, but he'll stay on in an interim capacity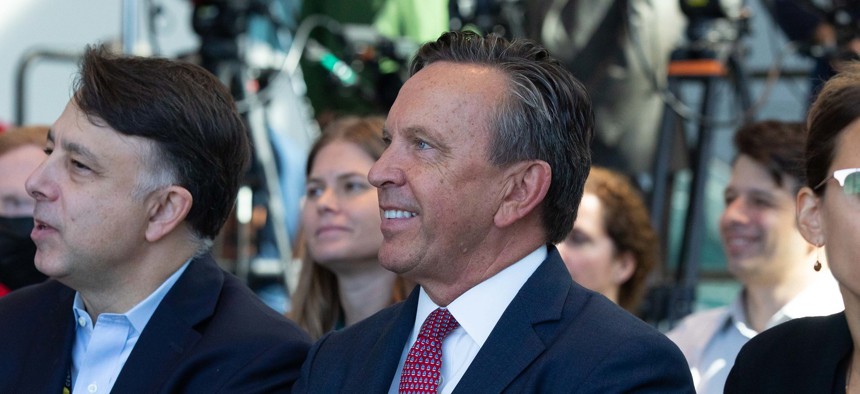 Justin Driscoll will not be confirmed as the permanent head of the New York Power Authority, following a campaign from progressive climate activists against his nomination, a source familiar with discussions told City & State. But he'll continue to serve as the acting president and CEO – and in theory can keep doing so indefinitely. 
State Senate leaders had been widely expected to bring Driscoll's nomination to a full floor vote on Friday, the final day of the scheduled legislative session, but ultimately decided not to do so after realizing that he lacked the necessary support to be confirmed, the source said. The news that Driscoll would not receive a vote was first reported by Politico. 
Earlier in the week, Driscoll's nomination advanced out of both the Energy and Finance Committees following a joint hearing – though not without some opposition. In the Energy Committee, socialist state Sen. Kristen Gonzalez voted against him, while state Sen. Michelle Hinchey voted "aye without recommendation." In the Finance Committee, state Sens. James Skoufis, Gustavo Rivera, Brad Hoylman-Sigal and Hinchey (who serves on both committees) all voted "no," while state Sens. Kevin Thomas and John Liu voted "aye without recommendation." The no votes were not enough to stop Driscoll from advancing, but they showcased the growing opposition to his nomination. 
According to the source, Driscoll didn't have the support among Democrats during conference on Friday to make it through a full vote following efforts to get his nomination rejected. The governor's office confirmed that Driscoll will stay on as the acting president and CEO of NYPA. "Following a national search last year, (Gov. Kathy) Hochul recommended Justin Driscoll for President and CEO of the New York Power Authority because he has the expertise to lead the nation's largest state-owned utility, helping New York to achieve its ambitious climate goals using both NYPA's existing authorities and its expanded mandate to build renewable energy secured in the FY24 State Budget," a Hochul spokesperson said in a statement.
Leftwing climate activists have campaigned against Driscoll's nomination since Hochul first recommended that the interim NYPA head serve in the role permanently last year. He's held the position since the end of 2021. They pointed to his opposition to the Build Public Renewables Act, a bill that became law as part of the state budget this year and will mandate NYPA to expand its renewable energy production, and his past donations to Republican candidates. At the time that he was nominated, socialist state Sens. Julia Salazar and Jabari Brisport, as well as Gonzalez – who had won her primary but not yet taken office – said they would reject his nomination.
Since then, the campaign against Driscoll has only grown. It hit a fever pitch in the final week of the legislative session when The Buffalo News reported that Driscoll had overseen alleged racial discrimination at NYPA during his time as the authority's counsel. After the report came out, two prominent unions came out against him. "New Yorkers need a leader of @NYPAenergy who is committed to public #renewables and running this vital institution with values of equity and inclusion," 1199SEIU wrote in a tweet. "Recent reporting raises troubling concerns." United Auto Workers Region 9A was even more explicit and said that Driscoll "is not that person" to lead NYPA. The opposition from unions was a notable development given that labor played an integral role in sinking the governor's nomination of Justice Hector LaSalle for chief judge last year.
Climate activists celebrated the decision by the Senate not to vote on Driscoll. "It is clear from the Senate's refusal to consider Driscoll's nomination that his term is politically dead, and that he is unfit for the role," the New York City Democratic Socialists of America said in a statement calling on him to resign from his interim position. The Public Power NY Coalition echoed the call for Hochul to nominate someone else to lead NYPA. "We look forward to collaborating with stakeholders to ensure we find the most qualified person to lead NYPA," a statement from the group read. 
That places the ball in Hochul's court over what to do about Driscoll, but it's entirely possible that he will continue indefinitely as the acting president and CEO despite not getting a vote. Anthony Annucci led the state Department of Corrections and Community Supervision for more than ten years on an interim basis despite never receiving a full confirmation vote. He retired less than a month ago. When Annucci's indefinite interim appointment was challenged in court, a state judge ruled that the state Senate is not constitutionally obligated to vote on non-judicial nominations.
In her statement, Hochul offered no indication that she intends to recommend someone new for the role. And public backlash may not be enough for Driscoll, who received a salary of over $343,000 last year, to resign his post.